---
US Embassy In Turkey Closes For 2 Days Over Genocide Statement Backlash
The US Embassy in Ankara as well as satellite consular campuses in the country have been shuttered on Monday and Tuesday ahead of expected demonstrations against Joe Biden's Saturday Armenian Genocide declaration.
Security for the embassy has also been beefed up as a "precautionary measure" - which has included additional Turkish police said to be patrolling the streets outside the US diplomatic mission. It comes after on Saturday US Ambassador David Satterfield was summoned by an angry Turkish Foreign Ministry which protested the US policy shift.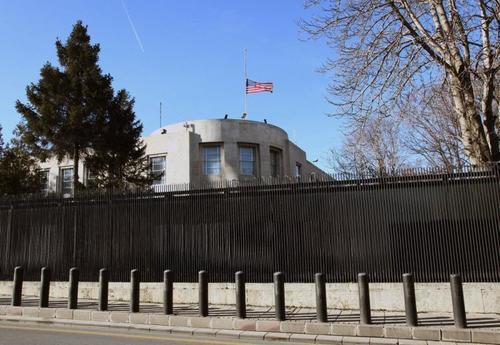 American citizens in the country have also been issued an "alert" to remain vigilant and to avoid the areas around US government buildings.
A statement posted to the embassy website said, "Demonstrations or protests may occur following the April 24 White House statement remembering the lives of all those who died in the Ottoman-era Armenian genocide."
"As a precautionary measure, the U.S. Embassy in Ankara, the U.S. Consulate General in Istanbul, the U.S. Consulate in Adana, and the U.S. Consular Agency in Izmir will be closed for routine American Citizen and visa services on Monday, April 26 and Tuesday, April 27."
The advisory added: "U.S. citizens are advised to avoid the areas around U.S. government buildings, and exercise heightened caution in locations where Americans or foreigners may gather."
President Biden became the first American president in history to formally recognize the genocide of Armenians during the WWI period by the Young Turk government, which has outraged Turkey's leaders, who immediately slammed it as "null and void" and said it will have an "alienating" effect among NATO allies. 
A giant leap forward: Tyrants hate America again.https://t.co/J6JCAaAeqA

— Pitt Griffin (@pittgriffin) April 24, 2021
Biden said that "the American people honor all those Armenians who perished in the genocide that began 106 years ago today".
Turkey is now urging Washington to reverse the stance, which has for the last century been an extremely sensitive topic in the country, to the point of criminalizing its public acknowledgement - for example in Turkish parliament or even in journalism.