---
Sen. Chuck Grassley Tests Positive, Tokyo Placed On Highest COVID-19 Alert Level: Live Update
Summary:
Tokyo raises alert level to highest
Chuck Grassley tests positive
Illinois casinos ordered to close
Pfizer just days away from filing for emergency use order
NY releases latest numbers
Maryland expected to impose curfew
Ohio imposes 21-day 2200 curfew
Maryland announces restaurant curfew
NYC positivity rate stays below school closure threshold.
NJ ICU occupancy quadruples
Italy reports most new deaths in seven months
Dr. Fauci says COVID will disappear if 75% get vaccinated
French bars, restaurants expected to remain closed until mid-January
Scotland imposes lockdown in Glasgow and Stirling
Moderna strikes deal with the UK to sell 5MN doses
Grassley to quarantine after exposure
Global cases top 55 million
US hospitalizations at new record
US seeing 150k new cases per day
India outbreak continues to slow
Australian PM heads to Tokyo
Illinois, Michigan more than 10k+ new cases
* * *
Update (1745ET): Tokyo has just raised its alert level to the highest setting, warning that the virus is spreading through the capital as Japan grapples with its biggest outbreak yet.
In other news, Sen. Chuck Grassley, an 87-year-old GOP senator from Iowa, has tested positive for the coronavirus.
I've tested positive for coronavirus. I'll b following my doctors' orders/CDC guidelines & continue to quarantine. I'm feeling good + will keep up on my work for the ppl of Iowa from home. I appreciate everyone's well wishes + prayers &look fwd to resuming my normal schedule soon

— ChuckGrassley (@ChuckGrassley) November 17, 2020
He had been quarantining after coming in contact with an infected person.
* * *
Update (1555ET): Illinois Gov Pritzker just announced that starting Friday, all regions of the state will move to "Tier 3" mitigation in an attempt to avoid another statewide stay at home order.
The new rules limit the number of people who can be in "essential" stores, push businesses to let employees work from home and restrict gatherings with non-family members at home. The new restrictions will begin on Friday.
Casinos and theaters will close, and the governor said "we're asking you to choose Zoom instead of packing people in a room for Thanksgiving."
casinos in the state will close, amid other new measures, as he delivers his latest update.
Gov. Pritzker gives Illinois COVID-19 update on Nov. 17, 2020 https://t.co/DUUJgLGLgZ via @YouTube

— NEWZFOX (@NEWZFOX) November 17, 2020
On Tuesday, the state reported 12,601 new cases and an additional 97 deaths, bringing the overall coronavirus death toll in Illinois to 10,875.
Pfizer, meanwhile, is reportedly just days away from filing for its emergency use approval from the FDA, according to CEO Albert Bourla
* * *
Update (1530ET): NY Gov Andrew Cuomo has released the latest numbers for New York State.
Today's update on the numbers:

Of the 159,852 tests reported yesterday, 5,088 were positive (3.18% of total).

Total hospitalizations are at 2,124.

Sadly, there were 29 COVID fatalities yesterday. pic.twitter.com/10vefRmWSm

— Andrew Cuomo (@NYGovCuomo) November 17, 2020
The test positivity rate in the focus areas under NY's Micro-Cluster strategy is 4.89%.

The statewide positivity rate excluding these focus areas is 2.82%.

We continue to take strong action to respond to outbreaks and to stop the spread.

Mask Up.

— Andrew Cuomo (@NYGovCuomo) November 17, 2020
As hospitalizations reached yet another new multimonth high, deaths hit 29.
* * *
Update (1430ET): Maryland Gov. Larry Hogan is announcing new restrictions requiring restaurants and bars must close at 2200. The order carries "the full force of the law and it will be enforced."
* * *
Update (1420ET): Ohio Gov Mike DeWine has announced plans to impose a 2200 curfew across Ohio that will begin Thursday and last for at least 21 days. The curfew will last from 2200 to 0500 starting on Thursday.
"I'm also asking each Ohioan every day to do at least one thing that reduces your contact with others," DeWine said while making the announcement.
Watch the rest of the briefing below:
* * *
Update (1345ET): NYC's positive-test rate over a 7-day period remained below the threshold to trigger a shutdown of schools city-wide. Meanwhile, New Jersey's ICU use has quadrupled over six weeks to 458, while hospitalizations for COVID-19 reached their highest level since May. Still, the daily rate continued to trend higher to 3.2%.
With the state's new restrictions on indoor and outdoor gatherings kicking in on Tuesday, the state now has 2,320 inpatients, roughly 13% higher than the number reported by New York. Meanwhile, over the past 24 hours, New Jersey reported 38 deaths, the most since July.
Italy reported 731 deaths related to COVID-19 on Tuesday, the biggest daily increase in seven months. New infections rose to 32,191 from 27,354 on Monday, but fell 8.3% compared with Tuesday.
Elsewhere in Europe, Scotland has imposed new regional lockdowns in Glasgow, the constituent nation's largest city, and Stirling.
* * *
Update (1300ET): The NYT's Dealbook conference is moving ahead despite the resurgence in COVID-19 cases. Dr. Anthony Fauci told Andrew Ross Sorkin, the editor of the NYT's Dealbook, that life could return to "close to normal" by fall of next year if more than 75% of Americans get vaccinated.
"This is going to be a difficult task. We've got to do outreach. We've got to be transparent," Dr. Fauci said. He also claimed that the US needs to make available rapid at-home tests kits that can be used on the daily.
Dr. Fauci's comments seem to be at odds with his insistence that the outbreak is far from over, and that people might be wearing masks and following social distancing rules until the end of next year.
* * *
Update (1000ET): Continuing to follow the pattern from last week's Pfizer data release, Moderna on Tuesday announced a deal to 5 million doses of the COVID-19 vaccine.
Sen. Grassley, meanwhile, said he's been exposed to someone with the virus, and that he will "follow my doctor's orders" and "immediately quarantine" according to a statement published to twitter.
In the biggest news out of Europe Tuesday morning, French-language media outlets France Info radio reported that French bars and restaurants will likely remain closed until mid-January as the government tries to tampe down on the resurgent coronavirus outbreak.
Goverment officials are planning to review the situation next month, but "for now, there's no calendar set", one anonymous official said. Health Minister Olivier Veran said on BFM TV that bars and restaurants wouldn't reopen in December. Even as the number of new cases declines, some shop owners are pushing the gvernment ot allow them to reopen for the weekend after Friday Nov. 27, according to Bloomberg.
For now, at least, it looks like Macron's Dec. 1 goal is already beyond reach.
"For now, the prime minister has announced that we've set a goal of Dec. 1 to let them reopen if the health situation continues to improve," Veran said. "There's encouraging news, but it remains serious. We still have more patients in the hospital today than at the peak of the first wave."
As the holidays approach, florists will be able to sell Christmas trees outside their shops starting Friday, said Agriculture Minister Julien Denormandie in an interview with RMC radio. Florists now are only allowed to sell flowers if customers order them in advance.
* * *
From California to New Jersey, states are reimposing strict new lockdown measures with roughly a week and a half to go before the holiday, with California pulling the partial-lockdown "emergency break" and Michigan adopting one of its own to last at least 3 weeks.
The new restrictions follow an unprecedented surge, with the US reporting a million new infections during the first ten days of November, prompting health experts like Dr. Anthony Fauci to warn that both Thanksgiving and Christmas should be cancelled this year. On Monday, Dr. Deborah Birx, a member of the White House task force, said she isn't seeing a plateau in new cases.
New cases are averaging 150k new cases per day in the US, an increase of 37% over the past week, with hospitalizations hitting a new peak of 73k. Additionally, the 7-day average for deaths has climbed to 1,128, the highest level since the summer. All of this, of course, follows news that Moderna's mRNA-based COVID-19 vaccine is even more effective than Pfizer's, creating that "light at the end of the tunnel" that recently helped push the Dow to a new record.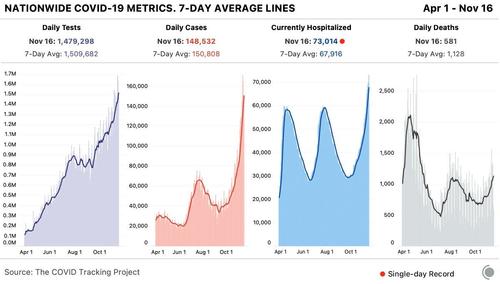 But reality was setting back in on Tuesday, as US futs pointed to a drop at the open. According to data from Bloomberg, Pennsylvania has seen a 14% jump in total cases, while Ohio's have surged 19%, Washington state's climbed 11% and Illinois's are up 18%. Michigan's cases have increased 20%, the most since April.
After VP Mike Pence insisted that plenty of hospital beds remain open around the country, hospitalizations per million people has topped 500 in ND an SD. 8 states have more than 400 per million hospitalized.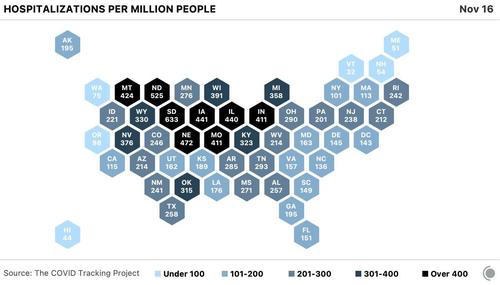 Illinois and Michigan reported more than 10k new cases yesterday, as the present wave of the outbreak remains centered on the midwest.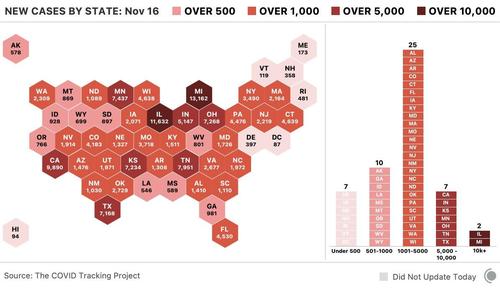 Global cases have topped 55 million as of Tuesday morning, thanks to the latest numbers out of Europe and Asia. Deaths worldwide have reached 1,329,556. The world added more than half a million new cases yesterday, down from record highs seen earlier this month, but still higher than at any time during the spring and summer.
Here's some more news from overnight and Tuesday morning:
India continues to report a dip in cases, with 29,163 infections in the last 24 hours a day after recording a four-month low of 30,548. Total infections in the country have hit 8.87 million while the death toll has jumped by 449 to 130,519 (Source: Nikkei).
Pfizer says it is starting a pilot program for COVID-19 immunization in four U.S. states to help refine a plan to deploy its vaccine candidate. The U.S. drugmaker has selected Rhode Island, Texas, New Mexico and Tennessee (Source: Nikkei).
Australian Prime Minister Scott Morrison arrives in Tokyo to discuss with Japanese counterpart Yoshihide Suga about strengthening ties, including establishing a framework for each country's troops to train together and conduct joint military operations. Morrison will be the first foreign leader to meet Suga and is expected to spend the nationally mandated two weeks in quarantine when he returns home (Source: Nikkei).