---
US Destroyer Shadowed Chinese Carrier In Taiwan Strait Hours Before Biden-Xi Call
Within hours prior to the Xi-Biden call which is now in progress, China sent an aircraft carrier through the Taiwan Strait on Friday in what's being seen as a message to the West. "The timing of the Shandong's movements, being so close to the US-China President's call, was described as provocative by the source," Reuters described. 
"Around 10:30 a.m. the CV-17 appeared around 30 nautical miles to the southwest of Kinmen, and was photographed by a passenger on a civilian flight," the source told Reuters of the pass-through which was also confirmed by Taiwan's Ministry of Defense.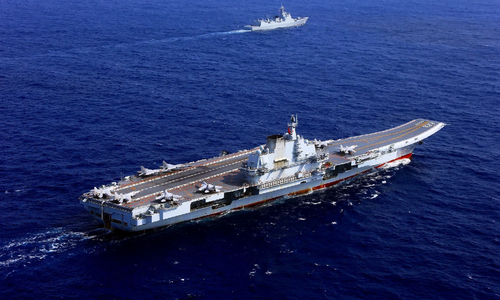 Taipei said it knows the "full grasp" of China's actions in the strait, while giving no details - perhaps not wanting to add fuel to an "incident" amid the Xi-Biden phone call.
The vessel has been identified as the Shandong carrier, and reports later revealed that it was shadowed during its movements in the strait by the American destroyer USS Ralph Johnson.
A US Navy spokesman confirmed its vessel "conducted a routine Taiwan Strait transit March 17 (local time) through international waters in accordance with international law."
Beijing quickly downplayed that there was anything significant to the timing of the sail through:
China's defense ministry told Reuters it was a "routine training schedule," although Reuter's source called the move "provocative" as it was so close to Biden's call with Xi. 
Chinese foreign ministry spokesman Zhao Lijian asserted: "We should not associate this with the communication between the heads of state of China and the United States. You may think it is too sensitive. What is sensitive is you, not the Taiwan Strait."
China's Shandong aircraft carrier and a Type 052D destroyer spotted heading to Taiwan Strait on March 17. pic.twitter.com/u8r3IfQzyK

— Duan Dang (@duandang) March 18, 2022
Indeed, what might drive headlines in the West is more likely seen by China as "routine" and legitimate transit through its own waters close to its coast - from the mainland's perspective at least.