---
US Destroyer Shatters Navy Record For Longest Stint At Sea Due To Virus Measures
Last April and May as the United States emerged as the world's coronavirus epicenter, the US Navy began taking emergency precautions as the outbreak started to impact entire crews and ships, as was especially the case with the whole USS Theodore Roosevelt disaster off Guam.
These drastic measures included keeping US warships out to sea much longer than previously scheduled, especially those ships which had "clean" crew - that is, no confirmed cases of COVID-19. After all, if the only possible place for a non-infected crew to become infected was shore, then why not stay out at sea to maintain full operational readiness, or so the logic went. 
NBC News now reports that due to these extra coronavirus measures and extended time at sea a US guided missile destroyer has now shattered all prior US Navy records for the longest consecutive number of days at sea for a military surface ship.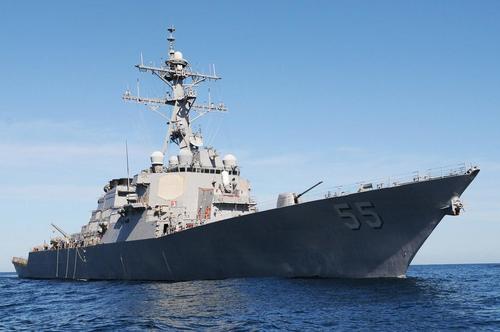 "The USS Stout reached 208 days at sea Sept. 26, spending nearly seven months in the Middle East and the North Africa area, known as the U.S. 5th Fleet area of operations," NBC writes, citing US Navy press statements. "The previous record of 207 days, held by the USS Dwight D. Eisenhower and the USS San Jacinto, was also set this year."
During normal times a warship could expect to make multiple port visits in various parts of the globe traversed, however, the Navy has for months had a ban on port visits in effect to mitigate the possibility of new outbreaks among seamen. 
The USS Stout had previously deployed as part of the USS Eisenhower Carrier group but remained at sea long after the carrier returned home at the start of summer. 
Record Breaking!

The guided-missile destroyer #USSStout (DDG 55) breaks a Navy record as it completes a nearly seven month deployment in the @US5thFleet area of operations.

Full story 👇 https://t.co/NSfqQAdH78 pic.twitter.com/ciuVXuqAXA

— U.S. Navy (@USNavy) September 29, 2020
A statement from 5th Fleet commander Vice Adm. Samuel Paparo said, "We are extremely proud of Stout's accomplishments in theater as they've been operating to ensure freedom of navigation."
He added: "Under the challenges of COVID-19 and the uncertainty of regional tensions, Stout embodied their motto and prevailed with 'Courage, Valor and Integrity.'"
However, once defense affairs journalist quipped that it's "not a record you want" given it was entirely done out of force of extreme circumstances, with parts of naval operations clearly hampered by the virus.
Unclear why the Navy is promoting this, but a new release says the destroyer USS Stout "reached 208 days consecutively at sea, surpassing the Navy's known record." That's not a record you want.

— paul mcleary (@paulmcleary) September 29, 2020
Throughout the summer America's rivals look on closely, especially China and Russia, eager to see just how severely operations and military readiness will be impacted across the Navy and Department of Defense by COVID-19.