---
US Embassy In Turkey Suspends All Services, Citing Credible 'Terror Threat'
There's been a huge development out of Turkey at a moment the country is under US scrutiny after conducting major Russian S-400 missile defense system tests for the first time, which have run late last week into this week on the Black Sea coast.
The United States Embassy in Turkey says it has temporarily suspended all citizen and visa services based on a significant security alert.
#Turkey: US Mission Turkey received credible reports of potential terrorist attacks and kidnappings against US citizens and foreign nationals in Istanbul and potentially other locations. Exercise heightened caution where Americans or foreigners may gather. https://t.co/S5Gwb6NQsA pic.twitter.com/pHyQoesEuC

— Travel - State Dept (@TravelGov) October 23, 2020
According an Oct.23 alert its official website, the embassy "received credible reports of potential terrorist attacks and kidnappings against U.S. citizens and foreign nationals in Istanbul, including against the U.S. Consulate General, as well as potentially other locations in Turkey."
The statement continues by urging American citizens "to exercise heightened caution in locations where Americans or foreigners may gather, including large office buildings or shopping malls."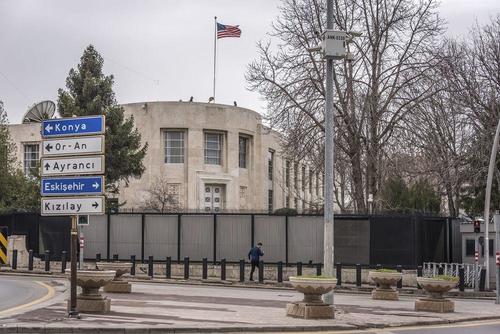 No further details were given, nor were any particular groups or individuals which might constitute a threat named. It's an alert that's unusual for Turkey, given it's a common place of tourism and travel for Westerners. But the security situation for Americans have been of growing concern amid fraying US-Turkey relations of the past few years.
Meanwhile, Turkish President Recep Tayyip Erdogan announced Friday the successful testing of the recently acquired S-400s. He said the Russian S-400 systems "have been tested and are being tested," according to regional media.
He was further reported to have "shrugged off" US objections and continued threats of Washington sanctions, which is angry over proliferation of advanced Russian equipment by a NATO member state. 
Turkey has successfully tested its S-400 air defense system near the city of Sinop .... pic.twitter.com/m0wuAGGTf3

— SaitErguven (@SVErguven) October 16, 2020
Erdogan said "objection from NATO ally United States on the issue did not matter" according to a translation and paraphrase of the statements by Reuters.
He also attempted to call out what he suggested is a US double standard regarding Greece, noting Turkey's longtime enemy in the Mediterranean possesses S-300 systems, but that the US has never objected.