---
US Flexes With Low B-1 Bomber Flyover As Balkan Tensions Boil
At a moment tensions are on edge in the Balkans over a fresh crisis between the Serbian minority of northern Kosovo and ethnic Albanians, which over the weekend saw dozens of NATO peacekeeping forces injured while trying to quell fierce protests, the United States decided it was time for some muscle-flexing.
Two US Air Force B-1B Lancer bomber aircraft conducted a low flyover of Sarajevo and other cities in Bosnia and Herzegovina (BiH) on Tuesday. It had been pre-announced at the start of this week and described as "a sign of the strong partnership between the United States and the Armed Forces of BiH, according to a statement in the English language news portal Sarajevo Times. A US Air Forces statement cited in the publication said it would serve further as a sign of the "permanent dedication of the US to the sovereignty, territorial integrity and multi-ethnic nature of Bosnia and Herzegovina."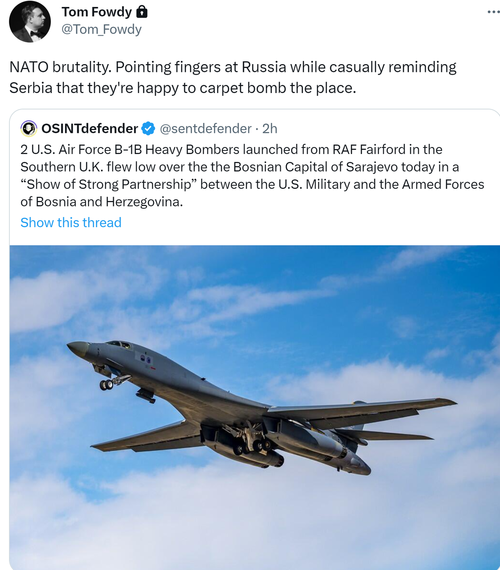 While the US has chastised Kosovo authorities for making brash, unilateral moves which have inflamed ethnic tensions with Serbs, and resulted in Belgrade sending Serbian national troops to the Kosovo border, it seems Washington still wants to remind Serbia of US military power in the region.
On the same day Russia, which has long been a staunch supporter of Serbian interests, called on the West to silence its "false propaganda" regarding ethnic Serbian issues and Kosovo taking away their rights.
Russian Foreign Ministry spokeswoman Maria Zakharova blamed NATO forces for exacerbating the past days of violence which started when Albanian mayors were installed over Serb-dominant communities in Kosovo. "Not only have they shown their incompetence… [they] themselves became a source of unnecessary violence, an escalation factor," she said in reference to peacekeeping forces that clashed with Serbian protesters.
She said that instead of protecting Serbs from the crackdown of a suppressive state, they "supported Pristina's xenophobic aspirations, basically turning into terror accomplices" by defending local authorities.
2 x U.S. Air Force B-1B Lancer heavy-bomber aircraft conducted a low altitude flight above Sarajevo, capital of Bosnia and Herzegovina. pic.twitter.com/YjxexoD1vO

— Clash Report (@clashreport) May 30, 2023
Zakharova then in the briefing told the West to "silence its false propaganda" and to stop alleging that its Serbs provoking the clashes.
"While looking for the guilty, mediators from the US and the EU should muster up some courage and look in the mirror," the FM spokesperson continued. "To de-escalate, decisive steps are needed, and not half-measures like an idea proposed by the US to temporarily 'move' the newly-minted 'mayors' from municipal buildings to other facilities," Zakharova stressed.
Behind the latest violence is a long-running demand that Kosovo establish Serbian municipalities for Serbian strongholds in Kosovo. Pristina authorities, however, worry that this would be precursor for a breakaway statelet. Multiple dozens of NATO troops KFOR troops have been injured in the clashes.
An official NATO statement on Tuesday said, "NATO strongly condemns the unprovoked attacks against KFOR troops in northern Kosovo, which have led to a number of them being injured. Such attacks are totally unacceptable. Violence must stop immediately. We call on all sides to refrain from actions that further inflame tensions, and to engage in dialogue." NATO also plans to send hundreds more troops.
Loading...