---
US Halts New Licenses For Export To Huawei
The Biden administration has halted the provision of licenses for US companies to export technology to Huawei, as it moves closer to imposing a total ban on the sale of American technology to the Chinese telecom equipment maker.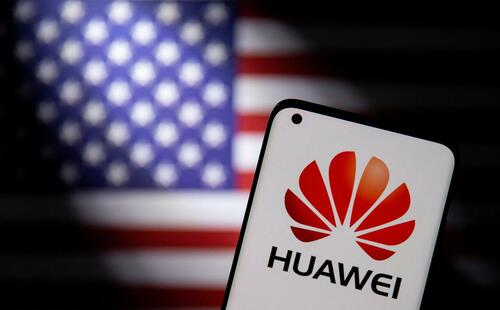 According to the Financial Times, the commerce department has sent notification to various companies to let them know that it would not longer grant export licenses to sell American technology to Huawei - which US national security officials believe helps China engage in espionage.
The move comes after the Trump administration imposed severe restrictions on exports to the Chinese telecom giant, placing it on the "entity list," however the commerce department had still been granting licenses to various companies for products that were unrelated to 5G telecom networks.
The move comes as Washington steps up efforts to work with allies to slow China's push to develop cutting-edge technology such semiconductors that are used in artificial intelligence and hypersonic weapons. The US last week reached a trilateral deal with Japan and the Netherlands that would impose restrictions on companies in those countries exporting certain chip-making equipment to China. -FT
In October, the Biden administration imposed unilateral restrictions on the export of semiconductor manufacturing tools. 
The halt on new licenses comes one day after the WSJ reported that a top Chinese nuclear weapons research institute managed to obtain US-made semiconductors despite export rules banning the transfer of US technology to organizations linked to the Chinese military.
The China Academy of Engineering Physics (CAEP) - which created the country's first hydrogen bomb, has made at least 12 purchases of chips from the US in the past 2.5 years, despite having been blacklisted since 1997 - which it circumvented by using third-party sellers.
Companies including Intel and Nvidia manufacture the semiconductors in question, which have broad applications in datacenters and personal computers, according to the WSJ. CAEP acquired the chips through the purchase of computer systems used to study computational fluid dynamics, a field of research that involves modeling nuclear explosions.

The Commerce Department further expanded sanctions on CAEP in 2020, prohibiting the institution from obtaining items produced in the U.S. over concerns of its association with China's military.

The Commerce Department's Bureau of Industry and Security also banned sales of equipment that can be used to manufacture the latest generations of semiconductors, measuring 10 nanometers and below, in 2020. Then, in October, it banned U.S. chipmakers from exporting chips to China with applications in AI and supercomputers, the WSJ reported.

At least 34 research papers CAEP published referenced the use of American semiconductors in research for purposes such as analyzing data and generating algorithms, according to the WSJ's review. Of those, seven could translate to measures used to maintain nuclear stockpiles, experts told the outlet. -Daily Caller
How does the Chinese government spend its money? @CSETGeorgetown's latest newsletter includes links to translated 2019 budget documents for the:
* Ministry of Public Security
* China Academy of Engineering Physics
* National Natural Science Foundation
* China Association of S&T https://t.co/nmBMEEb13a

— Ryan Fedasiuk (@RyanFedasiuk) September 2, 2020
The chips obtained by CAEP include those with transistors ranging from 7 nanometers to 14 nm - sizes which China can make, but has trouble producing on a large scale, according to the report. 
Loading...