---
US Delivers Written Response To Russia's Security Concerns: NATO's Door Open To Ukraine
Russia has finally received its long awaited response to its security demands submitted to NATO and Washington earlier this month. Secretary of State Antony Blinken confirmed Wednesday that a US written response was hand-delivered to the Russian Ministry of Foreign Affairs by US Ambassador to Russia John Sullivan.
While the US response reportedly rejected Russia's demand to bar Ukraine from NATO, it still according to Blinken's words "sets out a serious diplomatic path forward should Russia choose it." 
Blinken announced: "The document we've delivered includes concerns of the United States and our allies and partners about Russia's actions that undermine security, a principled and pragmatic evaluation of the concerns that Russia has raised, and our own proposals for areas where we may be able to find common ground."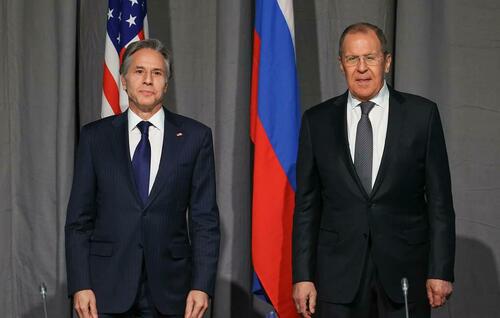 Blinken said he hopes to discuss the US response directly with Foreign Minister Sergey Lavrov in the coming days. But on the central issues of Russia's requirement that NATO issue legal guarantees vowing no further expansion eastward, Blinken vowed the Western military alliance won't budge, making clear that...
"From our perspective. I can't be more clear — NATO's door is open, remains open, and that is our commitment," Blinken said.
"There will be no change," he emphasized further. However, the written response could still serve to at least keep things on the diplomatic and negotiating playing field, as opposed to stoking further military build-up by both sides. 
But while Blinken seemed to ready to offer some level of overtures forming the basis of further negotiations, his deputy Wendy Sherman on Wednesday repeated some of the most dire accusations and warnings. 
She told a forum: "I have no idea whether he's made the ultimate decision, but we certainly see every indication that he is going to use military force sometime perhaps (between) now and the middle of February."
Washington said today that it expects Russia to invade Ukraine "some time between now and mid-February".

Previously, US intelligence had predicted the invasion would come in December, then early January, then mid-January, then late January

— Murad Gazdiev (@MuradGazdiev) January 26, 2022
In the most specific prediction and timeframe offered so far by the administration thus far, Deputy Secretary of State Sherman gave an early to mid-February range of when the US thinks Russia will kick of a Ukraine offensive. Surprisingly and perhaps bizarrely, she made reference to China and the Olympic games, which starts of Feb. 4: 
"We certainly see every indication that he [Putin] is going to use military force sometime [in Ukraine], perhaps between between now and middle of February." She added: "I think that probably [China's] President Xi Jinping would not be ecstatic if he [Putin] chose that moment to invade Ukraine," in reference to the start of the Beijing Winter Olympics.
Moscow has repeatedly denied that it has any invasion plans amid its troop build-up in its southern provinces and in Crimea. Increasingly, Ukraine leaders themselves have agreed that the hype surrounding the build-up is now outpacing the reality and immediate severity of the threat.