---
US Hospitalizations Hit New Record As "Mutant" COVID Strain Found In Singapore: Live Updates
Summary:
Singapore confirms first case of UK virus strain
US hospitalizations hit new record
Brazil study shows China vaccine 50% effective
India confirms 24K+ new cases
China confirms 17 new cases
NY extends eviction moratorium
Sydney residents asked to "limit mobility"
* * *
As we head further into what's already been a busy day before Christmas (a day when markets close early and many Americans take off from work), millions of Americans, and other Christians around the world, are preparing to celebrate a holiday that, for many, will probably be a markedly different holiday than what they're accustomed to.
According to Johns Hopkins, global cases have reached 78.6MM, while the worldwide death toll is nearing 1.8MM.
In the UK, a Brexit deal has finally been reached, but citizens are seemingly more concerned with the line of lorries at the border and news reports about super-infectious COVID-19 mutations prompt people to doubt or question the efficacy of vaccines (despite all that trial data) than about fisheries, especially after Britain reported a record 39K+ new cases the other day.
In the US (and the rest of the world) the situation isn't much better. China has joined the list of countries that has cut off some or all travel/trade with the UK by halting passenger flights over fears tied to the new viral "variant". Singapore, meanwhile, has become the latest country to confirm its first case of the UK variant.
While Mexico administered the first dose of a non-trial COVID vaccine in Latin America, a vaccine developed by China's Sinovac Biotech was found to be more than 50% effective in a Brazilian clinical trial. That number, which is much lower than the 90%+ numbers reported by Pfizer, Moderna and, of course, Russia's Gamaleya Institute (which developed "Sputnik V") was released without key supporting data, potentially delaying deployment of the shot in the west. Rival Sinopharm, meanwhile, submitted an application to have its vaccine approved by Chinese authorities, a local website said. According to a count maintained by Bloomberg, nearly 3MM people worldwide have been vaccinated (figures that likely leave out millions given the vaccine on an "emergency" basis in China).
According to JHU figures, US hospitalizations hit a fresh record high of 115K+, while the number of new cases and deaths declined off of recent records.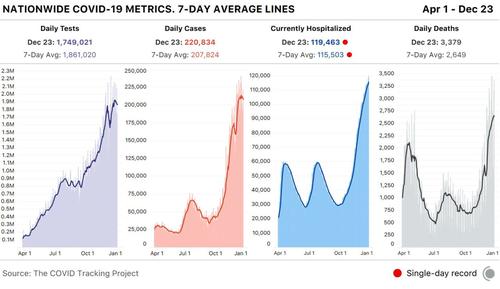 The 7-day average for hospitalizations hit a new record as well.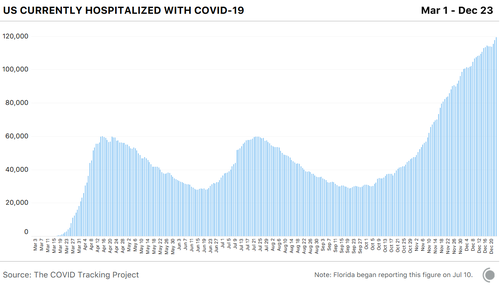 As the world waits to learn more about the new virus strains discovered in the UK and South Africa, here's some more COVID news from Thursday morning:
New York Governor Andrew Cuomo said he will extend the state's moratorium on evictions, which is set to expire Jan. 1. Cuomo also implored federal officials to do more to stop or contain the spread of the new Covid-19 variant reported in the U.K, such as blocking flights from that country or requiring those passengers to test negative before boarding planes.
India reports 24,712 new cases in the past 24 hours, up from 23,950 for the previous day, bringing the country total to 10.12 million.
Millions of Sydney residents have been asked to limit their mobility over Christmas, with some families in lockdown and indoor gatherings limited to 10 visitors, as officials try to contain an outbreak that has reached 100 transmissions.
South Korea has signed deals with Pfizer and Johnson & Johnson's Janssen to import coronavirus vaccines, enough for 10 million people from Pfizer and for 6 million from Janssen, Prime Minister Chung Sye-kyun says.
China records 17 new cases for Wednesday, up from 15 the previous day. Of the new cases, 11 were imported. The six locally transmitted cases are in the northeastern province of Liaoning.
In one of his many TV interviews, Dr. Fauci said Thursday that he has been working 7-days a week, 16+ hours a day since January, nobly marshaling the federal effort to combat the coronavirus. We can't help but wonder: is that an actual accounting of Dr. Fauci's media screen time?