---
US Official Claims Up To 6,000 Russian Troops Killed In Two Weeks Of Fighting
A US official was cited in CBS News on Wednesday as saying that up to 6,000 Russian troops have been killed so far, after two weeks of the Russian invasion of Ukraine. This is double the amount of Russia's own figures, which the Kremlin has estimated to be 3,000 killed in action. 
"Between 5,000 and 6,000 Russian troops may have been killed in just the first two weeks of the invasion of Ukraine, a U.S. official estimated Wednesday," the report cited. "The official stressed, however, that this is a difficult number to assess in real time, and the number could be closer to 3,500."
But this seeming high sounding estimate is still lower than claims out of Kiev. Ukraine's government said it believes that 11,000 Russian troops have been killed by Ukrainian forces. Earlier this week the Pentagon issued its own official estimate of between 2,000 and 4,000 Russian casualties.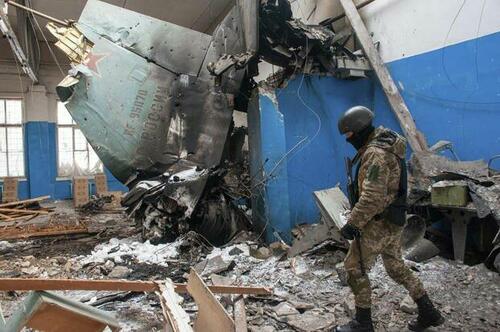 It goes without saying that amid a rapidly developing battlefield environment and 'fog of war' - also the fact that in wartime all sides flood the information space with propaganda to bolster their side - it's nearly impossible for any such figures to be confirmed. 
The CBS report based on the US official, however, has offered some of the highest numbers - and thus should be taken with skepticism. According to the report: 
Still, the official described the number as "very, very significant casualties," comparing the tally to losses from some World War II battles. The official did not give an estimate for the number of wounded Russians, but the figure in most wars is generally around three times as many killed, which would put that number at an estimated 15,000 to 18,000.

Despite the estimated losses, Russian forces are still capable of encircling Kyiv within 1-2 weeks. 
Civilian deaths have also been unclear, with most international reports of the past days saying that at least 500 civilians have been killed. 
Ukrainian government figures are much higher, for example in Mariupol alone, authorities say that:
At least 1,170 civilians have been killed in Ukraine's besieged city of Mariupol since the start of the Russian invasion, a Ukrainian state information agency said on Wednesday, citing figures from Mariupol's deputy mayor.
Footage of a Russian BMP destroyed by the Ukrainian 128th Mountain Assault Brigade. https://t.co/1nQm0sYuBE pic.twitter.com/E4TmFQS1sB

— Rob Lee (@RALee85) March 10, 2022
Deputy mayor Serhiy Orlov issued the statement: "At least 1,170 people have been killed and 47 were buried in a mass grave today," he said. "People are without water, heat, electricity, gas, residents are melting snow to drink."