---
US Officials Confirm Russian Strike On Patriot System In Ukraine: CNN
On Tuesday Russia's military announced it destroyed US-supplied Patriot anti-air battery in Ukraine during a hypersonic missile strike on Kiev. Widely circulating video appeared to confirm the destruction of a Patriot battery, but still there was much speculation over the event, given it was a significant first on the Ukrainian battlefield.
US defense officials are now confirming that US Patriots were hit by Russia, however, they downplayed the degree of devastation of the strike. CNN reports: 
The damage to a Patriot air defense system following a Russian missile attack near Kyiv on Tuesday morning is minimal, three US officials tell CNN, with one official describing it as "minor" damage.

The US sent inspectors to examine the system on Tuesday after being told by Ukrainian forces that the system appeared to have been damaged, one official said.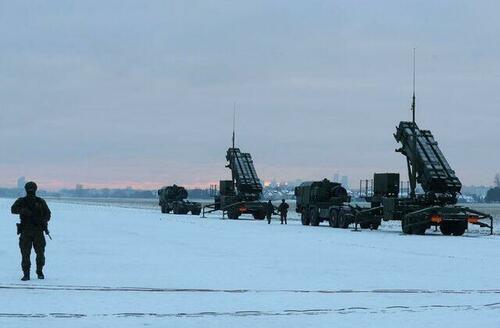 CNN writes further based on the statement from US officials: "It is not clear what part of the Patriot was damaged or if it was damaged by an actual missile strike or falling debris. The Ukrainians said they successfully intercepted all six Russian Kinzhal missiles on Tuesday morning."
Despite claiming the Patriot wasn't utterly "destroyed" in the attack, CNN's reporting seems to confirm the narrative from the Russian Defense Ministry, which said in a Tuesday Telegram post: "a high-precision strike by the Kinzhal hypersonic missile system in the city of Kyiv hit a US-made Patriot anti-aircraft missile system." Ukraine had publicly denied Moscow's assertion.
The Pentagon on Wednesday said that Russia is currently attempting to overwhelm Ukraine's anti-air system with large-scale barrages in various places, including with missiles and drones. Previously The National Interest described how the Patriots are vulnerable: 
Patriot systems are limited to pinpoint defense of major assets and are designed to operate in tandem with air defenses engaging targets at higher and lower altitudes. Without these additions, Patriot will have too many threats to engage and the result will either be porous coverage that doesn't protect its defended assets, or coverage that quickly subsides when Patriot runs out of interceptors.

Moreover, Patriot systems are themselves vulnerable. Operating a Patriot radar system gives away its location, making it an open target for Russian attacks. This means that Patriot is not a one-stop-shop for defending Ukraine's military assets or its people.
Confirmation of the strike on one or more Patriot systems is not something the Ukrainians or Americans want to own up to, given it would show them to be deficient. 
Patriot air defense system was hit in Kiev by a high-precision strike with a Kinzhal hypersonic missile - Russian Defense Ministry. Obviously, Kiev denies it.

Remarkable how they hid it behind the residential buildings.

pic.twitter.com/Y5UmLC15wu

— Russian Market (@runews) May 17, 2023
The White House when asked refused to confirm, but Kirby's words suggested the accuracy of the CNN report: 
"First of all, I can't confirm these reports," said Kirby.

"It would depend on the scope of the damage if it could be repaired by Ukrainians on site. Obviously, if there was damage done to a Patriot system that needed to be repaired outside Ukraine, we would certainly assist with that."

Earlier, CNN reported that a U.S.-made Patriot missile defense system was likely damaged, but not destroyed, during a Russian missile attack on Kyiv on May 16. Two Patriot systems are currently located in Ukraine, one provided by the United States and the other by Germany and the Netherlands.
Commenting on the video of the purported Russian direct hit on the Patriot battery, Kim Dotcom wrote on Twitter, "30 US Patriot PAC-3 MSE launch at a cost of $5 million per missile. That's $150 million gone within 2 mins. At the end the Patriot launch platforms were destroyed by Russian missiles. Why would any military still want to buy Patriot after this failure?" 
Loading...