---
270 Federal Inmates Infected With COVID-19 As US Prison Bureau Buys Massive Stockpile Of Trump's Favorite Drug: Live Updates
Summary:
Russia reports another concerning jump in cases
Downing Street offers update on Johnson's condition
Abe kicks off Japan's 1-month state of emergency
Spain reports jump in deaths following drop over the weekend
Wuhan lifts lockdown
US death toll tops 11k
Italy reports another deceleration in cases + deaths
Spanish deaths tick higher
NRA lays off 60 employees
UK reports deadliest day yet
BOP outbreak climbs to nearly 300 inmates infected
New York State reports biggest one-day jump in deaths with 731
Spain reports nearly 900 deaths
Germany reports another jump in deaths
France reports massive jump in deaths breaking above 10k; case total breaks above 100k
Global deaths pass 80k while recoveries pass 300k
Portugal reports, India reports
New Jersey also reports highest fatality numbers
The NRA lays off 60 employees
Italy reports lowest jump in cases in a month
ICU admissions, intubations down significantly in New York
US cases accelerate faster than Europe's
US to try and block Iran's IMF loan request
Turkey delivers COVID-19 update
Wuhan residents crowd train platforms as they're finally allowed to leave after 10+ weeks
De Blasio says ventilator shortage is easing
Israel imposes Passover lockdown, Irish asked not to visit holiday homes for Easter
55k expected to leave Wuhan by Wednesday evening (local time)
12 NYPD officers have died of COVID-19
Trump admin officials jawbone market higher
Peterson poll shows 73% say COVID-19 has hit them in the pocketbook
India closes hospitals after cases confirmed
China reports no daily deaths for first time
German health ministry unveils app to help track COVID-19 patients
France prepares to ban jogging as lockdown tightens
*    *    *
Update (1930ET): The US is reportedly planning to intervene and block Iran's request for a $5 billion IMF bailout. This, as Europe has started supplying Iran with aid via a vehicle it designed to try and keep the JCPOA intact by circumventing the US's reach.
*    *    *
Update (1905ET): The US Bureau of Prisons reports that 241 federal inmates and 72 employees have tested positive for coronavirus. 34 prisons and 6 BOP halfway houses have been impacted so far.
According to the Wayback machine's archive of the BOP's COVID-19 page, here's the trajectory of the outbreak(s) so far:
3/29: 19 inmates/19 staff
4/2: 75 inmates/39 staff
4/5: 138 inmates/59 staff
4/6: 196 inmates/63 staff
4/7: 241 inmates/72 staff
And a map of the facilities.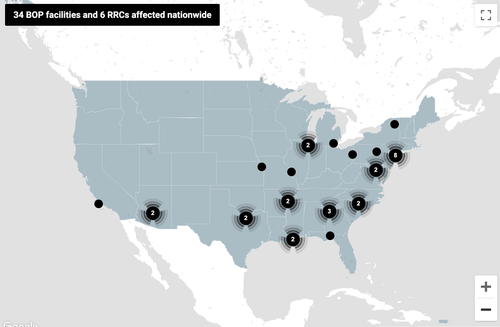 Louisiana's FCC Oakdale, the facility where the first outbreak was discovered, and where the most prisoners have tested positive, has 38 inmates who've tested positive so far.
The ACLU has been filing lawsuits and injunctions to try and get more 'nonviolent' offenders at these facilities freed to save them from being exposed to the virus. In the suit, filed yesterday, the organization filed a lawsuit against Oakdale arguing that AG Barr's decision to free some prisoners didn't go far enough, because of the prison's horrendous conditions.
Meanwhile, earlier, we learned that the BOP recently purchased a sizable stockpile of President Trump's favorite drug for the treatment of COVID-19: Hydroxychloroquine.
The Bureau of Prisons Just Bought a Ton of Hydroxychloroquine, Trump's COVID-19 Miracle Drug https://t.co/V3II60KSmt

— Claude Taylor (@TrueFactsStated) April 7, 2020
Apparently, the administration is trying to avoid repeats of what happened in NYC after Mayor de Blasio released hundreds of nonviolent offenders.
*    *    *
Update (1850ET): Gun sales are way, way, way up across the US, but apparently, business is not booming at America's favorite lobbying organization, the NRA (remember the NRA's not officially a lobbying organization and doesn't describe itself that way).
The layoffs stem from the fact that the NRA was forced to cancel its annual meeting, an event that typically nets it millions of dollars, Politico reports.
*    *    *
Update (1835ET): Germany just reported 4,312 new cases of coronavirus, and 210 new deaths, bringing its total to 107,663 cases, and 2,016 deaths. The 210 number is unusually high for Germany, which has consistently boasted one of the lowest mortality rates in Europe, even as deaths have crept upward in recent days.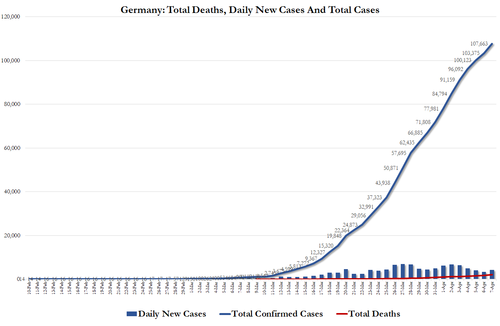 It's just another figure that makes one question the 'good news' narrative forming around Europe: Apparently, the market has it's doubts, too.
*    *    *
Update (1800ET): Spain just reported its latest numbers: 6,910 new cases and 876 deaths, for a total of 141,942 and a death toll of 14,045. That's roughly consistent with the recent "plateau".
Meanwhile, President Trump kept up the optimistic jawboning during his press conference by claiming that the US death toll might be smaller than expected.
*    *    *
Update (1750ET): Trump & Co. are delivering Tuesday evening's press conference. Meanwhile, on the other side of the world, thousands of residents of Wuhan are waking up and getting ready for what might be a dash to the train station as a state rail operator said it expects 55k people to leave Wuhan by end of day Wednesday.
*    *    *
Update (1650ET): We have new numbers out of Portugal, India
Portugal reported 712 new cases, and 34 new deaths, bringing its totals to 12,442 cases and 345 deaths. India reports 573 new cases of coronavirus and 26 new deaths, bringing the countrywide total to 5,351 cases and 160 deaths, minuscule numbers that help feed speculation that the Indian government is covering up the true extent of the outbreak. On Tuesday, the number of cases in Mumbai, home to some densely populated slums, saw a notable jump
While the global death toll topped 80k on Tuesday, the number of recovered coronavirus patients also reached a new milestone: 300k worldwide.
*    *    *
Update (1521ET): Spain just followed up some more encouraging data out of Italy with another disappointment. Spain's pace of coronavirus deaths ticked up for the first time in five days on Tuesday, with 743 people succumbing overnight, but there was still hope the national lockdown might be eased soon.
Tuesday's toll from the health ministry compared to 637 deaths registered during the previous 24 hours, taking the total to 13,798, the second highest in the world after Italy. Still, the proportional daily increase of 5.7% was about half that reported a week ago.
The government dismissed the jump as a normal "oscillation", and blamed it on some delayed notifications from over the weekend.
"It is normal to have some oscillations...What matters is to see the trend and the cumulative data," Maria Jose Sierra, deputy chief of health emergencies, told Reuters.
*    *    *
Update (1500ET): Treasury Secretary Steven Mnuchin tweeted that he's working with Nancy Pelosi to try and add another $250 billion to the 'Paycheck Protection Program' capital after Bank of America received applications asking for roughly one-tenth of the total amount allotted for all the banks in just a few days.
At the direction of President @realDonaldTrump, I've spoken with @SenateMajLdr, @SenSchumer, @SpeakerPelosi, and @GOPLeader to secure an additional $250 billion for the #PPPLoan program to make sure small businesses get the money they need!

— Steven Mnuchin (@stevenmnuchin1) April 7, 2020
Congress is also working to prepare a 4th coronavirus bill, which would essentially be the second installment of its massive bailouts for workers, SMEs and select industries.
*     *      *
Update (1450ET): As the spring holidays near, millions around the world getting used to the idea of spending it alone, or with immediate family only. Benjamin Netanyahu has imposed a nationwide curfew and lockdown for the Passover holiday, one of the most important holidays of the year, and over in Ireland, Prime Minister Leo Varadkar urged citizens not to visit holiday homes or caravan parks in the coming Easter holiday weekend.
*    *    *
Update (1430ET): NJ just followed New York by reporting its largest single-day jump in deaths yet. The state reported more than 200 deaths on Tuesday.
"We're in the fight of our lives," Governor Phil Murphy said at a press briefing.
The state reported 229 new deaths, bringing the state total to 1,232 deaths and reported 3,326 new cases, bringing the total to 44,416.
France, meanwhile, has definitively joined the UK in bucking the broader trend in Western Europe by reporting some more alarming data, including its largest one-day jump in deaths. The country reported 1,417 new deaths, bringing the total to 10,328. France reported another 11,059 new cases, bringing its total to 109,069, breaking above 100k, becoming only the third country in Europe with more than 100k cases. The country's death toll also broke above 10k, a feat that has also only been accomplished by Italy, Spain and the US. Iran is on the cusp of 10k according to its official figures, but most suspect that both Iran and China have seen thousands of deaths that have gone unreported.
Italy, meanwhile, reported 3,039 new cases and 604 deaths, bringing its totals to 135,586 cases, and 17,127 deaths. It was the largest batch of cases in a month.
*    *    *
Update (1245ET): After more than 10 weeks trapped inside their homes, and then trapped inside their city, residents of Wuhan were finally allowed to leave the city on Tuesday. NYT reported that train platforms in the city were packed beyond capacity as residents scrambled to leave.
Meanwhile, Turkey reported 3,892 new cases, bringing total to 34,109, while its death toll rises to 725 with 76 new fatalities.
*    *    *
Update (1210ET): Both the pace of deaths and new cases continued to slow in Italy on Tuesday as the Civil Protection Service reported 604 new deaths, a 3.7% increase, compared to yesterday's 4% jump. Italy's death toll is now at 17,127.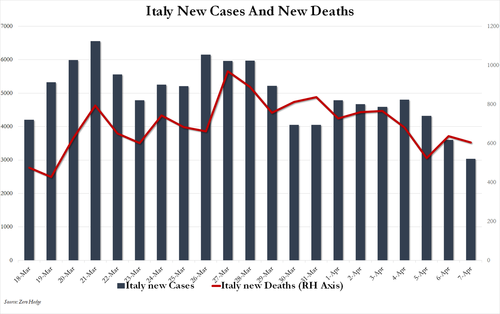 Across the country, officials reported just 3,039 new cases, bringing Italy's total to 135,586.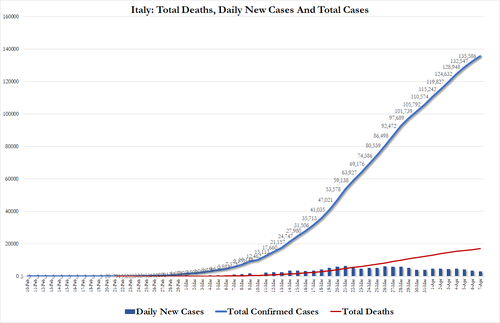 *    *    *
Update (1130ET): For the third day in a row, the UK has emerged as a disappointing standout among the European countries with the highest confirmed case totals by reporting another jump in deaths, along with a jump in new cases.
The UK reported 786 deaths, its deadliest day yet, bringing its death toll to 6,236; the UK has confirmed more than 51K cases.
The pace of new cases declined, driving the UK's mortality rate to 12.1%, a new record. The Health Ministry also reported a drop in testing.
*    *    *
Update (1100ET): New York State just reported its biggest one-day jump in COVID-19 deaths, and a modest decline in new cases, quashing the optimistic narrative that President Trump has been pushing. The state also reported more than 8k new cases, bringing its total to 138,836.
For the second day in a row, Gov. Cuomo said the data appear to show that the state has reached a "plateau". On Tuesday, New York State reported  731 deaths, bringing its total to 5,489.
The dynamic - jump in deaths but drop deceleration in new cases - caused the state's mortality rate to inch higher to ~4%.
Holding a briefing with updates on #Coronavirus. WATCH LIVE: https://t.co/fTaNJGMaPn

— Andrew Cuomo (@NYGovCuomo) April 7, 2020
Hospitalizations have continued to climb, with another big jump on Tuesday...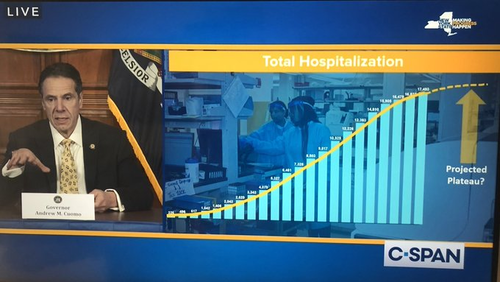 ...but the good news is that ICU admissions and intubations have fallen significantly over the past few days, suggesting that the state won't need those additional ventilators after all.
Intubations and ICU admissions are down significantly in New York. #CoronaVirusUpdate pic.twitter.com/wEeWN88Yiz

— Brian Marschhauser (@editorbrian) April 7, 2020
A roundup:
New York's update:

- Number of new cases down
- Record number of new deaths
- Number of new hospitalizations up
- Number of new ICU patients down
- Number of new intubations down
- Number of newly discharged patients up

— Norbert Elekes (@NorbertElekes) April 7, 2020
New York's 'peak' - the point at which the number of daily deaths and reported cases hits its highest level - is supposed to arrive this week.
And FYI:
⚠️NYC deaths are still soaring, not decreasing! As earlier predicted by health economist @andreafeigl1, NYC weekend death drops are not real trend, only to tick up again during weekdays. Never trust a weekend death count due to well known reporting lulls. #COVID19 https://t.co/jHKi7tO14F

— Eric Feigl-Ding (@DrEricDing) April 7, 2020
*    *    *
Update (1015ET): During a live press briefing unveiling a program to allow NYC school students and their families to access free food, NYC Mayor Bill de Blasio acknowledged that the city's shortage of ventilators has eased somewhat in recent days.
Watch the rest here:
I'm at PS 1 in Manhattan to thank School Food Service Workers keeping New Yorkers fed during the COVID-19 crisis. https://t.co/R8nYmt63F8

— Mayor Bill de Blasio (@NYCMayor) April 7, 2020
Meanwhile, earlier, deaths n the US topped 11K (11,008 exactly)./
*    *    *
Update (1000ET): A recent survey carried out on behalf of the FT and Peter G Peterson Foundation found that 73% of Americans said they've lost money as a result of the pandemic.
Of those, 24% said their household income had fallen "very significantly".
While the NYT, WaPo and the Guardian have been harping relentlessly on how the outbreak is overwhelmingly harming America's most vulnerable, including the poor and minorities, the survey found that higher-earning workers were about as likely to be impacted as workers with relatively low salaries.
In a sign of how widespread the pandemic's economic impact has become, almost as many families making more than $100,000 a year reported a hit to their income (71 per cent), as those making less than $50,000 (74 per cent).
While data has shown that poorer New Yorkers were significantly more likely to be 'essential' workers, and more likely to get sick, that dynamic isn't as prevalent outside New York City, and other massively unequal coastal urban strongholds, and the American middle class and even wealthy Americans have been impacted, sometimes badly, placing them on the cusp of losing homes or other disasters. Remember, a record 10 million Americans filed for unemployment  during the last two weeks of March.
*    *    *
Update (0900ET): As senior Trump Administration officials fan out across the major market-news channels to try and keep the market's fire burning with some well-timed and appropriately un-subtle jawboning, both Treasury Secretary Steven Mnuchin and Larry Kudlow have insisted that President Trump is looking to re-open the US economy "as quickly as possible" - though not before health officials have had their say.
Kudlow took things a step further by dismissing worries about another drop to new lows by saying the Fed is sitting pretty with "the ultimate bazooka", alluding to their ability to buy stocks, something we have long warned about, warnings which have occasionally been dismissed as "conspiracy theories."
Of course, speculating about CBs buying equities is anything but a 'conspiracy', as the BoJ has shown us. And now, some very credible people are talking about the Fed buying stocks after the central bank already took the unprecedented step of buying corporate debt.
*    *    *
Update (0845ET): As Austria and Germany edge toward the beginning of the process of reopening their economies, Beijing has offered its 2 cents on their decision via the editor-in-chief of the Global Times, one of their most visible English-language mouthpieces.
Some European countries are planning to resume economic activity. It's too early. China is yet to reopen its entertainment sector like cinemas and is working hard to cut off transmission chains of imported cases. Europe is not ready for large-scale work resumption anytime soon.

— Hu Xijin 胡锡进 (@HuXijin_GT) April 7, 2020
Hu Xijin also has some 'thoughts' on Trump slamming China for allegedly blocking shipments of PPE and other medical supplies, drugs and products.
Some European countries are planning to resume economic activity. It's too early. China is yet to reopen its entertainment sector like cinemas and is working hard to cut off transmission chains of imported cases. Europe is not ready for large-scale work resumption anytime soon.

— Hu Xijin 胡锡进 (@HuXijin_GT) April 7, 2020
*    *    *
Just as we suspected as we watched futures surge out of the gate on Sunday evening, the drop in New York's reported deaths that filled investors (not to mentioned President Trump) with hope that a week which Surgeon General Jerry Adams had said would be like 'Pearl Harbor, but across the entire country' might not be all that devastating.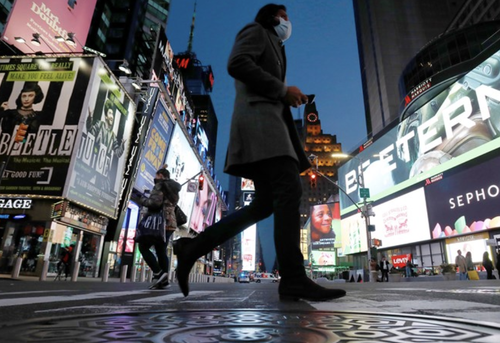 Unfortunately, those numbers now appear to have simply a blimp, based on a quirk in data collection and presentation, as one medical researcher pointed out yesterday.
Even after New York reported a promising three-day streak of declines in hospitalizations and intubations related to COVID019, across the US, the outbreak worsened on Monday as more cases were reported in the US than all of Europe. Overall, there were 73,135 cases of COVID-19 confirmed, bringing the global total to roughly 1.35 million as of Tuesday morning. Deaths rose slightly as well on Monday, as 5,227 people lost their lives around the world, bringing the 'official' death toll to 74,799. After Sunday's drop in new cases, the US once again reported more than 30,000 new cases on Monday, with New York State being the hardest hit, adding nearly 9,000 cases and 600 fatalities. 10 other states reported a daily jump of more than 1k cases. While Europe is finally seeing signs that its lockdowns are working, for the US, with roughly a dozen states still with no mandatory stay at home order in place, it's still too early, according to the FT.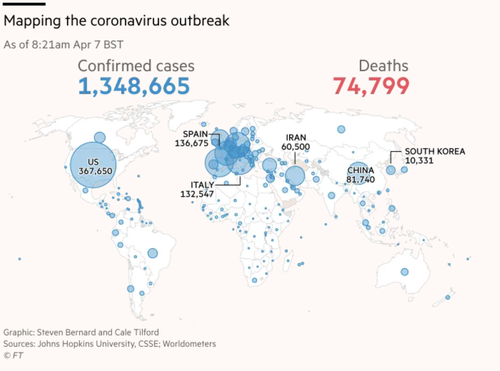 That said, some European states are doing better than others. Spain, which reported a drop in deaths over the weekend, saw them bounce back early Tuesday, reporting 743 deaths for Monday, bringing its total to nearly 14k.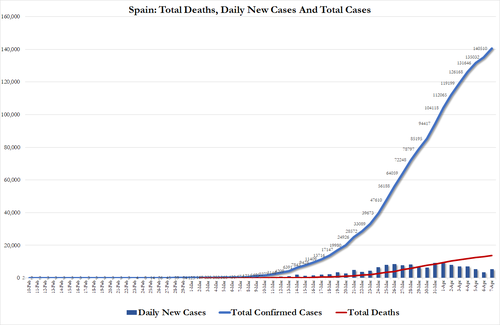 After Germany leaked plans that call for the economy to start reopening later this month, and Austria announced that some shops could reopen as early as next week, the French government is apparently preparing to ban outdoor jogging.
All physical exercise – running, walking – will be banned in Paris between 10am and 7pm from tomorrow (Wed April 8) as part of ever stricter Coronavirus lockdown, by order Paris Police Prefecture & city council...Aim is to keep crowds down. What about pre-10am & post-7pm crowds?

— Peter Allen (@peterallenparis) April 7, 2020
While US testing has improved remarkably since the failings of early last month, former FDA head Scott Gottlieb, a prominent public expert who has been widely quoted in the press since the outbreak began, warned on Tuesday that Texas and Georgia are still notably under-testing, which needs to be corrected.
Texas and Georgia are not testing enough, says @ScottGottliebMD on #COVID19. "When you see a lot of hospitalizations but not a lot of people testing positive in a state it is an indication that they are under testing and both those states are in that bucket." pic.twitter.com/w7HGYqdFLp

— Squawk Box (@SquawkCNBC) April 7, 2020
As New York struggles, CNN reported that 12 NYPD officers have died from COVID-19, roughly half the number of NYPD officers who died on 9/11.
Crossing another major milestone off its list, China's NHC reported a drop in new cases Tuesday morning to 32 from 39 the day before (all of which were travel-related, it said), along with zero new deaths for the first time since Beijing began releasing daily updates in late January. Total case and death toll reported for China have risen to 81,740 and 3,331, respectively, as of April 6.
Also notable: The first day of zero deaths just happened to coincide with the lifting of Wuhan's lockdown, which happened on Tuesday, meaning that millions of Wuhan residents are finally free after months under quarantine.
A BBC correspondent working on the Mainland pointed out that while this milestone is being widely reported in the European press, in China, the state-backed media seem to not be playing it up. Is that because there's an implicit understanding at this point that the public knows Beijing is lying about the daily numbers, and really doesn't care? Who knows, but at this point, the total case and death totals reported out of China don't really matter any more. And the fact remains that, even as Beijing embraces targeted lockdowns in some areas, the overall trend shows China is mostly in the clear - even as the virus will likely persist on some level.
#China has officially reported zero new #coronavirus deaths today! A thread...

— Stephen McDonell (@StephenMcDonell) April 7, 2020
#China has reported zero new deaths today! It's the first time since the 21st of January when the National Health Commission started publishing daily #coronavirus figures (Official figures usual caveats). It doesn't matter whether or not I "believe" the number because...

— Stephen McDonell (@StephenMcDonell) April 7, 2020
While a "milestone" day with zero official #coronavirus deaths, the most important thing in #China is the trend. There's a mountain of evidence to show that the trend in #China is real. Doesn't matter if overall infections are 10 x the official figure, the curve is what matters.

— Stephen McDonell (@StephenMcDonell) April 7, 2020
Would #China's Communist Party elite allow thousands of people to travel from #Hubei (the origin of the #coronavirus outbreak and worst hit province) to where they live in the Chinese capital if they didn't think it was safe?

— Stephen McDonell (@StephenMcDonell) April 7, 2020
I don't know a single person in #China (I don't even know anybody who knows anybody in #China) who's contracted the #coronavirus. I hardly know anybody in #NewYork and #London but I do know people in both those cities with #covid19.

— Stephen McDonell (@StephenMcDonell) April 7, 2020
Interestingly, #China's Communist Party controlled media is not reporting the first 24-hours without #coronavirus fatalities with any great fanfare. The subject isn't even a key trending subject on Chinese social media platforms.

— Stephen McDonell (@StephenMcDonell) April 7, 2020
It was the same when we had the first day with no new home-grown #China #coronavirus infections. It was buried in #China's Communist Party media. If you weren't paying very close attention to the evening 7pm TV news you would've missed it. We'll see tonight re zero deaths.

— Stephen McDonell (@StephenMcDonell) April 7, 2020
This either means #China's media outlets know all too well that there are flaws in the accounting here or, more likely, that the Party knows there are flaws in its accounting so it's ordered a cautious presentation of zero #coronavirus deaths in its media. #covid19

— Stephen McDonell (@StephenMcDonell) April 7, 2020
This also comes with #Wuhan, the city where the global #coronavirus crisis first started - about to open again to the outside world in coming hours. #covid19 #China

— Stephen McDonell (@StephenMcDonell) April 7, 2020
Take from that what you will.
The government in New Delhi has embraced an increasingly paranoid approach to the outbreak in recent weeks, prompting PM Modi to declare a three-week lockdown that gave India's 1.3 billion residents with just hours to prepare, leaving many of the country's poor in the lurch. But as they struggle to prevent outbreaks in some of the country's most densely packed slums, BBC reports that three hospitals in two of India's largest cities - the capital, Delhi, and Mumbai - have been shut after staff tested positive. No one is allowed to enter or leave, and staff will only be allowed to return home once they've tested negative. In Wockhardt Hospital in Mumbai, more than 50 staff members have tested positive. And in Jaslok Hospital, a well-known private hospital in the city, more than 10 nurses tested positive on Monday.
Further north, more worrying news emerged out of Moscow Tuesday morning, as Russia's COVID-19 task force reported 1,154 new coronavirus cases, the largest daily jump yet and the first time the Russian daily total has topped 1k, while another 11 deaths brought the country's total to 58. Russia's total of 7,497 cases of Covid-19 is fewer than other major European countries, but the virus has continued to steadily accelerate even after the Kremlin extended Russia's country-wide "holiday" (a strict lockdown) until the end of April.
From Beijing, to Singapore, to Silicon Valley, the coronavirus has given governments an excuse to test out new surveillance tactics in the name of 'contact tracing' and outbreak suppression. Now, Germany is getting in on the action by promoting a health tracking app released by Germany's federal health agency that can alert health officials to possible signs of COVID-19.
Per the FT:
Germany's federal health agency has unveiled a coronavirus-tracking app that links to fitness bands and smartwatches, which it says will help map the spread of Covid-19 by monitoring anonymised data for tell-tale signs of infection. The app asks for permission to access users' approximate location, and data including resting pulse, sleep and activity levels, which tend to change significantly in the case of acute respiratory diseases. The Robert Koch Institute developed the app in conjunction with Thryve, a Berlin start-up. "If the number of symptomatic patients can be recorded in a sufficiently large sample, this could help us to draw conclusions earlier on the occurrence of infection, distribution and also the effectiveness of the measures taken," said Professor Lothar Wieler, president of the Robert Koch Institute.
Since the early weeks of the epidemic, the general peer-reviewed medical journal "The Lancet" has become widely known outside of the usual medical circles as a source of the latest research on the novel coronavirus. A study published this week in the magazine found that school closures have a limited impact on the spread of coronavirus and should be more rigorously weighed against their serious economic impact, according to a study by researchers at University College London. Data from 16 studies on the Sars outbreak and other coronaviruses in mainland China, Hong Kong and Singapore suggest that school closures did not contribute to the control of the epidemic, concluded the researchers in a paper published in The Lancet on Tuesday.
The Iranian military - which is a wholly separate entity from the IRGC - has cancelled a military parade that had been scheduled for later this month, saying it will instead push the soldiers to help with the outbreak.
Also: After announcing plans to declare a month-long 'state of emergency' in 7 provinces (including Tokyo), Japanese PM Abe did just that when he officially announced the plan on Tuesday morning, a move that had been widely telegraphed in advance. Though Japan's constitution doesn't allow the government to hand out punishments for violators, it has asked non-essential businesses and schools to close, while 'essential' businesses like banks and grocers to remain open. His government has also announced plans for a stimulus package worth nearly $1 trillion.
Finally, last night, Downing Street shocked the world when it announced that UK PM Boris Johnson had been moved to the ICU "as a precaution" after experiencing some heightened difficulty breathing. After doctors started to speculate that he would very likely be placed on a ventilator, the government decided to re-examine its decision not to provide complete transparency to the press, and instead leaked a report to the London Times offering more details about Johnson's condition with one critical admission: Doctor's said Johnson wasn't in bad enough shape to warrant being admitted to the ICU under normal circumstances, but given the novelty of the virus, and Johnson's importance, he was moved as a precaution.
Meanwhile, ministers are demanding to know more about the government's contingency planning as for who will be responsible for critical national security duties, including the handling of the UK's nuclear deterrent. So far, Dominic Raab, Johnson's foreign secretary, has been deputized to step up if Johnson becomes incapacitated.