---
US, Papua New Guinea Military Pact Will See Steady Increase Of US Troops
Authored by Dave DeCamp via AntiWar.com,
On Monday, the US and Papua New Guinea signed a new military pact and a surveillance agreement while Secretary of State Antony Blinken visited the Pacific Island nation as part of the Biden administration's strategy against China.
A State Department spokesperson said the Defense Cooperation Agreement (DCA) will "replace an outdated Status of Forces Agreement and Memorandum of Understanding regarding defense cooperation."
Details of the DCA have not been released, but Papua New Guinea officials have said it will give the US military access to ports and airports, which could lead to the US building bases. PNG Prime Minister James Marape said Sunday that his country should expect to see a steady increase in the presence of US troops and contractors over the next 15 years.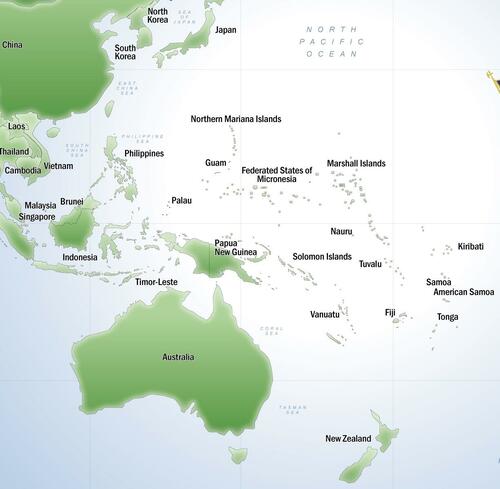 "How many soldiers we are looking at, how many contractors we are looking at, I do not have that scope today but there will certainly be an increased presence and a more direct presence of US in our country," he said.
The separate surveillance agreement will allow the US Coast Guard to patrol the exclusive economic zone (EEZ) of Papua New Guinea, which extends 200 nautical miles from the nation's coast. Blinken said at a joint press conference with Marape that the purpose of the surveillance agreement is to "help combat illegal, unreported, and unregulated fishing."
The deals with Papua New Guinea are seen as the US response to China signing a security pact with the nearby Solomon Islands. US military leaders have also made clear that the plans are part of preparations for a future war with China.
TFF 🔻 Biden's Papua New Guinea no-show takes shine off US pact
It was all about building bases and militarise Papua New Guineau (PNG). I mean, if there is a plot of land somewhere, why not set up a bases - the US only have some 700 - and show, smartly at the same time, that ... pic.twitter.com/KSPj5iMdIx

— Jan Oberg & TFF (@janoberg) May 22, 2023
Gen. Kenneth Wilsbach, commander of the US Pacific Air Forces, recently told Nikkei Asia that the idea of expanding in the Pacific is to create more areas China would need to target.
"Obviously we would like to disperse in as many places as we can to make the targeting problem for the Chinese as difficult as possible," he said. "A lot of those runways where we would operate from are in the Pacific Island nations."
Loading...