---
US Sails Carrier Into South China Sea As Philippines Enraged Over China 'Territory Grab'
In the latest dispute over territory in the South China Sea, the Philippine government is denouncing Beijing for sending a "maritime militia" near the contested Whitsun Reef (alternately spelled Whitson Reef). 
China has responded by saying the ships are merely civilian fishing vessels, but the bellicose rhetoric has only grown between the two sides in the past days. And now amid the ratcheting tensions American warships led by the USS Theodore Roosevelt carrier have entered the waters.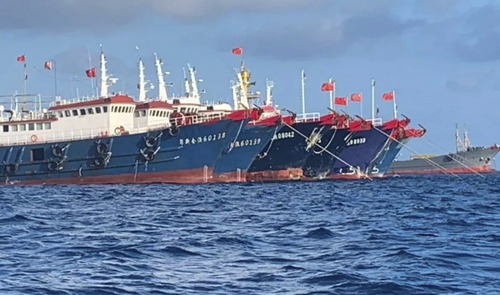 The US aircraft carrier strike group reportedly entered the region starting Sunday, according to the South China Sea Probing Initiative (SCSPI).
Perhaps feeling further emboldened by the US strike group's presence, the Rodrigo Duterte government is livid, denouncing the Chinese vessels' presence using "the strongest words yet" according to Reuters:
In some of the strongest words yet from Duterte's camp about China's conduct in the South China Sea, his lawyer Salvador Panelo called the prolonged presence of boats an unwelcome stain on relations that risked "unwanted hostilities that both countries would rather not pursue".

"We can negotiate on matters of mutual concern and benefit, but make no mistake about it - our sovereignty is non-negotiable," Panelo said in a statement.

Duterte's spokesman Harry Roque echoed the view and told a news conference: "We will not give up even a single inch of our national territory or our exclusive economic zone (EEZ)."
Whitsun Reef lies some 175 miles west of the Philippine province of Palawan...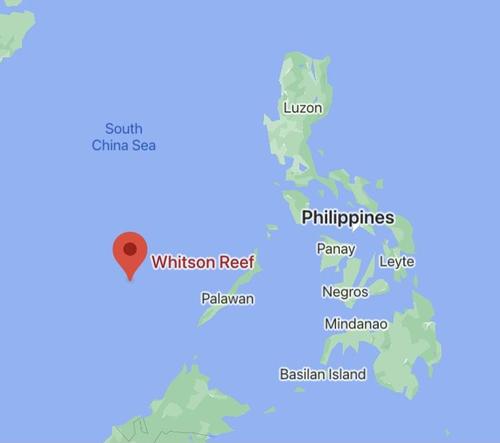 Manilla believes China is using a massive presence of over 200 vessels to effectively establish control over the area as we previously described last month.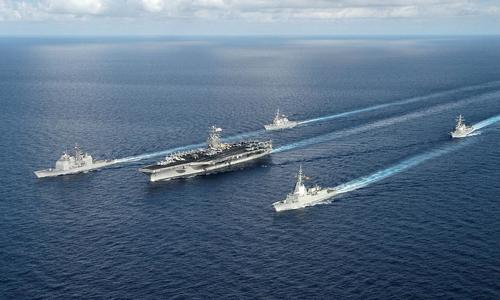 Last month the Phillippines lodged a diplomatic protest over what it charged is a "swarming and threatening" presence of Chinese vessels.
Theodore Roosevelt CSG enters the #SouthChinaSea via the Strait of Malacca this morning according to AIS data, Apr 4. pic.twitter.com/RmGUpXGPZp

— SCS Probing Initiative (@SCS_PI) April 4, 2021
The United States in the meantime has vocally supported The Philippines' version of events - hence the latest carrier presence to "warn off" the Chinese.