---
Florida, Texas Close Bars, Arizona Warns Hospital Capacity Limited, With US On Track For 3rd-Straight Record Jump: Virus Updates
Summary:
Texas reports 4.3% jump, compared with 7-day average of 4.1%
Dr. Fauci warns contact tracing not going well
San Francisco delays reopening
US is on track for third-straight record jump
Arizona Gov warns hospitals near surge capacity as emergency plan activated
Here are NJ's latest number
Dr Taleb: "lockdowns are expensive. Masks are not".
California COVID-19 cases climb 2.5%
Trump cancels weekend trip to New Jersey
EU moving toward blocking US travelers
UAL to restart routes between SF & Shanghai
Florida follows Texas, closes bars
Arizona sees daily, weekly rise in new cases
Houston declares "top-level" emergency
Fla reports another record jump
Dr. Fauci says WH considering "pool testing " approach to uncover new outbreaks more quickly
Abbott orders taverns to close
Texas Gov expected to roll back reopening measures after announcing 'pause'
US sees second straight record jump in daily new cases
India cases top 500k after another record jump
Almost all US states seeing biggest jump in cases are located in south, west
Japan reports 100 new cases, biggest spike in weeks
Beijing unwinds more restrictions after latest cluster scare
* * *
Update (1920ET): At risk of being labeled racially insensitive, we've taken the liberty to highlight signs of growing case numbers in and around areas where major protest marches took place.
NY's roughly 800-case daily increase caught our eye earlier today, and it looks like Jim Bianco has something to add:
Top panel ... big one day jump in cases in the NYC, Chicago and Boston areas. These cities led the case count in March and April.

Yes one day does not make a trend but this is exactly how a second wave begins.

Case, case, cluster, cluster...BOOM!

(2/3)@EpsilonTheory @MishGEA pic.twitter.com/k9biS8Hhfh

— Jim Bianco (@biancoresearch) June 26, 2020
Fortunately, the contact tracers have already been instructed not to even ask about protest attendance, not that anyone seems to be talking to them anyway.
* * *
Update (1700ET): Texas has released its numbers slightly earlier than expected on Friday. Though it wasn't another record jump, it appears the outbreak hasn't slowed much.
TEXAS VIRUS CASES JUMP 4.3%, EXCEEDING 7-DAY AVERAGE OF 4.1%
* * *
Update (1632ET): The average age of Houston's coronavirus patients has fallen to 40 from 50, the latest indication that the latest outbreak is being driven by young(er) people not taking the proper precautions.
Now, in Meg Tirrell's pre-taped interview, Dr. Fauci saved some of his biggest 'truth bombs' for CNBC and its viewers, including a warning that "we'll be seeing more deaths" if more isn't done. He also claimed at one point that the worst-hit states like Texas and Florida might need to consider reinstating their lockdowns.
At same time of WH task force briefing, @megtirrell's pre-recorded interview with Anthony Fauci is running.

"It isn't just because they are doing more testing," Fauci says on states seeing case spikes.

He warns we will soon "be seeing more deaths."

— Andrew Dunn (@AndrewE_Dunn) June 26, 2020
Fauci says the hardest-hit states "might have to" revert to lockdowns.

"You never take that off the table," he says. "But before you do that, how about doing the things we've said all along you should do. For goodness' sakes, avoid crowds. Wear masks."

— Andrew Dunn (@AndrewE_Dunn) June 26, 2020
Dr. Fauci also added that the government's contact tracing efforts aren't going as well as he'd hoped.
Fauci on contract tracing: "It's not going well."

"People don't want to cooperate," he adds, saying people don't want to tell authorities where they've been and who they have seen.

Says the US has to rethink testing strategy, mentions pooled testing as a possibility.

— Andrew Dunn (@AndrewE_Dunn) June 26, 2020
Quite the contrast in rhetoric on testing between the President and Fauci.

Fauci says he is strongly urging for "flooding the system with testing to really get a good handle on what's going on in the community."

— Andrew Dunn (@AndrewE_Dunn) June 26, 2020
"Remember, deaths lag behind hospitalizations that lag behind people getting sick that lag behind people getting infected," Fauci says.

— Andrew Dunn (@AndrewE_Dunn) June 26, 2020
On seasonality, Fauci says the warm weather is not stopping any outbreak.

"Warm weather still may have a positive impact," he says, "but it's getting drowned out in all the other things that are making it go up."

— Andrew Dunn (@AndrewE_Dunn) June 26, 2020
Fauci says CDC gave billions to states to boost testing and contact tracing to identify and isolate cases. States had authority on how to spend this cash.

"We got to make sure that happens, because I don't really see that happening to a great degree right now," Fauci says.

— Andrew Dunn (@AndrewE_Dunn) June 26, 2020
He also commented on growing levels of vaccine skepticism, claiming that people need to understand that the vaccine is "for the good of the community."
On rising levels of vaccine skepticism among the public, Fauci says health officials have to "let them know that this is for the good of the public health, their own personal health, as well as the health of the community."

— Andrew Dunn (@AndrewE_Dunn) June 26, 2020
Polls have shown up to one-third of Americans, or more, don't plan on getting the vaccine after it's made available.
* * *
Update (1545ET): Just after Arizona's Banner Health announced it was deploying more than 200 additional nurses to combat a statewide spike in coronavirus cases as it activated an emergency plan, AZ Gov. Doug Ducey warned the state's hospitals were on the verge of reaching surge capacity.
In other news, San Francisco Mayor London Breed just warned that she would delay a planned reopening set for Monday because of rising coronavirus cases seen daily in the city.
SAN FRANCISCO TO DELAY REOPENINGS PLANNED FOR MONDAY: MAYOR
SAN FRANCISCO MAYOR BREED: SF VIRUS NUMBERS 'LOW BUT RISING RAPIDLY'
Our reopening process is guided by data and science.

COVID-19 cases are rising throughout CA. We're now seeing a rise in cases in SF too. Our numbers are still low but rising rapidly.

As a result, we're temporarily delaying the re-openings that were scheduled for Monday.

— London Breed (@LondonBreed) June 26, 2020
Yesterday we saw 103 cases. On June 15, when we first reopened outdoor dining and in-store retail, we had 20.

At our current rate, the number could double rapidly. If that continues & we don't intervene, we'll be at such a high number that our only option would be to shut down.

— London Breed (@LondonBreed) June 26, 2020
This is why it is important to follow protective health measures and utilize the tools we already have.

Everyone needs to wear face coverings, maintain social distance, and practice good hygiene.

Nobody should wait to get tested.

— London Breed (@LondonBreed) June 26, 2020
If you are feeling symptomatic, get tested. If you are an essential worker or you need to leave the house for work, get tested. And have your family get tested too.

Let's protect each other so that we can safely reopen San Francisco.

— London Breed (@LondonBreed) June 26, 2020
Our public health experts will evaluate the data over the coming days to determine if it's safe to move forward.

I know people are anxious to reopen--I am too. But we can't jeopardize the progress we've made.

We'll continue to let you know as soon as decisions are made.

— London Breed (@LondonBreed) June 26, 2020
In other news, Illinois positivity rate continues to fall, while the US looks like it's on track for another record jump in new cases, which would be its third in a row.
ILLINOIS 7-DAY POSITIVITY RATE 3%, DOWN FROM 8.6% MONTH AGO
U.S. CASES RISE 1.7%, HIGHER THAN THE 7-DAY AVERAGE OF 1.5%
* * *
Update (1506ET): With the end of the market day and the week nearly upon us, Florida Gov Ron DeSantis has followed up VP Pence's White House COVID task force press briefing by doubling down, saying he wouldn't require masks to be worn state-wide.
Complaints about access to testing centers are also becoming a problem for the governor.
Testing remains a nightmare in some places. This is Florida.

"1st car was in line 1 a.m."

Drivers advised to have "a full tank of gas" and working AC. https://t.co/gXaatQTfVp

— Steven Dennis (@StevenTDennis) June 26, 2020
Meanwhile, 16 NBA players have tested positive for the virus amid a wave of criticism about the league's "current plan" to play its entire season in Orlando.
16 NBA players test positive for COVID. The current plan is for them to play in Orlando, Florida, a state that today reporting nearly 9,000 new COVID cases.https://t.co/Das1OeWKkB

— Steven Dennis (@StevenTDennis) June 26, 2020
Maybe the NBA should have chosen Hawaii.

— Steven Dennis (@StevenTDennis) June 26, 2020
A handful of baseball players were recently infected in Clearwater, Fla.
Meanwhile, Dr. Scott Gottlieb has raised some alarming questions about the death stats in Florida. Even though it's mostly young people being admitted right now, it seems Gen Xers are dying at an alarming rate.
When we see data showing in hospital mortality for Covid patients aged 35-44 of almost 5% we should keep in mind — that's exceptionally high; especially since criteria for admission is generally just an oxygen saturation below 93%. Many of these young people are otherwise healthy pic.twitter.com/BWjtLgNgV5

— Scott Gottlieb, MD (@ScottGottliebMD) June 26, 2020
And making a last-ditch attempt to rescue stocks as more companies jump on a corporate boycott of Facebook for refusing to censor everyone the left wants them to censor, Larry Kudlow claimed every important metric is on the way to a "V-Shaped" recovery. On a day when the Atlanta Fed's Q2 GDP NowCast deteriorated even further.
* * *
Update (1430ET): The CDC just confirmed the last batch of coronavirus data which was mostly released yesterday (and reflects numbers through Wednesday).
U.S. CDC REPORTS 2,516 NEW DEATHS DUE TO CORONAVIRUS AS OF YESTERDAY; TOTAL NOW 124,325 DEATHS VS 121,809 IN PREVIOUS REPORT ON JUNE 25
U.S. CDC REPORTS 40,588 NEW CORONAVIRUS CASES AS OF YESTERDAY; TOTAL NOW 2,414,870 CASES VS 2,374,282 IN PREVIOUS REPORT ON JUNE 25
Meanwhile, after Sen Ted Cruz called in a favor from the president, the feds announced that they would maintain their federal support for testing efforts in Texas.
See, all you have to do is ask nicely. pic.twitter.com/b37DQBjcL3

— Carl Quintanilla (@carlquintanilla) June 26, 2020
After yesterday's big revision, here's an update from NJ Gov Phil Murphy.
Sadly, we must report an additional 44 deaths among #COVID19 confirmed-positive New Jerseyans, pushing our statewide total to 13,060 lives lost. pic.twitter.com/TnfbN4KaTf

— Governor Phil Murphy (@GovMurphy) June 26, 2020
YESTERDAY:
☑️1,118 patients in our hospitals
☑️234 patients in either critical or intensive care
☑️206 ventilators in use
☑️59 #COVID19 patients admitted
☑️114 patients discharged pic.twitter.com/R1Ch7KpwpK

— Governor Phil Murphy (@GovMurphy) June 26, 2020
The state's "R" rate ticked lower day over day, reversing a jump from the prior day.
☑️Spot positivity rate for tests from June 22nd was 2.1%
☑️Rate of transmission was 0.86

We've done tremendous work to push both of these numbers down and keep them down.

WE CANNOT SEE THEM SPIKE BACK UP. We have to keep up with social distancing and wearing face coverings. pic.twitter.com/CIiHIFeZyJ

— Governor Phil Murphy (@GovMurphy) June 26, 2020
* * *
Update (1405ET): After VP Pence refused to utter the word "masks" during Friday's press briefing, we'd like to share this interview with Nassim Taleb, the famed author of "the Black Swan", who lamented the "politicization" of masks, arguing that they were a much more sensible option to combat the virus.
"It's quite offensive to see people are politicizing something like transmission of a disease," says "Black Swan' author @nntaleb. "Without masks, we can't pull out of this. Lockdowns are very expensive for society. Masks are not." pic.twitter.com/5jVxZB2Llg

— Squawk Box (@SquawkCNBC) June 26, 2020
Morgan Stanley research shows the stark difference in the percentage of tests coming back positive.
"Open" states vs. "closed"

(via Morgan Stanley) @pattidomm pic.twitter.com/AIWM39QZ2A

— Carl Quintanilla (@carlquintanilla) June 26, 2020
* * *
Update (1340ET): With Vice President Pence trying to brush off the recent surge in 16 states' coronavirus cases which have brought the daily US totals back into record territory, California just reported a 2.5% jump in new COVID-19 cases over the last 24 hours, which is below its 7-day total.
CALIFORNIA COVID-19 CASES RISE 2.5% VS 2.8% 7-DAY AVERAGE
What we're dealing with now is community spread...the largest proportion of people being infected are asymptomatic...and he has just started to discuss what appears to be the concept of "pool testing" that he reportedly discussed in recent interviews.
That has now devolved into a bunch of vague babble about becoming "community-based" to try and compensate for the fact that NYC's great contact tracing experiment - the triumph of the epidemiologists and their "technocratic" allies - has already failed.
* * *
Update (1150ET): As Andrew Cuomo gloats by saying NY is in a position to provide assistance to other states, his latest in a series of victory laps, President Trump has reportedly cancelled a weekend trip to his golf club in New Jersey.
Additionaly, Cuomo slammed the states that reopened too early, and are now seeing cases climb, saying that there was incontrovertible evidence against moving forward, and that the state's "anti-science" governors opted for the politically expedient route.
Meanwhile, Dr. Gottlieb just highlighted the trend of hospitalizations in Houston.
Covid admissions in Texas hospitals are rising quickly, precipitating some of the moves today. pic.twitter.com/8poUjGyWFu

— Scott Gottlieb, MD (@ScottGottliebMD) June 26, 2020
* * *
Update (1135ET): As Ron DeSantis backtracks on reopening amid growing political pressure to do something about the burgeoning numbers of new cases in his state besides brazenly manipulating the data, the left-leaning press is reviving claims made by Rebekah Jones, a former state data scientist who has accused the state of a conspiracy to cook the numbers this week to make it look like the state made it "over the hump" in the runup to July 4.
Here's more from the Guardian:
Rebekah Jones, who says she was fired from her job in charge of the state's official Covid-19 database in May for refusing to manipulate its figures, claimed on social media to have evidence that employees at Florida's department of health "have been instructed this week to change the numbers and begin slowly deleting deaths and cases so it looks like Florida is improving next week in the lead-up to July 4, like they've 'made it over the hump'."

"They're only reporting all these cases now so they can restrict reporting next week to make everyone think it's over," she said.

DeSantis, a Donald Trump loyalist who has refused to slow Florida's reopening or implement a statewide mask mandate, angrily dismissed the claim, calling a reporter from the Miami Herald who asked him about it "embarrassing."

"You guys have been on the conspiracy bandwagon for months," he snapped at a press conference on Thursday, without addressing the specifics of Jones's assertion. "You need to move on."
Whether one believes Jones or not, the timing of DeSantis's about face, coming hours after Texas led the way, shows that the state knows the strategy of ignoring the second wave simply isn't tenable.
Gov Cuomo, meanwhile, just said Friday that he has evidence that malls and movie theaters "created issues" with COVID-19. Meanwhile, another round of reports claiming the EU is moving toward extending the travel ban on the US has just hit the tape.
* * *
Update (1134ET): New York just reported ~800 new cases, another 0.2% day on day jump, in line with the 7-day average. Meanwhile $UAL just announced plans to restart routes from San Francisco to Shanghai.
* * *
Update (1123ET): The Arizona whisper number (the leaked press accounts that hit before the official data are released) is putting cases today at 3,428, above yesterday's 3,056. That compares with 3,246 last Friday.
These numbers have just been confirmed by state health officials. Arizona's COVID-19 cases climbed to 66,458, up from 63,030. That's a 5.4% jump, compared with the 7-day average of 2.9%.
Meanwhile, Florida has just followed Texas's lead and closed its bars, effective immediately.
Effective immediately, the Department of Business and Professional Regulation is suspending on premises consumption of alcohol at bars statewide.

— HalseyBeshears (@HalseyBeshears) June 26, 2020
* * *
Update (1100ET): We have some more news out of Texas as we await the latest daily figures. After Houston's hospital leaders assured the public that the situation wasn't so dire after all, Harris County officials have just declared a new "top level emergency" regarding COVID-19.
Harris County is the largest county in Texas, and the third-largest in the US, by population, and is also home to Houston, the country's 4th-largest city. Yesterday, at least some officials declared that the emergency infrastructure in the city has been "overwhelmed" by the surge in cases, as hospitalization numbers have more than doubled since early June. In other Texas news, the metro health director in San Antonio just resigned as the outbreak in that city intensifies.
* * *
Update (1035ET): The Florida numbers just hit, and it looks like Florida just smashed its last record with nearly 9,000 new cases in a day.
FLORIDA COVID-19 CASES RISE 7.8% VS. PREVIOUS 7-DAY AVG. 4.1%
Florida just reported 8,942 cases today, compared with 3,822 last Friday.  That's a 134% increase in the span of a week.
For context:
How you know it's serious...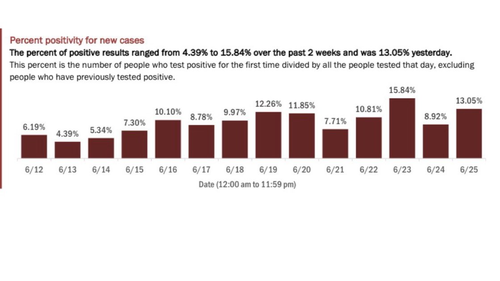 Will Gov DeSantis now need to follow Abbott by reversing course and walking back the reopening?
* * *
Update (1015ET): Dr. Scott Gottlieb warned today that Florida, which has consistently tried to juice its testing figures, according to one self-styled whistleblower, is seeing testing fall while Texas has seen testing climb, a key difference that makes Florida's outbreak more alarming than the numbers coming out of Texas (which, if you'll remember, even the heads of the top hospitals in Houston have clarified that they're not worried about capacity).
"Are they experiencing exponential growth? Texas is testing a lot so they are turning over their cases. Florida is not ... Florida may be in worse shape than Texas," says @ScottGottliebMD. "I would also be very worried about smaller states like South Carolina and Alabama." pic.twitter.com/BYjUEDR6GF

— Squawk Box (@SquawkCNBC) June 26, 2020
Gottlieb also discussed the importance of the positivity ratios that states have started to tout as more useful metrics of progress.
"We're diagnosing 1 in 5 to 1 in 10 infections now. At the height of the epidemic we were probably diagnosing about 1 in 20," says @ScottGottliebMD on #coronavirus data. "I would guess around 7%" of the US population has had the virus. pic.twitter.com/skhzoVNF4U

— Squawk Box (@SquawkCNBC) June 26, 2020
We're waiting for the latest figures out of both states.
In other news, Dr. Fauci just confirmed to the Washington Post ahead of today's coronavirus task force briefing - the first public briefing in two months - that the White House is seriously considering pushing a new strategy called "pool testing" which Dr. Fauci himself believes could help states uncover outbreaks much more quickly.
The Trump administration, confronting a worrisome spike in coronavirus infections around the country, is discussing a major change in testing strategy — a shift to "pool testing," in which samples from many people are tested all at once in an effort to quickly find the infected and isolate them.

Dr. Anthony S. Fauci, the nation's top infectious disease expert, confirmed that officials are having "intense discussions" about the new strategy. Dr. Fauci's comments were first reported by The Washington Post.

The pooled approach combines samples from multiple people at once, and would offer a way to minimize the number of tests needed. If the pooled sample tests negative for the coronavirus, all the individuals who provided samples are considered to be virus-free.

If a certain pool comes back with a positive result, each patient who provided a sample can be tested individually. The strategy can be particularly effective when the prevalence of infection in a population is less than 30 percent, according to some reports.
We'll hear more about that, we imagine, during today's briefing, which is set to begin at 1230ET.
* * *
Update (1000ET): Texas Gov Abbott has officially ordered taverns in the state to close in response to the virus.
TEXAS GOVERNOR ORDERS TAVERNS TO CLOSE IN RESPONSE TO VIRUS
Here are some more details from CNBC's Meg Tirrell.
.@GovAbbott rolling back Texas reopening as positivity rate rises above 10%:
-bars required to close at noon today, may remain open for delivery & takeout
-restaurant capacity may not exceed 50%
-rafting & tubing businesses must close
-outdoor gatherings 100+ need govt approval

— Meg Tirrell (@megtirrell) June 26, 2020
Numbers from California and Florida are expected out shortly.
* * *
Update (0955ET): After declaring yesterday that he would "pause" the state's reopening plan in counties hard hit by the state's sudden surge in coronavirus infections and hospitalizations (though deaths have remained remarkable low), Texas Gov Greg Abbott is reportedly about to announce what would be the nation's first rollback of coronavirus restrictions.
#Breaking Sources confirm a coming announcement from @GregAbbott_TX shortly, regarding a roll back on certain reopening phase items. I'm told bars and restaurants will be the subject. #COVID19 #TexasCovid19

— Doug Dunbar (@cbs11doug) June 26, 2020
😂 u know they're digging deep into the @espn @XGames archives, when they pull out the first ever Extreme games to fill a time a time slot in 2020. Great memories from Roger Williams state park in Rhode Island, and many years after on the X train. #sports #XGames pic.twitter.com/XqNFZOdPKp

— Doug Dunbar (@cbs11doug) June 26, 2020
It's believed the measures will impact bars and restaurants. The news sent equities sliding into the red, erasing this morning's panic bid.
* * *
As we reported last night, the US saw another record (or near record, depending on who you ask) jump in newly confirmed COVID-19 cases yesterday thanks to new records in Florida and Texas, and record (or near-record) numbers across much of the south and west.
According to the Washington Post, the final count for Thursday's increase was 39,327 new infections reported by state health departments across the country. That number surpasses WaPo's total set a day earlier (though some sources put the number of cases reported Wednesday as high as 45k). Texas alone reported a record 5,996 new cases (along with another record high for coronavirus hospitalizations) last night and, as WaPo points out, the Lone Star State's rolling average has increased by 340% since Memorial Day.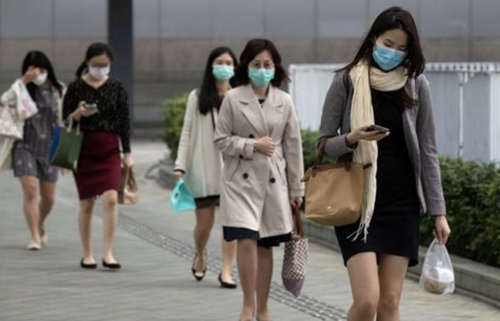 With the US facing an unexpectedly large pickup in new cases, the median age of those infected has fallen sharply, down from 65 to around 35 today. This has been widely cited as one reason why deaths have continued to plateau, or even trend lower, amid all the insanity.
For the first time in nearly two months, the White House coronavirus task force will hold a news briefing on Friday to address the situation. But unlike previous briefings, VP Mike Pence will lead, and President Trump isn't expected to make an appearance.
Last night, Joe Biden just took the "politicization" of mask-wearing up a notch by declaring that, if he were president, he would mandate mask-wearing in public, even though masks are only recommended to be worn in indoor locations (especially those with poor ventilation), or in outdoor areas where social distancing simply isn't possible.
Coronavirus hospitalizations in New York dipped below 1,000 for the first time since March 18, Gov. Andrew M. Cuomo said Thursday. The WHO also said the virus could once again "push health systems to the brink" in Europe after 30 countries across the continent have seen cases rebound over the past 2 weeks.
As Australia learns the hard way that there's nothing worse than declaring "victory" over the virus, only for it to come surging back a few weeks later, supermarkets around the country are being forced to impose limits on toilet paper purchases as Australians engage in another wave of "panic buying" amid fears that lockdowns might return (even though the number of cases reported over the last week is relatively minuscule). Victoria alone saw 30 new cases reported Friday, while a few other regions have reported one, or a handful, of new cases.
Seriously Melbourne? Is toilet paper stockpiling back? This is a Woolworths at Craigieburn Plaza right now (Wednesday morning). pic.twitter.com/Ogbifw89Nk

— Paul Dowsley (@pauldowsley7) June 24, 2020
However, deaths in the US have continued to fall, with the 7-day average for the entire US hitting its lowest level since March.
The 7-day average of COVID-19 deaths is now 560.

But with this many cases piling up, it seems unlikely to keep falling for much longer. pic.twitter.com/9rhtuXcwPj

— The COVID Tracking Project (@COVID19Tracking) June 25, 2020
Of course, every pundit inevitably points out that this trend likely won't last for too much longer even as there's plenty of reason to believe that deaths this time around won't be as severe since we've learned more about how best to protect the most vulnerable to serious illness - ie those in long-term care homes, who in several instances died by the dozens as the virus tore through institution after institution.
Taking a step back, all but one of the 15 states seeing the biggest accelerations in new cases and hospitalizations are situated in the south or the west. That state is Missouri, which, as the Atlantic correctly points out, is sometimes lumped in with the south.
Zooming back out, 15 states have now set their record for reported cases since June 19. All but one (Missouri) is in the South and West.

(And we know some people do classify MO in the South.) pic.twitter.com/CD4ArI27nJ

— The COVID Tracking Project (@COVID19Tracking) June 25, 2020
The cumulative 7-day totals from the past week are already on track to make this past week the worst in terms of newly confirmed infections.
If you want more in-depth analysis of the last week, our team members put together this update. https://t.co/9D4MVeC8ya pic.twitter.com/8Zd1Gx7sxr

— The COVID Tracking Project (@COVID19Tracking) June 25, 2020
Yesterday marked another reported high in the outbreak according to the Atlantic's stats from last night. Of course, the final numbers reported a day earlier ended up being over 45k for the day, according to some estimates. But according to the data, both Tuesday and Wednesday of this week saw record or near-record numbers of newly confirmed cases. Furthermore, while testing is rising across the country,
Even subtracting Wisconsin's probables, today marked a new record high for reported cases in the outbreak at just over 39k. pic.twitter.com/oSl6FF9hKa

— The COVID Tracking Project (@COVID19Tracking) June 25, 2020
As Beijing unwinds more restrictions following its latest flare-up, Japan has just confirmed more than 100 new daily COVID-19 cases, the largest daily total since May 9, while in India, the biggest 24-hour spike in cases (17,296 new infections reported) pushed the country's total case number close to half a million (490,401 in total) while deaths climbed by 407 bringing the death toll to 15,301. On the bright side, the country is seeing an improvement in the recovery rate for the most severe cases, with it climbing to 57.43%. Also, deaths per 100,000 stood at just 1.86, well below the global average of 6.24 per 100,000, per Al Jazeera.