---
US COVID-19 Deaths Top 200k As Colleges Cause "Tens Of Thousands" Of Extra Cases, Study Shows: Live Updates
Summary:
BofA analysts warn spike in US cases driven by testing
Canadian PM Justin Trudeau may unveil new covid restrictions tomorrow
Study shows colleges caused huge spike in cases
US deaths top 200k
BoJo unveils new national social distancing restrictions
India sees cases slow to just 75k
US deaths just below 200k
US reports 52k+ new cases, most in 5 weeks
Colleges become 'breeding grounds' for outbreaks
Munich mandates outdoor facemasks
Britons await Johnson's announcement on new measures
Australia's Victoria State sees cases below 30 for 4th day
Hong Kong Disney set to reopen again on Friday
* * *
Update (1530ET): With the US still struggling through a post-LDW spike in cases, a team of analysts at Bank of America has advised that a jump in testing almost entirely explains the higher daily tallies, which would explain the surprisingly low daily mortality counts.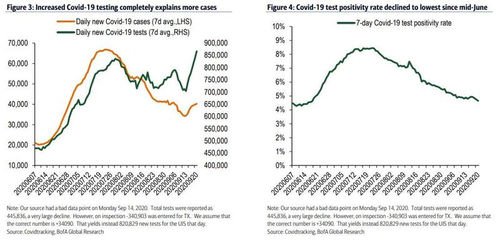 And the drop in countrywide hospitalizations to levels last seen in June.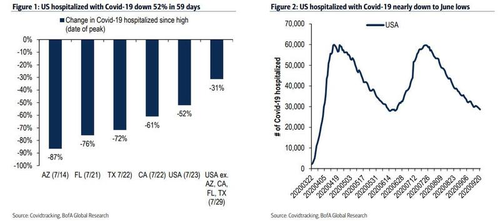 Still as one NYT political reporter reminded us on Tuesday, even relatively health people can get seriously sick with COVID-19.
This week marks six months since my husband and I got sick with covid. We are still very much dealing with the aftereffects. Here's the view from half a year out. (thread, 1/x)

— Maggie Astor (@MaggieAstor) September 22, 2020
My husband is still coughing. It's nothing like the apocalyptic coughs we had during the acute illness, but it's still there. He has been coughing every day for six months. It's been very, very slowly improving with the help of two inhalers. 2/x

— Maggie Astor (@MaggieAstor) September 22, 2020
Both of us, still, get out of breath very easily. Just the other day, I carried some groceries upstairs to our apartment, and at the top of the stairs I had to drop the bags on the floor and lean against the wall to catch my breath. 3/x

— Maggie Astor (@MaggieAstor) September 22, 2020
In my husband's case, the doctor thinks this is because of the same airway inflammation causing his persistent cough. In my case, it's because of inflammation around my heart, which tests revealed in July. It's treatable! But it is, to say the least, scary to deal with. 4/x

— Maggie Astor (@MaggieAstor) September 22, 2020
My senses of smell and taste still — still, after six months! — are not back to normal. I can smell some things but not others. The things I can smell are less intense than they should be. Sometimes I smell a weird scent that's not actually there. 6/x

— Maggie Astor (@MaggieAstor) September 22, 2020
Meanwhile, Canadian Prime Minister Justin Trudeau has reportedly asked networks to reserve air time Wednesday night for an address where Trudeau is expected to follow UK PM Boris Johnson by unveiling new COVID-19 related measures. Canada has seen a resurgence in COVID-19 cases, though it's still pretty tame compared to the US.
* * *
Update (1400ET): Maybe this is why all those academics are so hesitant to correct Joe Biden's claim that President Trump is responsible for all "200 million" (of course the true total is 200,000)? The results of a new study shared by WSJ on Tuesday showed researchers at the University of North Carolina found tens of thousands of extra cases caused by colleges reopening in-person classes.
Colleges needed to revive in-person classes to avoid steep discounts. Researchers estimate that colleges contribted an extra 3,200 additional cases - or 2.4 per 100,000 - per day. The researchers used GPS tracking data to look at the movements of students. The paper has been submitted for express review by the Journal of American Medical Association, - better known as JAMA - one of the most prestigious medical journals in the US.
While the findings seem negative, clearly, these researchers know where their bread is buttered: "We're not saying it was a terrible mistake to open," said Ana Bento, an assistant professor of infectious diseases at Indiana University and co-author of the study. "Just that the influx of individuals, which was much greater where there is face-to-face [instruction], is correlated with a larger increase in cases."
Earlier, we shared a Bloomberg report claiming colleges are reservoirs of the virus that will soon spill over and infect the rest of the country, sparking a "third wave".
* * *
Update (1200ET): The US has surpassed 200,000 COVID-19 deaths, with 200,005 recorded as of noon ET on Tuesday, according to Johns Hopkins.
In other news, Britons are speculating about whether forcing pubs to close an hor later will really have an impact on COVID-19 infection rates.
The American number represents just over 1/5th of the global confirmed fatalities. Though several countries, including China, are suspected of hiding more.
The US passed 100,000 deaths on May 27, meaning it took just shy of 4 months for the US death toll to double from 100k to 200k.
* * *
Update (0800ET): With UK COVID-19 deaths climbing for the first time since April, PM Boris Johnson has unveiled a list of new national social distancing restrictions. In other news concerning the former British Empire, India on Monday reported just over 75k cases, its lowest tally since Sept. 7.
* * *
The US remains on the cusp of passing the critical 200,000-death threshold as deaths slowed on Monday, while the number of new cases reported accelerated to its highest daily toll since Aug. 14. Another 52,070 cases were announced on Monday, while only 356 deaths were reported.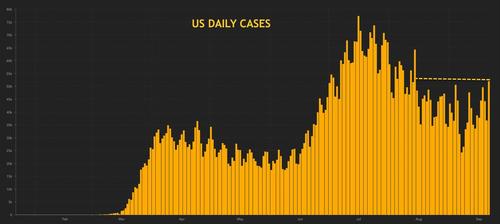 The virus has continued to accelerate since the end of the summer, as new hotspots have emerged in the midwest, and in parts of the south. Meanwhile, NY and NJ have both seen cases tick higher, even as both states have dragged their feet on reopening. The US has confirmed a total of 6,857,703 cases, while globally, Johns Hopkins has counted.
As more doctors and scientists warn about an "apocalyptic" fall in the US, Bloomberg is reporting that college campuses have become veritable reservoirs of COVID-19 infection, and that the growing case totals might spill over into the rest of the US as kids head home for the holidays.
"We may be in for a very apocalyptic fall, I'm sorry to say," Dr. Peter Hotez, dean of the National School of Tropical Medicine at Baylor College of Medicine, told CNN.
And here's more from Bloomberg:
Amid an outbreak, the University of Colorado will teach all classes remotely for at least two weeks beginning Wednesday to "help protect the health and safety of our Boulder community," Chancellor Phil DiStefano said Monday. The New Jersey Institute of Technology last week quarantined 300 people after the virus was found in their dorm's wastewater, the University of Wisconsin at River Falls ordered all students to shelter in place after a surge in cases, and Florida State University's football coach announced he had tested positive.

With many schools planning to end their semesters at the November holiday, students will disperse across the country, and some will bring the disease with them.

"This is beyond our wildest nightmares," said Gavin Yamey, a physician who directs Duke University's Center for Policy Impact in Global Health.

"It has been a debacle, a national catastrophe and, in many ways, you could consider it a third wave. The third wave is a university reopening wave. It was a self-inflicted national wound."
Universities were bleeding revenue when they called students back for the fall semester, facing cuts as tuition and fees plunged. Some plowed ahead with lucrative football programs, despite their potential to draw crowds. But as students returned, infection rates increased. Many schools are now running out of space to house those who tested positive. Administrators are struggling to keep infections contained as students venture off campus for coffee or hang out at bars and parties. "If infected students go home, there is a risk that they could seed outbreaks all around the country -- outbreaks that are ultimately caused by the university reopening," said Yamey.
In Europe, the German city of Munich mandated masks must be worn in popular outdoor areas in response to rising coronavirus cases after the capital of Bavaria crossed the national threshold of 50 cases per 100,000 residents for 7 straight days. After crossing this threshold, local governmetns are supposed to tighten regulations or impose localized restrictions.
British opposition leader Keir Starmer accused PM Boris Johnson of losing control of the government's coronavirus testing response, and alleged that a second nationwide lockdown would be the result of "government failure". The criticism comes as Cabinet Office minister Michael Gove instructed workers to stay at home if they can, while requiring pubs and restaurants to close at 10pm again. Britons are still waiting for Boris Johnson to deliver a major announcement on Tuesday.
The move is a reversal of the government's program to encourage commuters to return to city centers that have been transformed into ghost towns.
"If it is safe to work in your workplace, then you should be there if your job requires it," Gove said on Radio 4's "Today". Though if able to work from home, workers should.
He also challenged Britons to use "common sense and restraint" when it comes to social events.
The UK recorded 4,368 new cases of COVID-19 on Monday, according to government data, the third day out of the past four in which daily cases were above 4,000. The rise represents a marked increase from much of June, July and August, when daily cases hovered around 1,000.
Over in Hong Kong, Disney announced that Hong Kong Disneyland will reopen on Friday, albeit at reduced capacity, two months after it was forced to close again less than a month after reopening following the city's latest flare-up in cases. However, any potential visitors must book their trips in advance.
In Australia, an outbreak in the state of Victoria continued to wane, as officials reported just 28 new coronavirus cases for Monday as the number of new infections remained below 30 for a 4th consecutive day. That tally was above the 11 cases from the prior day, though the 7-day rolling average still moved lower, from 34.4 to 32.8.