---
US Treasury Imposes Crushing Sanctions On 18 Major Iranian Banks
No matter what level of emergency crisis is unfolding at the White House, there's always room for more sanctions on Iran, apparently, and 'maximum pressure' is always on.
On Thursday the US Treasury announced fresh sanctions on 18 more Iranian banks, according to the department's website, in order to "stop illicit access to U.S. dollars." 
This after last month the Trump administration was reportedly mulling aggressive sanctions on the entirety of Iran's financial system, essentially seeking to cut the Islamic Republic off entirely from the outside world. Thus it now appears Washington is moving to effectively blacklist the entire Iranian financial system in this latest devastating blow.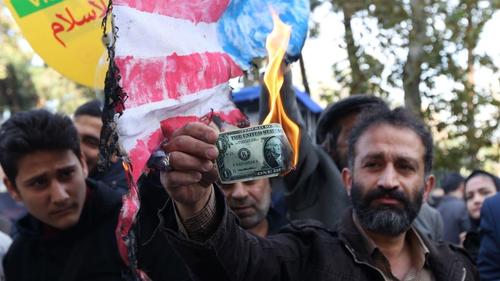 "As part of this action, OFAC sanctioned sixteen Iranian banks for operating in Iran's financial sector and one bank for being owned or controlled by a sanctioned Iranian bank," US Treasury announced. "Additionally, today's action includes the designation of an Iranian military-affiliated bank under Treasury's counter-proliferation authority."
The names of the eighteen newly sanctioned banks, including Hekmat Iranian Bank, the key institution said to be servicing Iran's armed forces and the Islamic Revolutionary Guard Corps, are listed on the US Treasury website.
"Our sanctions programs will continue until Iran stops its support of terrorist activities and ends its nuclear programs," the Treasury statement continued. It further addressed the controversy behind Washington cutting off humanitarian aid and transactions, explicitly saying the action against the banks will "continue to allow for humanitarian transactions to support the Iranian people."
But there have been growing complaints that Western companies which are already skittish about doing any level of humanitarian goods transactions in Iran are over-complying, for fear of US repercussions.
The US is doing everything it can to suffocate and crush the people of Iran. By imposing these sanctions, the US is cutting off Iranians from food and medicine.

But it's the Iranians who are the monsters bent on destruction and death, right? pic.twitter.com/nciSySVAml

— Sana Saeed (@SanaSaeed) October 8, 2020
European allies have been warning the US-led actions are taking Iran to the brink of total economic collapse, which will be felt most by the common populace, while failing to dislodge the regime. 
Not only are the new bank sanctions in defiance of these warnings, but appear to be part of a big pre-election foreign policy push to appear "tough" on Iran, also as the Biden campaign has signaled it would reverse much of the Trump administration's punitive policies.
The move would effectively leave Iran isolated from the global financial system, slashing the few remaining legal linkages it has and making it more dependent on informal or illicit trade.https://t.co/SiiskJL5E1

— Nukes of Hazard (@nukes_of_hazard) October 8, 2020
In the case of a Biden victory in November, this would include the likelihood that the 2015 nuclear deal (JCPOA) brokered under Obama will be restored, assuming Iran comes back into compliance after its recent moves to increase uranium enrichment.