Months ago the USS Theodore Roosevelt carrier disaster which saw over 1,000 crew members infected with COVID-19, cutting short its mission in the western pacific also amid public controversy and division within the Navy's ranks over the handling of the crisis, made it clear that the Pentagon is keenly aware that US national security could be deeply impacted by the pandemic.
During that prior saga China even boasted that its own warships in the region were coronavirus-free, prompting US generals to issue their own statements of continued full military readiness. 
But new infected case numbers put out by Military Times reveals the Department of Defense (DoD) is continuing to fight an uphill battle on this front: "Coronavirus cases are up more than 20 percent in service members this week, to 20,212, as the military's battle against the pandemic continues to mirror the challenges civilian leaders are facing across the country."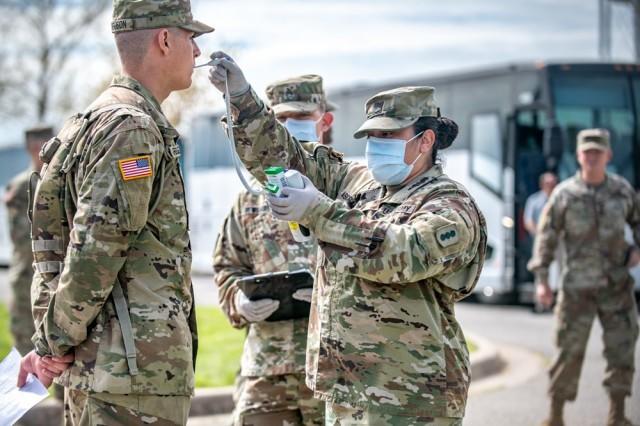 Military officials have downplayed this grim milestone of over 20,000 US military cases, including three deaths and 425 hospitalizations, as reflective of the rest of the general population.
Like the civilian population, military cases have more than doubled since April. "From the first soldier diagnosed in South Korea at the end of February, it took until early June for the military to see 10,000 cases. The next 10,000 cases took six weeks," Military Times writes.
It's likely that similar to what was observed in USS Roosevelt cases, most military personnel with coronavirus are asymptomatic, but the DoD has struggled to break this down and provide public data. 
One likely explanation for the rise in military cases is that most major installations are located in states like Texas, which has seen spiking numbers across the population. The Military Times report continues:
Defense officials have pointed to local spikes in states like California, Arizona, Texas, Georgia and Florida, all home to multiple military installations, as a possible reason for the increase. After numbers of new cases stabilized in May, the Defense Department has seen a steady increase going back to June, when "re-opening" plans began to roll out across the U.S.
In April, when tensions with China in the East and South China Seas were growing, also after the Roosevelt supercarrier was temporarily taken out of commission by outbreak among the crew, Joint Chiefs Chairman General Mark Milley issued a stern warning to enemies.
"We're still capable and we're still ready no matter what the threat," Milley said at the time. "I wouldn't want any mixed messages going out there to any adversaries that they can take advantage of an opportunity, if you will, at a time of crisis," he added. "That would be a terrible and tragic mistake if they thought that."
It's believed his message was directed mainly at Beijing and the People's Liberation Army (PLA).