---
US Troops Accused Of Pillaging Syrian Grain Silos As Russia Warns Of Increased Occupation
Syrian and Russian state sources are reporting late this week that Russia's Defense Ministry is expressing anger over what it described as noticeably increased American military activity in Syria's northeast region, particularly an uptick in military equipment and troop deployments to the al-Jazeera area.
The Russian Coordination Center in Hmeimim cited the increased air and land transport of American military hardware as part of the continuing violation of Syria's sovereignty intended to block the Syrian population from its own vital resources, including wheat and energy.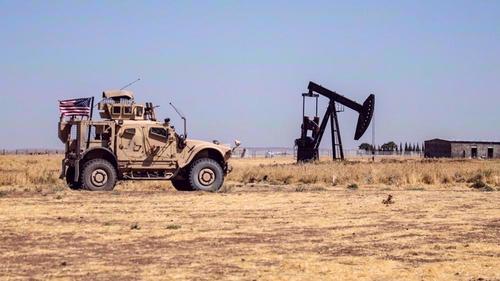 The Russian statement said "such military mobilization, synchronized with the economic and social situation resulting from the US blockade damages opportunities for a political solution to the crisis in Syria."
The most recent estimates of US troop numbers in the country put the Pentagon's presence at around 1,000 troops - with many of these being special forces. In prior years it was believed to be anywhere from 2,000 to 3,000 - but these estimates have long likely shielded the true numbers of US personnel, including US intelligence and security contractors. 
Days ago Damascus accused US troops of pillaging grain silos in an occupied area of the Hasaka countryside. 
You can see these grain silos everywhere in Northeast Syria. This one is near Hasaka (city). pic.twitter.com/ixmXfAoPnE

— Rena Netjes (@RenaNetjes) May 3, 2021
"US occupation forces brought out a new batch of Syrian wheat stolen from Tal Alou silos in Hasaka countryside to the north of Iraq," state-run SANA reported Wednesday.
"Local sources in al-Sweidia village in al-Ya'arubia area told SANA reporter that a convoy of 35 trucks laden with wheat stolen from Tal Alou silos left under a protection of an armed group affiliated to US occupation –backed QSD militia through al-Waleed illegitimate crossing heading for north Iraq," the report said.