---
"Lift Sanctions Now!" US Under Pressure To 'Reinvest' In Lebanon After Deadly Blast
Though US sanctions on Iran and Syria are well-known, what's perhaps less known among the American public is that since 2019 the Trump administration has had "extra" sanctions in place on Lebanon. Specifically the US has tried to to squeeze Hezbollah and isolate it within Lebanese society, resulting in punitive sanctions on Hezbollah members of parliament, as well as any banks or other official entities doing business with the Shia paramilitary group.
The AP reported last year these targeted sanctions were taken to "unprecedented levels". But now Washington is under pressure to soften the economic restrictions at a moment Beirut is still digging out bodies from under the rubble following the Aug.4 explosion centered on the port, considered the largest non-military munitions blast in history, also as Lebanon's economy is still in tail-spin, with a collapsing local currency and banking crisis continuing from last year.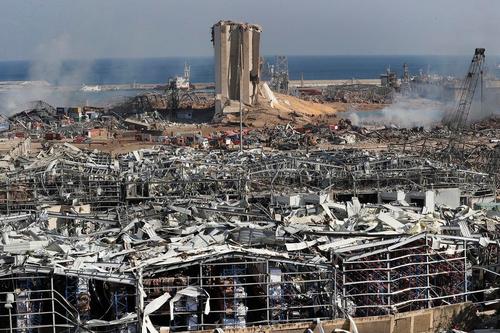 Despite the US having flown multiple plane-loads of humanitarian emergency assistance into Beirut last week, it along with European allies stands accused of "politicizing" the tragedy which resulted in at least 158 deaths and over 6,000 wounded, as well as billions of dollars in damage.
Iran has particularly lashed out, also given the sanctions against Hezbollah-linked sectors in Lebanon have been geared toward severing Iranian influence inside the Mediterranean country. "The blast should not be used as an excuse for political aims ... the cause of the blast should be investigated carefully," Iran's Foreign Ministry spokesman Abbas Mousavi said during a press conference Monday. He charged that "some countries have been trying to politicize this blast for their own interests."
"If America is honest about its assistance offer to Lebanon, they should lift sanctions," he asserted. Some within the US administration, notably Secretary of Defense Mark Esper, initially floated the idea that Hezbollah was responsible. Major newspapers like The Washington Post have also attempted to link the explosion to Hezbollah, positing the ammonium nitrate was overseen by the group.
Iran also charged that French President Emmanuel Macron's visit to the Lebanese capital last week, entire districts of which are in ruins after the blast, contained a neo-colonial message. There remains such low confidence in the notoriously corrupt Lebanese government that many local citizens told reporters they'd rather see France take over the country. Chants were heard to that effect during Macron's walk-through tour of the devastation.
Aerial footage shows devastating aftermath of deadly Beirut blast from above.

Some 300,000 people — more than 12% of the Lebanese capital's population — are unable to return to their homes because of the explosion. https://t.co/78xhrrGo4S pic.twitter.com/lsVR8qDeOA

— ABC News (@ABC) August 10, 2020
But speaking of Macron, he reportedly urged President Trump in a Friday phone call to "reinvest" in Lebanon. He further underscored that US sanctions can backfire.
An Elysee official with knowledge of the phone call told Reuters:
"He [Macron] told him [Trump] that in the case of Lebanon, the fact is that the policy of pressure or abstention from the United States and some Gulf countries could actually play into the hands of those they are targeting, Iran and Hezbollah," the official said.

"So it was an invitation to President Trump to reinvest the Lebanese question, because the situation is serious and we should not abandon Lebanon to those the United States are meant to target through their sanction policy," he added.
Currently, top Lebanese ministers are under pressure to resign, with hopes of earlier than scheduled new parliamentary elections, which some top officials have lately called for.
Macron mobbed in Beirut. Down with the regime, locals chanted, and called for Revolution while declaiming Lebanon's President Aoun. pic.twitter.com/4ntkZToUFj

— Quentin Sommerville (@sommervilletv) August 6, 2020
Already, Lebanese Finance Minister Ghazi Wazni has resigned. And there were three prior major resignations in the past 48 hours, including Minister of Justice, Marie-Claude Najim, and Information Minister Manal Abdel-Samad, as well as Minister of Environment and Administrative Development Damianos Kattar. 
The prime minister, Hassan Diab, is also expected to announce his resignation Monday.
Last Tuesday's explosion is being widely blamed on government ineptitude and corruption, after it's been demonstrated top officials were warned repeatedly of the dangers of storing large quantities of a highly explosive material so near residential zones (and going back to 2013). Protests last week and into this week have resulted in clashes with police, hundreds of injuries, and attempts to 'occupy' government ministries.
Meanwhile, the Pentagon has voiced caution over humanitarian aid and foreign money now pouring into Lebanon, with a statement recently expressing "concerns with whom the aid would go to."