---
US Unveils $350M More Defense Aid For Ukraine, Condemns Xi-Putin Meeting
On Monday US Secretary of State Antony Blinken once again emphasized that the Biden administration remains ready to support Ukraine "for as long as it takes."
He also unveiled the latest defense aid package - at $350 million including more missiles and air defense missiles, listed among these more High Mobility Artillery Rocket Systems (HIMARS) and howitzers, ammo for Bradley Infantry Fighting Vehicles, high-speed anti-radiation missiles, anti-tank weapons as well as and riverine boats, according to The Hill.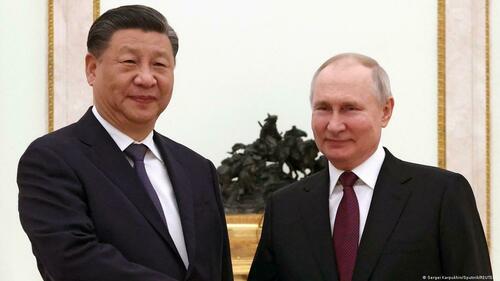 "This week, as Russia's unconscionable war of aggression against Ukraine continues at great human cost, we are again reminded of the boundless courage and steadfast resolve of the Ukrainian people, and the strong support for Ukraine across the international community," Blinken said.  
The Hill reviews concerning total defense aid pledged thus far, "With Monday's announcement, the United States has now committed more than $32 billion in lethal aid to Ukraine through presidential drawdown since Russia first attacked the country more than a year ago."
Blinken also on Monday condemned the visit of China's President Xi to Putin to talk Ukraine peace...
"That President Xi is traveling to Russia days after the International Criminal Court issued an arrest warrant for President Putin suggests that China feels no responsibility to hold the Kremlin accountable for the atrocities committed in Ukraine, and instead of even condemning them, it would rather provide diplomatic cover for Russia to continue to commit those very crimes," Blinken said.
Xi Jinping's visit "suggests that China feels no responsibility to hold the president accountable for the atrocities committed in Ukraine," the US top diplomat stated.
#China may not deliver weapons to #Russia but is committed to supporting the Russian economy, which is all that Moscow needs to face US-led (40) nations in #Ukraine.
Today, President Xi Jinping began a 3-day state visit to Russia to meet his "old friend" President Vladimir Putin. pic.twitter.com/Wr2xMWoVcc

— Elijah J. Magnier 🇪🇺 (@ejmalrai) March 20, 2023
Blinken described China's 12-point Ukraine peace plan as essentially nothing but a scheme to provide diplomatic cover to Russia's war crimes. Despite all of this, Zelensky himself has maintained some degree of openness, and is likely to hold a phone call with Xi in the coming days to explore potential ceasefire options.
Loading...