---
Israeli Killed Outside Tel Aviv As IDF Says Over 800 Rockets Fired From Gaza
Update(1540ET): As of mid-evening local time the IDF has recorded 803 rockets and mortars launched over the past 2 days from the Gaza Strip. At least 28 Palestinians have been killed, many of them civilians. 
The first Israeli citizen has been killed: "One person has been killed when a rocket fired from Gaza struck a city near Tel Aviv, an Israeli emergency official tells Army Radio," per Al Jazeera.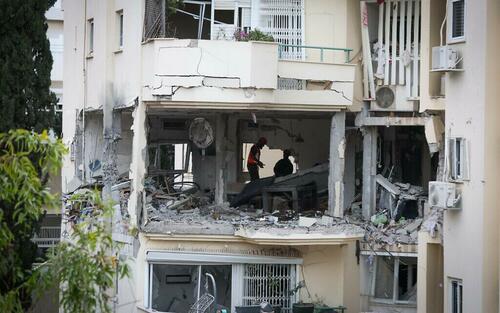 "A spokesperson for Israel's medical services said a rocket struck a four-storey apartment building in Rehovot, leading to a death and at least five injuries."
The EU and other international bodies are calling for an immediate ceasefire, but there are currently no signs either side is backing down, also as Israel continues to pummel Gaza with airstrikes. 
⚡️View from a few minutes ago pic.twitter.com/W1laWHwtkH

— War Monitor (@WarMonitors) May 11, 2023
Of 620 projectiles which have crossed the border into Israel (many don't make it outside of Gaza after they are launched, falling short), air defense systems intercepted 179.
* * *
The White House has said it stands by Israel as its offensive against Gaza militants enters a third day. As of Thursday evening local time, at least 26 Palestinians have been reported killed, which includes both civilians and multiple leaders of the Palestinian Islamic Jihad terror group, under heavy IDF airstrikes.
National Security Adviser Jake Sullivan spoke with his Israeli counterpart Tzachi Hanegbi on the same day, reaffirming the US' "ironclad support for Israel's security."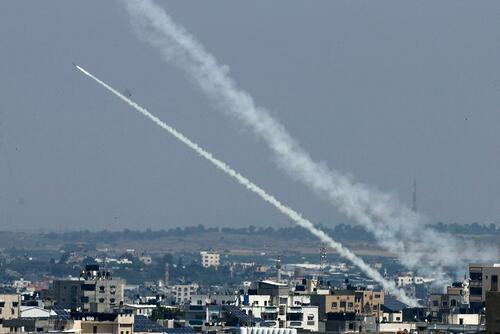 US Ambassador to Israel Tom Nides at the same time issued a statement backing Israel's "right to defend itself" but stopped short of mentioning the ratcheting civilian casualty rate. At least 80 Palestinians have been reported injured in addition to the over two dozen killed, as the tit-for-tat strikes continue.
As is typical of these flare-ups in fighting, which hasn't happened on this large a scale since last August, Egypt is working behind the scenes to achieve a ceasefire. Cairo is reportedly hosting senior Palestinian Islamic Jihad official Mohammad al-Hindi for mediation efforts; however, the Arab side is complaining about "Israeli assassinations" of Islamic Jihad leaders.
Earlier in the day Al Jazeera detailed--
The killing of Ahmed Abu Daqqa, a senior commander of Palestinian Islamic Jihad's armed wing, has brought the number of senior figures from the faction killed to five since Israel began attacking Gaza on Tuesday.

The death toll includes at least four women and six children.

The Israeli military claimed that Abu Daqqa helped oversee rocket launches towards Israel over recent days, as well as in previous rounds of fighting with Islamic Jihad.

"He was assassinated in his home. Four others were critically injured and taken to hospital," said Al Jazeera's Youmna El Sayed, reporting from Gaza.
⚡️Video of the last rocket volley from Gaza pic.twitter.com/Gf7ASu8R39

— War Monitor (@WarMonitors) May 11, 2023
Meanwhile Israeli government and military leaders have vowed to hit Gaza hard so long as Israel remains under threat of rocket barrage. Yesterday witnessed over 100 rockets from fired from the strip, which set off emergency alerts as far away as central Israel and Tel Aviv.
Prime Minister Benjamin Netanyahu vowed the military will continue striking enemies...
"This morning we targeted the commander of the Islamic Jihad's missile array in Gaza. Now, just an hour ago, we targeted his deputy as well," said Netanyahu on a visit to a military base.
Al-Quds Brigades released HD footage of the missile attacks of the Joint Operations Room of the Palestinian resistance in Gaza towards Tel Aviv and Gaza envelope pic.twitter.com/eguVxC4WmF

— The Cradle (@TheCradleMedia) May 10, 2023
"I have already said, anyone who comes to harm us — their blood will be on their heads, including anyone who replaces him," Netanyahu stressed.
He also praised anti-air defense systems and military units, saying they are doing "sacred work" to defend citizens.
⚡️Entire civilian house demolished in Rafah, Gaza pic.twitter.com/W28xOluGtV

— War Monitor (@WarMonitors) May 11, 2023
It was widely reported yesterday that the medium-range David's Sling missile defense system successfully intercepted inbound projectiles in its first ever operational use. "We will continue to act defensively and offensively until the end of the campaign," Netanyahu vowed.
Loading...