---
USAF Hypersonic Missile Fails To Launch In Highly Anticipated Test 
Late Tuesday morning, a Boeing B-52 Stratofortress bomber took off from Edwards Air Force Base (located in Kern County in Edwards, California) carrying the US Air Force's AGM-183A Air-launched Rapid Response Weapon, or ARRW, and encountered a technical issue.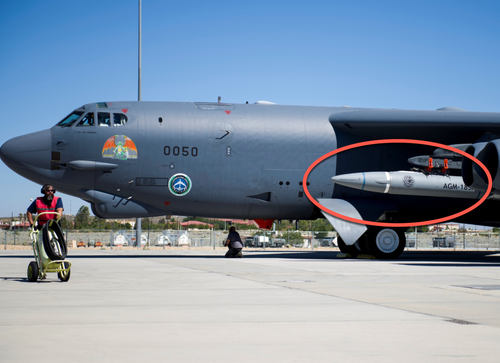 The highly anticipated test, something we mentioned was "imminent" just last week, failed to air launch: 
"B-52H Stratofortress took off Monday over the Point Mugu Sea Range intending to fire the first booster test vehicle for the AGM-183A Air-launched Rapid Response Weapon (ARRW) program. Instead, the test missile was not able to complete its launch sequence and was safely retained on the aircraft which returned to Edwards AFB," the Air Force said in a statement.
The test failure is a major blow for the US locked in a hypersonic weapons race against China and Russia. Hypersonic weapons, like the ARRW, can fly at Mach 5, or about 3,836 mph. The missiles are designed to travel at super-fast speeds and can penetrate the world's most advanced air defense shields. 
"The ARRW program has been pushing boundaries since its inception and taking calculated risks to move this important capability forward. While not launching was disappointing, the recent test provided invaluable information to learn from and continue ahead. This is why we test," said Brig. Gen. Heath Collins, Armament Directorate Program Executive Officer. 
The push for hypersonic weapons occurred in the Trump era where America was reasserting its military dominance across the world. 
Our recent coverage on ARRW's progression from development to testing suggests it could soon become the US' first operational hypersonic weapon:  
The US is attempting to field the ARRW in the early 2020s, but technical and engineering challenges surround the missile's development. 
If the US ever fields these super fast weapons, besides air-launching from B-52s, the McDonnell Douglas F-15EX Strike Eagle could be the fighter jet (non-stealth) for rapid air launches.