---
Wagner Chief Says American Killed Fighting In Bakhmut
The controversial founder and head of Russia's Wagner mercenary firm, Yevgeny Prigozhin, has on Tuesday announced the death of an American citizen who allegedly was killed fighting in the embattled city of Bakhmut, in Donetsk oblast. 
He made the claim in a video posted on the Wagner Telegram group. The video is introduced with another narrator saying, "we are advancing to the advanced positions of the PMC Wagner in the western regions of Artyomovsk [Bakhmut]".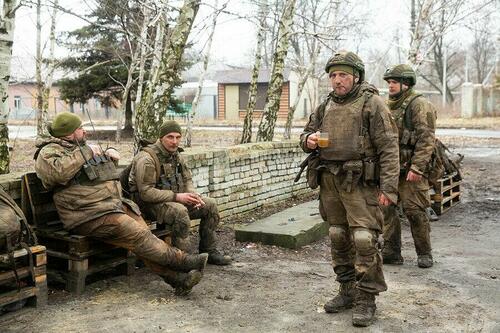 The video continues with an apparent mortar attack, and with men shouting: "Into the shelter. Mortar attacks from the western side." Prigozhin is then seen inspecting a body, looking at what are purported to be US identification documents.
"So we will hand him over to the United States of America, we'll put him in a coffin, cover him with the American flag with respect because he did not die in his bed as a grandpa but he died at war and most likely a worthy [death], right?" Prigozhin says in the video.
The video presents the man as having died while returning fire against Russian forces. "He was shooting back; he died in the battle, so we will hand over his documents tomorrow morning and pack everything, right?" Prigozhin poses.
The State Department hours after the Wagner claims hit global headlines weighed in by saying it is "aware" of the reports and is looking into the matter:
"We are aware of the reports of the death of a U.S. citizen in Bakhmut and are seeking additional information," said a US State Dept. spokesperson. "Our ability to verify reports of deaths of U.S. citizens in Ukraine is extremely limited."
So far at least 12 Americans have been verified killed while fighting in Ukraine. In January the death of Daniel Swift was widely reported, given he was a former US Navy SEAL. And more recently, "Earlier this month, a former Marine was killed in Bakhmut after he was hit with a mortar round on a route used to resupply Ukrainian troops and evacuate civilians," The Hill has noted.
There are unconfirmed reports that the man was former US Army...
In video from Bakhmut, Prigozhin surveys the front with Wagner Group forces and displays the body and document of an American volunteer named Nicholas Maimer who was killed by Wagner forces while fighting for Ukraine. pic.twitter.com/yLuh3DmoLk

— Jack Margolin (@Jack_Mrgln) May 16, 2023
While the US has never actively encouraged US citizens to go to Ukraine to join the country's foreign legion and other volunteer forces, it did nothing to block or prevent what was an early, robust social media campaign to attract American volunteers to join the fight. Early in the conflict, UK leadership actually seemed to actively encourage it. 
But volunteers going to Ukraine have greatly slowed compared to the opening months of the war, and at a moment of initial waves of enthusiasm in support of Ukraine coming generally from Western populations. 
Loading...