---
Majority Of Coronavirus Deaths Reported Outside China For First Time Since Outbreak Began: Live Updates
Summary:
US virus death toll hits 9
2nd case confirmed in NY
Oregon officials warn up to 500 cases may be in state already
US now screening everyone aboard flights from SK and Italy
Spain reports 1st death
1st case confirmed in North Carolina
Westchester Temple closes
Italy mulls cancelling all sporting events for a month
2nd NY case commuted to Manhattan, traveled to Miami
Chile, Argentina report first cases
Germany reports 46 new cases
2nd case confirmed in New Hampshire
Santa Clara confirms 11th case
1st case reported in Berkeley
Third case possibly identified in Fla.
Stocks surge, then fade, after surprise 50 bp rate cut
4th person dies in France
Fauci says we should know soon whether Gilead's vaccine will work
Son of Westchester corona case attended NYC school that closed
Pope tests negative for coronavirus
NYC high school closes over 'suspected case of coronavirus'
Global case total passes 91,000
UK case total hits 51
US case total tops 100 across 15 states (including evacuees)
South Korea case total passes 5,000; death toll hits 34
Italian death toll surpasses Iran
Iran confirmed cases pass 2,000, 70+ dead
Head of European football says Euro 2020 will go on
9 new cases confirmed in Japan
* * *
Update (19305ET): Here are a few late-breaking virus stories we'd like to add before we starting winding down for the day.
Alphabet became the latest tech giant to cancel its developer conference (following Facebook's lead): the annual Google I/O event has been cancelled over coronavirus fears.
Meanwhile, the Italian government is about to release a series of recommendations to try to halt the coronavirus outbreak, the Guardian reports.
The tips are contained in a document issued by the the country's scientific committee that will be released within the next few hours. They include:

Social distancing: remaining away from crowded environments and maintaining a distance of two meters from other people; especially within enclosed spaces.

Greetings: avoiding kisses and hugs when greeting people.

Elderly population: people older than 75 years with underlying health conditions are advised to remain at home and avoid social events.

Moreover, the Juventus and Milan's upcoming Italian Cup semi-final second leg match has been postponed. The match was meant to be held on Wednesday night and would have followed the 1-1 first-leg draw in Milan's San Siro. The committee has called for all sporting events to be held behind closed doors.

The death toll from Covid-19 in Italy has risen to 79 and confirmed cases to 2.263, the emergency commissioner and civil protection chief Angelo Borrelli has said.
According to Reuters, Irish authorities have confirmed a second case of coronavirus, a woman in the the country's east who just returned from Italy - yet another example of how the virus has spread from Italy all across Europe, as European bureaucrats have opted to leave their borders open.
"Today we are confirming that Ireland has diagnosed one new case of COVID-19. The case arises in a female in the east of the country and is associated with travel from Northern Italy," Dr Tony Holohan, Chief Medical Officer with the Department of Health told a news briefing.
Earlier, Ford became the latest company to limit travel for employees after two in China caught the virus, per Reuters.
Meanwhile, Lyft CEO Brian Roberts told his audience at the KeyBanc Capital Markets 15th Annual Emerging Technology Summit in San Francisco that the outbreak had not yet impacted demand for Lyft's ride-hailing services, per Reuters. The bulk of the company's business is US focused.
Earlier we reported that deaths in Italy climbed to 79 on Tuesday as health officials reported 27 new deaths tied to the virus, surpassing the 77 on Iran's official death toll.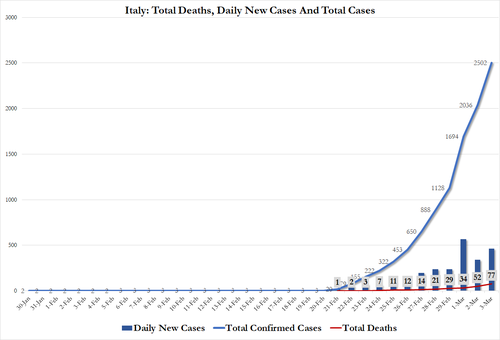 The total number of cases in Europe's worst-hit country climbed to 2,502 from 2,036 on Monday.
* * *
Update (1845ET): Santa Clara County reported 2 additional cases on Tuesday afternoon, increasing the number of cases in the county to 11, according to KTVU.
Santa Clara County announces 2 new cases of COVID-19 Total now 11. 3pm press cnference will be streamed live on KTVU App

Download the APP: https://t.co/CxvuMo9b2J

— KTVU (@KTVU) March 3, 2020
Both of the new cases are still under investigation to determine the source of transmission, the health department said in a news release. Currently, of the total, only two have been determined to be transmited from person to person, four are travel-related; three are close contacts to known cases; and the two new cases remain under investigation, health officials said.
In other news, a Berkeley resident who recently returned from traveling in Europe has become the first confirmed patient in Berkeley.
JUST IN: First coronavirus case confirmed in Berkeley possibly linked to recent travel https://t.co/2YBDDkDeax pic.twitter.com/aqaOInAQst

— KTVU (@KTVU) March 3, 2020
It sure has been an eventful 24 hours...
First cases of coronavirus in last 48 hours:

- Chile
- Argentina
- Liechtenstein
- Ukraine
- Gibraltar
- Morocco
- Senegal
- Tunisia
- Latvia
- Jordan
- Andorra
- Portugal
- Indonesia
- Saudi Arabia

— Norbert Elekes (@NorbertElekes) March 3, 2020
* * *
Update (1835ET): Germany has reported another 46 cases, increasing its total to 196.
JUST IN: Germany reports 46 new cases of coronavirus today, 196 cases in total.

Patients ranging from 2 to 69 years old.

— Norbert Elekes (@NorbertElekes) March 3, 2020
How much more will it take before they stop jawboning and start spending?
Meanwhile, the US is tightening border controls.
PENCE SAYS WE ARE NOW SCREENING ALL TRAVELERS COMING TO U.S. ON DIRECT FLIGHTS FROM ITALY AND SOUTH KOREA

— FXHedge (@Fxhedgers) March 3, 2020
* * *
Update (1810ET): As investors turn their attention to the 14 Super Tuesday primaries, with bulls everywhere pulling for a strong showing from Joe Biden, who appears to have prevailed over his challengers. For somebody who was considered the 'presumptive' nominee at the beginning of the contest, Biden almost didn't make it, and if it wasn't for Mike Bloomberg's debate implosion, he would likely be where Bloomberg is now (except, without the limitless funds, Biden would be forced to concede a whole lot earlier).
So let's review: Around the world, about 40 deaths have been attributed to the virus in the past 24 hours outside mainland China, while only 31 deaths were reported in China during the same period, marking the first time that deaths ex-China surpassed deaths in mainland China, according to NBC News.
With three more deaths in Washington State confirmed on Tuesday, the US is stealing the spotlight from South Korea, which, thanks to its much smaller economy, doesn't have the same kind of influence over global markets. Around the world, some 3,100 people have died from the virus since the outbreak began.
New Hampshire confirmed the most recent case at around 6 pm ET.
Almost equally alarming: The New Hampshire Department of Health and Human Services reported that the state's first infected patient attended an invitation-only private event on Friday, Feb. 28, despite being told to remain in isolation. That patient was identified only as an employee of Dartmouth-Hitchcock Medical Center. It's unclear whether the second patient was exposed as a result.
For anybody in the US who hasn't voted, the CDC has issued some tips for how to not catch the virus while voting.
Working at a polling station? Help reduce the risk of exposure to respiratory diseases, like #COVID19, by routinely cleaning and disinfecting frequently touched surfaces & voting associated electronics. Learn more: https://t.co/ZjeKiqous8. #SuperTuesday pic.twitter.com/P58uVQiyqo

— CDC (@CDCgov) March 3, 2020
Here's a map of US cases so far, courtesy of  NBC News: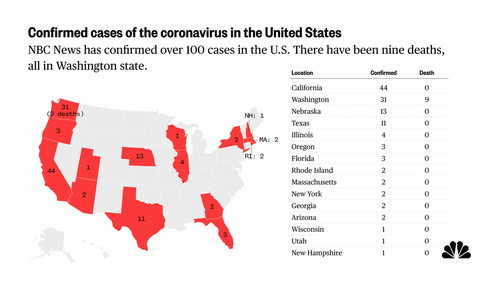 * * *
Update (1740ET): The confirmation that a Westchester lawyer from New Rochelle who works at an office near Grand Central is New York's second coronavirus case has set off a wave of quarantines, including a school where the infected is part of the 'feeder network' - he doesn't even have a kid currently going there.
BREAKING - New Rochelle synagogue ordered to halt services and approx 600 people told ordered to quarantine due to potential #COVID19 #NovelCoronavirus exposure. pic.twitter.com/9PYvfmgpEt

— Tony Aiello (@AielloTV) March 3, 2020
Now, Temple Young Israel in New Rochelle is closing temporarily, and guests who attended two events at the temple late last month have been asked to self-quarantine.
The health department of Westchester County, New York, ordered Temple Young Israel in New Rochelle to halt all services immediately due to potential coronavirus exposure connected to a member of the congregation. The congregant, an attorney who tested positive for the virus Tuesday, was reported in serious condition at New York Presbyterian Hospital.

Congregants who attended services on Feb. 22 and a funeral and a bat mitzvah on Feb. 23 must self-quarantine until at least March 8, Westchester health officials said. Those who don't comply will be required to do so, officials said.
The synagogue has 380 member families, according to its website.
Oh, and just as we suggested earlier, it's believed that the patient did travel on Metro North, the most obvious public-transit route between his home and office, according to the New York Post.
The patient has two kids, one who attends the high school in Riverdale, and the other who attends college in the city.
* * *
Update (1700ET): Most of the focus on Tuesday has lingered on Washington and New York State. But officials in Oregon are reportedly warning that there could be between 300 and 500 Oregonians who were unknowingly exposed to the virus, according to Dr. Dean Sidelinger, the state health officer and epidemiologist, the Oregonian reports.
The advance of coronavirus to a remote town more than 200 miles from Portland means the virus "is fairly widespread in our community." On Monday, officials announced Oregon's third presumptive coronavirus case. The person is a casino worker who attended a youth basketball game at a Umatilla County middle school.
Also, officials have confirmed that deceased patients No. 8 and No. 9 were both diagnosed with the virus postuhumously, helping to explain some of they mystery surrounding their cases. Two of the three deaths reported Tuesday died last week.
* * *
Update (1610ET): Some footage of President Trump from a press conference earlier in the day, where he said "anything can happen" with the virus, sounding slightly less dismissive of the risks.
Trump on people w/o health insurance w/ coronavirus: "They have a big problem & we're going to look at the uninsured people that, you know, this came out as a surprise to all of us. It just happened. It shows what can happen in life ... [we're gonna] see if we can help them out" pic.twitter.com/nolTXDpdPU

— Aaron Rupar (@atrupar) March 3, 2020
Meanwhile, for American stocks, it was a "not-so-super Tuesday" as the risk of a prolonged pandemic in the US and across the world appeared to climb.
Trump added during a brief meeting with reporters after the market closed that he felt the Fed wouldn't do more and "that's unfortunate", he added that the economy is in "great shape" and added that one vaccine is heading to trials and other remedies are being tested - he even mentioned the possibility of a middle class tax cut.
* * *
Update (1535ET): A special committee guiding Italy's virus response has reportedly recommended that the government force the cancellation of every sporting event in the country for a month, stopping football just weeks before Euro 2020.
Earlier, the organizers of Euro 2020 said the virus wouldn't stop the tournament.
As the virus spreads across the US, one notable standout is Hawaii, which hasn't confirmed a single case despite facing several scares early on. On Tuesday, local media reported that the annual Honolulu Festival has been cancelled over virus fears, according to Hawaii News Now.
Meanwhile, we're hearing reports that the lawyer who is the second case of the virus in New York worked at a firm based in Grand Central, increasing the probability that he took public transit, like the Metro North commuter train on the New Haven line that passes through his home town of New Rochelle.
On Capitol Hill, an emergency funding bill to finance the fight against the coronavirus could be completed and ready for the signature of the US president Donald Trump by Friday evening, Senator Patrick Leahy said.
Mike Pence and Chuck Schumer met on Tuesday, and talks were reportedly productive, with a deal possible in the near future.
Algeria has confirmed three new cases, bringing the country's total to eight, according to the nation's health ministry.
Ireland has confirmed a second case on Tuesday; like the first, it was tied to travelers to Italy, something that's becoming a theme as the virus spreads from Italy across the continent.
* * *
Update (1530ET): Officials have confirmed the first case of the virus in North Carolina, Reuters reports. This comes after state officials in Georgia, New Hampshire and Florida among others have confirmed their first cases as the virus nears the point of spreading to half of the 48 states in the Continental US (though, importantly, Hawaii has had some close calls).
Meanwhile, here's a handy breakdown of the cases in Washington State, the hardest hit state so far.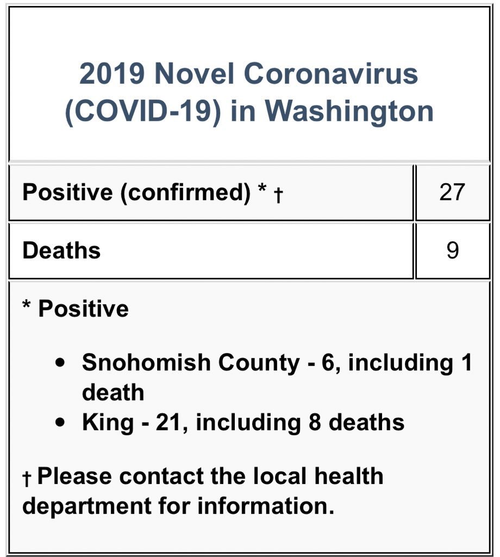 All 27 cases are clustered in two counties considered to be 'suburban Seattle', making the Washington outbreak the largest concentration detected to date by the US public health system.
* * *
Update (1520ET): The WHO said during its Tuesday press conference that the death rate for Covid-19 is higher than the 2% previously believed.
"More people are susceptible to infection and some will suffer serious disease. Globally about 3.4 percent of COVID-19 cases have died," he said. "By comparison, seasonal flu generally kills far fewer than 1 percent of those infected."
By comparison, the flu kills 0.1% of those infected. The WHO credited the "rapidly growing insight" into the virus thanks to the research that has been carried out since the outbreak began.
* * *
Update (1455ET): Reuters has confirmed two additional deaths in Washington State on top of the one reported earlier by the NYT.
WASHINGTON STATE DEPARTMENT OF HEALTH REPORTS TOTAL NUMBER OF CONFIRMED CORONAVIRUS CASES NOW STANDS AT 27, INCLUDING 9 DEATHS, UP FROM 18 CASES AND 6 DEATHS ON MONDAY
As BNO pointed out, we were also initially confused about whether these were two additional deaths, or if there was an overlap with the case reported earlier by NYT.
Turns out, there wasn't.
We weren't sure if the 2nd death mentioned here was the death reported earlier today, but it turns out they are both in addition to it. So we now have 9 deaths in the U.S. https://t.co/AEbJ2zMHzz

— BNO Newsroom (@BNODesk) March 3, 2020
In addition, there are now 27 confirmed cases in Washington alone, nearly double the number in the entire US (outside the evacuees) a week ago. The death toll in the US has climbed to 9, all in Washington State. At this rate, the state's death toll is climbing faster than the 10-year yield is falling.
By BNO's count, the US case total has climbed to 111.
Meanwhile, as more patients report being unable to receive coronavirus tests, or of being hit with a hefty medical bill after receiving a negative test, President Trump said Tuesday that he would look into getting insurance companies to cover coronavirus-related costs.
* * *
Update (1420ET): A seventh individual has died of the coronavirus in the suburban Seattle. This time, the case wasn't identified until long after the patient died, according to the NYT. Since the individual died last week, they are technically the earliest known fatality from the infection.
The person was brought to Seattle's Harborview Medical Center on Feb. 24 and died two days later, before the outbreak really hit the state.
A spokeswoman for the hospital said on Tuesday that test samples from the person, who was a resident of the same nursing home that has had a number of coronavirus cases and deaths, have tested positive for the virus.
"In coordination with Public Health, we have determined that some staff may have been exposed while working in an intensive care unit where the patient had been treated," said Susan Gregg.
BREAKING: A 7th person with coronavirus has died in the Seattle area. This time, the infection wasn't identified until well after the person's death.

The death was 6 days ago at Harborview Medical Center. https://t.co/IvVpdiScaM

— Mike Baker (@ByMikeBaker) March 3, 2020
The Dow is about to be down 1,000 on the day once again, despite the Fed's emergency 60 bp rate cut.
In Iran, officials will release 54,000 inmates to curb the spread of the coronavirus in its prisons.
How could things get any worse? Maybe if officials confirm a slate of already-dead individuals actually died from the virus.
Elsewhere, officials in Spain reported the country's first death, after reporting 129 cases earlier on Tuesday. Chile and Argentina have also reported their first cases as the virus spreads in Latin America. Reporters also confirmed that the 2nd case identified in NY state is an example of "community transmission", having no obvious source of infection.
* * *
Update (1325ET): Following reports last night about a Miami woman who was denied proper testing despite suspicions she might be infected, state officials have identified a third coronavirus case in Florida, according to local media reports.
Mirroring the situation in the states, Boris Johnson has been accused of playing down the coronavirus emergency in the UK. Two hours after he delivered a speech claiming the government's No. 1 priority is containing the virus, about which he said there's no need to panic, the NHS declared the outbreak a "Level 4 incident", its possible alert level.
In other news, Bloomberg reports that a Florida student whose classmates shook hands last Friday with the vice president has been quarantined after his mother came into contact with a coronavirus patient.
Put another way: BBG is essentially reporting that Pence shook hands with someone, who knows someone, who knows someone who interacted with a coronavirus patient. How did they even figure that out?
* * *
Update (1250ET): As we reported yesterday, the IMF and World Bank have apparently confirmed rumors that they will hold their annual meetings 'virtually', instead of holding the annual massive gatherings in Washington.
IMF, WORLD BANK EXPECTED TO ANNOUNCE SHORTLY THAT SPRING MEETINGS WILL BE HELD VIRTUALLY, NOT IN PERSON, DUE TO CORONAVIRUS - SOURCE

— FXHedge (@Fxhedgers) March 3, 2020
* * *
Update (1155ET): Italian health officials have confirmed another rash of cases and deaths: The Italian death toll of patients who have tested positive for the virus has risen to 79 from 52, surpassing the 'official' death toll in Iran (though most suspect the real numbers are far higher in Iran).
Meanwhile, the total number of cases has climbed to 2,502, up from 2,036 late Monday.
ITALIAN DEATH TOLL OF PATIENTS WHO TESTED POSITIVE FOR CORONAVIRUS RISES TO 79 FROM 52
TOTAL NUMBER OF CASES IN ITALY RISES TO 2502 FROM 2036 ON MONDAY
Most of the cases have been diagnosed in Lombardy, a region in the north that's been the hardest hit (it's also a major contributor to Italian GDP).
* * *
Update (1035ET): The WHO is holding its daily press conference, though they've been thoroughly upstaged by the Fed:
CORONAVIRUS CONTINUES TO SPREAD RAPIDLY: The World Health Organization holds their daily news briefing on coronavirus. https://t.co/Heny51Q7cZ

— NowThis (@nowthisnews) March 3, 2020
* * *
Update (1030ET): Some comments from Treasury Secretary Mnuchin during his testimony before the House:
MNUCHIN SAYS NOT CONSIDERING CHINA TARIFF ROLLBACK AT THIS TIME
MNUCHIN SAYS NOT ENOUGH INTEREST TO ISSUE 50 YR BOND
MNUCHIN: 'THERE WILL BE SOME ISSUES' FOR U.S. GDP THIS YEAR DUE TO CORONAVIRUS
MNUCHIN: CORONAVIRUS WILL BE WORSE THAN FLU
Some comments from Dr. Anthony Fauci are also hitting the tape:
NIH OFFICIAL FAUCI SAYS WE SHOULD KNOW WITHIN SEVERAL MONTHS WHETHER OR NOT GILEAD'S ANTIVIRAL CORONAVIRUS TREATMENT WORKS, IMPLEMENTATION COULD BE IMMINENT AFTERWARD
NIH OFFICIAL FAUCI SAYS IT WILL BE AT LEAST A YEAR OR A YEAR AND A HALF UNTIL A CORONAVIRUS VACCINE IS READY TO BE DEPLOYED
In other virus-related news, Al Jazeera reports that a fourth person in France has died from the virus. Yesterday, French officials confirmed a fourth death, before revising the death toll down to three blaming a reporting error. 6 new cases were confirmed earlier in Oman, while the Ayatollah urged Iranians to fight the virus's spread by washing their hands.
"Don't violate the recommendations and instructions of the responsible authorities in terms of prevention, in terms of keeping hands, face and living environment clean and not infecting these and preventing the infection of these," he said. Khamenei also said the outbreak should not be overblown.

"The issue is an issue that will pass. It's not something extraordinary," he said. "I don't want to minimize the issue but let's not make it very big either.
Let's hope the Iranians are developing a more elaborate containment strategy.
* * *
Update (1012ET): The Fed sucker-punched shortsellers in the face Tuesday morning with a "surprise" emergency 50 bp rate cut, acquiescing to President Trump's demands after the president went on a tear bashing Powell during last night's Trump rally in NC.
The news sent stocks AND gold higher. But amazingly, the rally in stocks is already starting to fade.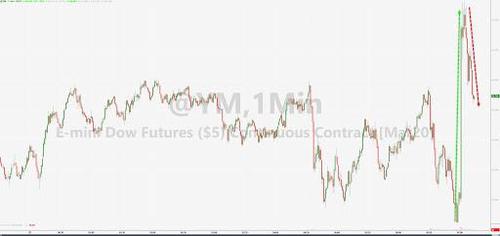 But...but...but we though the only reason stocks were selling off is because the G7 suggested there wouldn't be any cuts, which has now been exposed as part of an elaborate head-fake by central bankers to prime markets for maximum impact.
And even after all that...clearly worries about a wealthy lawyer spreading the virus among the denizens of NYC's white-shoe law firms and their clients is an image that traders can't seem to escape.
Looks like we're gonna need another rate cut, Jerry.
Before we go, we'd like to highlight some thoughts from WSJ editor Michael Derby.
So, is this the Powell Put?

— Michael S. Derby (@michaelsderby) March 3, 2020
Given that we're pretty likely to be testing the zero bound again, maybe even this year, I wonder if the Fed should have moved a little faster on the policy review. May need that new toolkit sooner than expected.

— Michael S. Derby (@michaelsderby) March 3, 2020
The Fed launched the review back in November 2018, following the first bout of Q4 volatility.
And if ever there was a time for bold new thinking from the Fed, this is it. Because, as the market's erratic response suggests, the same old policy prescription of rate cuts and QE isn't going to cut it. Start buying stocks and doling out cash to the people like they did in Hong Kong, or log off.
* * *
Update (0950ET): Here are some more details from Cuomo's presser, including announcing that the city is keeping two families in the Buffalo region 'under observation' and that the state legislature has approved a $40 million emergency aid package on Monday night.
Governor Cuomo said the news of the second New York patient should not be a cause for alarm, reiterating that health officials had expected that the disease would be found in multiple locations around the state and would be likely to spread.

"Yes, people are going to get infected," the governor said, in an interview on Long Island News Radio, adding that "80 percent self-resolve," referring to the estimated recovery rate for mild or asymptomatic cases.

Mr. Cuomo said that the new patient is hospitalized and that he works in Manhattan, and had an underlying respiratory illness. The governor, a Democrat, said the state is also monitoring two families in the Buffalo region who had recently traveled to Italy, one the centers of Europe's outbreaks.

"The real issue is how many people will get seriously ill," Mr. Cuomo said. "How many people, God forbid, could lose their lives."

Acting on a proposal by Mr. Cuomo, the state legislature approved on Monday night a $40 million emergency aid package to help the state Department of Health hire additional staff and equipment to help track and fight the disease.
The NYT also reported that a high school in Westchester County had closed as a precautionary measure. The patient didn't have any children at the school, but it said he's a part of its feeder program. The patient is said to be a lawyer, and has been hospitalized at a hospital in Bronxville. He also reportedly recently visited Miami. The patient is said to have an "underlying respiratory illness" (he's been transferred to New York-Presbyterian Hospital in Manhattan for maximal care). It's unclear if he ever took public transportation.
* * *
Update (0920ET): In a statement, NYC Mayor Bill de Blasio revealed that the Westchester resident who became NY's second coronavirus case was diagnosed in a city hospital. Their test was confirmed in a city lab during its first day of coronavirus operation.
Recent media updates also claimed that the Westchester man works in Manhattan.
statement from @NYCMayor on new coronavirus case, tested & confirmed in NYC lab pic.twitter.com/SCfS1o8gBM

— Ben Max (@TweetBenMax) March 3, 2020
Additionally, Cuomo confirmed that the man recently traveled to Miami. Florida has confirmed more than 4 cases in different parts of the state. Later during the presser, Cuomo confirmed that the Riverdale school that closed was attended by the son of the Westchester patient, and that other schools might close as a precaution.
In addition to the Riverdale school where one of the patient's children attended closing, the Westchester Day School, a private Jewish day school in Mamaroneck, has closed out of an "abundance of caution" because the still-unidentified patient is part of its feeder program.
The man was said to be a lawyer from New Rochelle, who is currently hospitalized at Lawrence Hospital in Bronxville.
We still haven't learned the identity of the woman who tested positive after visiting Iran, it's unclear if we'll ever learn this patient's name.
* * *
Update (0855ET): During this morning's press conference, Gov. Cuomo announced that New York public health officials have confirmed the second case of the coronavirus in the state, this time in a man in his 50s from Westchester County.
Per the NYT, the patient was confirmed overnight via a state lab in Albany. Cuomo added that the two cases, which have no obvious connection to cases abroad, suggest that the virus may be "spreading in communities with no known connection to hot spots for the disease."
Gov. Andrew M. Cuomo announced on Tuesday morning a second confirmed case of coronavirus in New York, a man in his 50s in Westchester County, just outside of New York City, suggesting that it was spreading in communities with no known connection to hot spots for the disease.

The patient, whose test was confirmed overnight by a state lab in Albany, had no direct connection with any known center of the contagion, which was first identified in China in late December.

On Sunday, officials announced the state's first case, a 39-year-old woman in Manhattan, a health care worker who had been visiting Iran, one of the epicenters of the virus's rapid worldwide spread.

Governor Cuomo said the news of the second New York patient should not be a cause for alarm, reiterating that health officials had expected that the disease would be found in multiple locations around the state and would be likely to spread.

"We don't see any direct connection," Mr. Cuomo said, noting that the patient is hospitalized.
So that's one case in Manhattan (a woman who visited Iran) and one case in Westchester (with no obvious link to anyone) plus a school in Riverdale (right on the border of Westchester) closing because some may have been exposed to the virus.
Also, more details on the school closing, per Reuters: The SAR Academy and SAR High School in Riverdale, in the Bronx ,is the school that will close to Tuesday.
"At this time it important to remain calm," according to the statement, which didn't provide any more details.
Readers who are too young to remember the 2003 SARS outbreak might not remember, but NYC narrowly avoided an outbreak when a doctor from Singapore who had been infected by a patient flew to NYC for a conference. He grew increasingly ill while in New York, eventually cutting short his trip and boarding a flight for home, as the NYT reminds us.
Fortunately, the city already has MTA workers out in force disinfecting the subway.
Coronavirus In NYC: Disinfecting Subways & Buses - https://t.co/IlJ6nxCONB

— Kloud ☁️ (@_live_k) March 3, 2020
* * *
Update (0840ET): With only one case confirmed in NYC, the hysteria is already descending, and it's not limited to the Brooklyn Costco.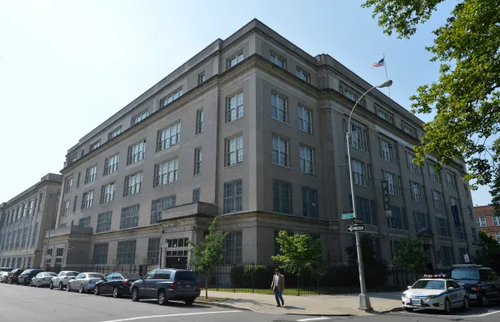 An NYC high school said it will close Tuesday due to a "suspected case of coronavirus in its community."
NEW YORK CITY HIGH SCHOOL SAYS CLOSED TUESDAY AFTER SUSPECTED CASE OF CORONAVIRUS IN ITS COMMUNITY - STATEMENT
Stocks aren't going to like that.
Gov. Cuomo said he would hold a press conference to update the public at 9 am in New York.
Last night, Cuomo tweeted that he would require NY health insurers to cover coronavirus-related costs for New Yorkers.
BREAKING: I am announcing a new directive requiring NY health insurers to waive cost sharing associated with testing for #coronavirus, including emergency room, urgent care and office visits.

We can't let cost be a barrier to access to COVID-19 testing for any New Yorker.

— Andrew Cuomo (@NYGovCuomo) March 3, 2020
New Yorkers receiving Medicaid coverage will not have to pay a co-pay for any testing related to #coronavirus.

Currently all COVID-19 tests being conducted at the State's Wadsworth Lab are fully covered.

— Andrew Cuomo (@NYGovCuomo) March 3, 2020
We suspect we'll know more soon.
* * *
Update (0800ET): UK Health Secretary Matt Hancock has confirmed 11 new cases in the UK, raising the total to 51.
* * *
Following the longest publicly-disclosed illness of Pope Francis's papacy, the Vatican has confirmed that the leader of 1 billion Catholics has tested negative for the coronavirus. After days of insisting that the pope didn't have the virus...somebody at the Vatican was clearly worried that the Pope might have been exposed.
Pretty soon, millions of Americans and Europeans will know that feeling, if they don't already.
Yesterday, the death toll in the US climbed to 6, while the death toll across Europe has moved closer to 100. Late last night, officials in Washington State confirmed what many probably already suspected: 4 of the six deceased were either patients or staff at a nursing home in Kirkland, suburban Seattle.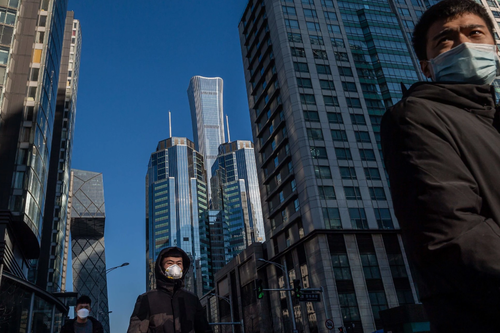 Yesterday, the Dow posted its biggest one-day rebound in points as an endless parade of strategists and talking heads on CNBC jawboned hopes of 'coordinated central-bank intervention' into reality, though in the hours since Monday's close, though hopes have dimmed somewhat, thanks in part to this Reuters report. As G7 finance minister and central bankers prepare for Tuesday morning's conference call, it seems traders around the world have suddenly remembered that there's not much central banks can do, even after the OECD called for a mix of monetary and fiscal stimulus to rescue global growth.
In the span of days, the number of confirmed coronavirus cases in the US has climbed to more than 100 across 15 states if we include the evacuees, along with six deaths so far. the White House, and other governments, are shifting their focus, according to the New York Times, to distributing tests and focusing on early identification and containment instead of trying to keep the virus out.
This comes as the number of cases worldwide surpassed 90,000 on Tuesday.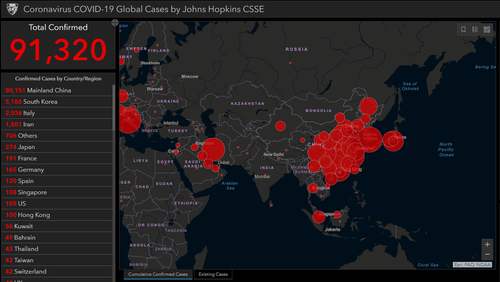 In China, Communist Party officials are luxuriating in their success, or at least a convincing image of success, in suppressing the outbreak: Now that the novel coronavirus appears to be on the decline, vindicating Beijing's heavy handed tactics (for weeks, 760 million were subjected to some form of restriction on their movements, while 100 million faced punishment for leaving their homes without permission).
On Tuesday, Shanghai and Beijing instituted 'travel bans' directed at travelers from hot zones including Italy, South Korea and - of course - the US, turning President Trump's 'racist' travel restrictions on their head. Here's more from the NYT:
Major cities across China have announced new travel restrictions on people who have recently visited countries where coronavirus infections are on the rise.

On Tuesday, the authorities in Shanghai said that all travelers entering the city who had visited countries with significant outbreaks within the last two weeks must undergo a 14-day quarantine at home or at an approved isolation center. Officials in Guangdong Province announced similar measures, the state news media reported on Tuesday.

And a city official in Beijing announced on Tuesday that all arrivals into the capital from countries struggling with outbreaks — including Iran, Italy, Japan and South Korea — would be subject to a 14-day quarantine.

At least 13 people in China were found to be infected with the coronavirus after returning from countries such as Iran and Italy, two places that have seen some of the most severe outbreaks outside of Asia in recent days, according to the authorities.

A 31-year-old Chinese woman had worked in a restaurant in the Italian city of Bergamo before returning home to Qingtian County, in the southeastern province of Zhejiang, where she tested positive for the virus. Seven more people who worked at the same restaurant in Bergamo were later found to be infected after they returned to Zhejiang, the local authorities said.

In recent days, county officials in Qingtian have urged overseas residents to reconsider any plans to return home, citing the challenges they could pose to China's efforts to control the epidemic.
Minutes ago, South Korean health officials released their second coronavirus update for Tuesday: Another 974 confirmed cases raised the country's total to 5,186. Meanwhile, South Korea's death toll climbed to 34.
Public fury in SK so far has been directed at a strange, cult-like church called Shincheonji. Its leader issued an apology yesterday following reports that public prosecutors were being pressed to charge him and 11 other church leaders with murder. Now, investigators are looking into two church members who traveled to South Korea in January from Wuhan. One of them have tested positive, while the other tested negative, according to CNN.
In Japan, another case was reported in Tokyo Tuesday, along with two additional cases in Osaka, and six cases between Nagoya and Kyoto.
Over in Europe, UK Prime Minister Boris Johnson said "we are ready for potential economic downside" as the UK faces a "national challenge" in defeating the virus.
Johnson added: "I am very confident that Britain will get through it in good shape."
Asked about school closures, Johnson said "we don't think schools should be closing in principle - they should stay open," he said. But the public must follow the advice of Public Health England. However, given that children are actually considered "low risk" for COVID-19, Johnson said school closures might not fit into the government's strategy. On Tuesday, cases in the UK climbed to 40.
In France, the increasingly unpopular "President for the Rich" Emmanuel Macron has become the latest victim of coronavirus rumors, after the president reportedly caught a cold and tried to pull out of an event. He has now reportedly been cajoled into visiting a hospital ward in Paris to try and dispel rumors that he's dying of pneumonia.
In Iran, where the virus has killed at least 77 people (and more than 200 according to some reports), public health officials (at least those who haven't already succumbed to the virus) confirmed that 2,336 cases have been counted. As case totals in Qatar, Bahrain, Saudi Arabia, Jordan, Qatar, Oman, the UAE and Egypt climb, Iran's regional neighbors have shut their borders and severed travel and trade links with the Islamic Republic. The head of Iran's emergency medical services has become at least the fifth senior government official to be diagnosed with the virus after a senior advisor to the Ayatollah died yesterday. Additionally, 23 Iranian MPs were among the new cases on Tuesday.
As more companies restrict employee travel, Google on Tuesday told the bulk of staff at its European headquarters in Dublin have been asked to work from home after a staffer reportedly caught the flu.
As more countries cancelled cultural and sporting events across Europe, the head of European football's government body said Tuesday that the Euro 2020 soccer tournament would move ahead as planned.
"You don't know how many concerns we have when we organize a big competition […] We have security concerns, we have political instability concerns and one of those concerns is the virus. We are dealing with it and we are confident that we can deal with it," said UEFA President Aleksander Čeferin at a presser in Amsterdam.
As the total number of cases in Spain climbs to 129, a person in Gibraltar has tested positive, the first case identified in the British territory on the southern coast of Spain.
Thailand has imposed compulsory self-quarantine on travelers arriving from hot zones in Asia, the Middle East and Europe following a spate of deaths in the country.
But now that the G7 communique has dashed the market's hopes, get ready for another wild day.