---
Did CDC Stop Disclosing How Many Americans Are Being Tested For Covid-19? - Live Updates
Summary:
US death toll climbs to 6; all in WA, which has 18 cases
2 new cases confirmed in Tampa Bay
1st case reported in New Hampshire
Hubei reports 114 new cases, 31 new deaths
South Korea case total hits 4,812 as nearly 500 new cases reported; death toll hits 34
Santa Clara County confirms 2 more cases, bringing county total to 9
Gottlieb warns US cases likely in 'low thousands'
Illinois announces 4th case
Boris Johnson: "A very significant expansion" of the virus is "clearly in the cards"
Italian death toll climbs 18 to 52 while total cases surpasses 2,000
BMW tells 150 to quarantine after Munich employee infected
Algeria total hits 5
Senegal becomes 2nd sub-Saharan country to confirm virus
WHO's Tedros: Virus is "common enemy" of humanity so don't focus on blame
Jordan reports first two cases
French death toll revised to 3, total cases climb to 191
Tunisia reports first case
UK total climbs to 40
OECD warns global growth could fall by half
Indonesia reports first cases
"Progress is being made" toward a vaccine
Cuomo says NY expects more cases
India confirms 2 more cases
'Official' Iran death toll hits 66
EU confirms 38 deaths across 18 members
First cases confirmed in Fla.
2 Amazon employees test positive in Milan
Virus now in 8 US states: Washington, California, Illinois, Rhode Island, New York, Florida, Oregon and New Hampshire
San Antonio virus patient re-hospitalized after testing positive
China warns it could face 'locust invasion'
* * *
Update (2015ET): Health officials in South Korea have reported the first batch of numbers for Tuesday: 477 new cases, bringing the total to 4,812.
Three more deaths in South Korea, bringing death total to 34 in South Korea, still behind Italy's 52.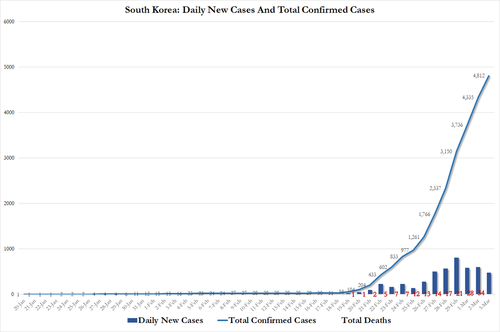 *  *  *
Update (1920ET): Hubei has reported 114 newly confirmed cases of the virus, along with 31 new deaths, the Global Times reports. That's the lowest daily case total since Jan. 21, as Beijing tries to convince its citizens now that they've returned to work that everything is all right and there's no need to fear the virus anymore.
#Hubei reports 114 new confirmed cases of #coronavirus infections on Mar 2, with 31 new deaths. The total number of infections in the province climbed to 67,217, with 2,834 deaths. pic.twitter.com/8617nYz3nZ

— Global Times (@globaltimesnews) March 3, 2020
Outside of Hubei, officials reported just 11 additional cases, and no deaths.
Glancing through the Global Times twitter feed is an always-rewarding activity, and on Monday evening, we noticed this gem: the GT reports that South Korea is struggling to contain the outbreak because of "high levels of religious fanaticism" in the country.
In S.Korea, a country with high religious fanaticism, virus prevention is a challenge as it is not easy for believers to follow and listen to the scientific advice and instructions, so China should also be careful to prevent virus re-import from SK: expert https://t.co/fybeDGDOyA pic.twitter.com/ZYCHcVoFeA

— Global Times (@globaltimesnews) March 2, 2020
* * *
Update (1850ET): Washington Governor and former Democratic presidential candidate Jay Inslee said Monday that Washingtonians shouldn't be surprised when authorities start cancelling "big public events" - though he assured the public that he wasn't requesting a mass cancellation right now(despite the fact that 6 people are dead in his state).
Gov @JayInslee, in an update on the coronavirus, says people should be ready if authorities move to cancel big public events in Washington:
"We are not making a request formally right now...But people should be prepared for that possibility and need to be thinking about it."

— Matt Day (@mattmday) March 2, 2020
* * *
Update (1845ET): UK PM Boris Johnson is reportedly planning to unveil a "plan" to help combat the outbreak in Britain as the total number of cases nears 30, amid signs of 'community transmission' inside its borders.
* * *
Update (1805ET): During VP Pence's virus press conference, FDA Commissioner Stephen Hahn confirmed that the US will be able to perform around 1 million tests by the end of the week. What this means is simple - more tests, more positives. And we wonder - absent G& actual action, not just talk - if this will take the shine back off stocks.
However, there is one more concerning thing as US authorities appear to take a page out of communist China's authoritarian playbook.  As Jedd Kegum noted on Twitter, the CDC has stopped disclosing the number of Americans tested for coronavirus.
On the left is how the website looked last night. On the right is what it looks like now, with the testing info removed.

Coming right as CDC says it will be massively expanding testing, Legum warns: "The lack of testing is a scandal...This is the coverup."
*  *  *
Update (1550ET): State officials announced the first case of coronavirus in New Hampshire Monday, according to a local TV station.
Dr. Benjamin Chan, a New Hampshire state epidemiologist, said during a press conference that one of four people reently tested for coronavirus came back positive. The individual had recently traveled to Italy.
The individual is an adult from Grafton County in the northwestern part of the state. They are not sick enough to be hospitalized, but have been asked to self-quarantine at home. The person is reportedly an employee of Dartmouth-Hitchcock Medical Center. The hospital has reportedly set up an incident command center.
"We will be working very closely with healthcare providers in the community and the hospital system involved in order to investigate this case of COVID-19 and try and prevent further transmission in our community," Chan said.
Health officials in the state said they have no reason to suspect a community outbreak since the history of transmission is clear.
"We will be working tirelessly to investigate this most recent identification and to identify any potential susceptible contacts who may need themselves to be placed under self quarantine," Chan said.
In an interview that will air tonight, Dr. Anthony Fauci of the CDC said the outbreak in the US has "reached outbreak proportions and likely pandemic proportions.
Dr. Fauci to @RichardEngel: Coronavirus has "reached outbreak proportions and likely pandemic proportions" — tonight on @NBCNightlyNews

(via @NBCNewsPR) #covid19 pic.twitter.com/m1PqioLdqZ

— Carl Quintanilla (@carlquintanilla) March 2, 2020
Eight US states have no confirmed cases of the coronavirus: Washington, California, Illinois, Rhode Island, New York, Florida, Oregon and New Hampshire
During a short, impromptu briefing with reporters after his meeting with drug company CEOs at the White House on Wednesday, Trump hinted at tightening travel restrictions, something critics have been demanding.
In other news, critics slammed VP Mike Pence after the CDC abruptly delayed a Monday briefing.
"A White House spokesperson later said the CDC would participate in an afternoon briefing today on the coronavirus response with Vice President Mike Pence."

The stock market and Trump's political fortunes matter more than making timely information public. https://t.co/IZySY7gEdN

— subscribe to my newsletter (@brianbeutler) March 2, 2020
* * *
Update (1540ET): Now that France's confirmed cases have more than doubled over the past two days, French drug giant Sanofi said it is producing an experimental lot of the vaccine. We assume the experimental doses will be distributed to the most in-need patients.
* * *
Update (1455ET): In his latest comment of the day, UK Prime Minister Boris Johnson said "we are ready for potential economic downsides from coronavirus".
Most of Google's 8,000 employees and contractors in Ireland have been told to work from home tomorrow after a member of staff reported flu-like symptoms.
* * *
Update (1440ET): The US death toll is now changing by the minute.
Washington State authorities are now saying six patients have died from the virus (presumably all of them were elderly or sick, as the first patients who died were), and the total number of patients in the state has climbed to 18, with all of the new cases of "unknown origin" as experts warn there could be hundreds, possibly thousands, of infections in the state.
And US stocks are moving further off their highs as yet another intraday rally fizzles.
Over in Australia, which confirmed its first case of community transmission on Monday, organizers said the Formula One season-opening Australian Grand Prix will be held as scheduled on March 15, despite the looming virus threat. The number of cases in Qatar, meanwhile, has climbed to 7.
* * *
Update (1420ET): Washington State health officials announced Monday that three more coronavirus patients in King County have died, bringing the US death toll to 5. The new cases announced brings the total cases in the county to 14.
Jeffrey Duchin, a health officer for Seattle and King County, said during a press conference that the county had confirmed 4 new cases on Monday, bringing its total to 14. Of these 4 new cases, two had died, while 1 previously reported patient had also passed away.
There are the newly confirmed patients who passed away:
A male in his 50s, hospitalized at Highline Hospital. No known exposures.
A male in his 70s, a resident of LifeCare, hospitalized at EvergreenHealth in Kirkland. The man had underlying health conditions, and died 3/1/20.
And the previously confirmed who have died:
A female in her 70s, a resident of LifeCare, hospitalized at EvergreenHealth in Kirkland. The woman had underlying health conditions, and died 3/1/20.
A female in her 80s, a resident of LifeCare, was hospitalized at EvergreenHealth.
In addition, a woman in her 80s, who was already reported as in critical condition at Evergreen, has died. She died on 3/1/20
The Seattle Times reported that the F5 Office Tower in downtown Seattle had closed for cleaning after an employee had contact with a coronavirus patient.
Circling back to the press conference, officials promised to do everything they could for our health workers. They added that the people of Washington State can help by "saving masks" for medical workers and people who really need them, which is a surprising thing to say considering the outbreak is obviously accelerating.
Masks are not recommended for healthy people to prevent infection, but they are so important for our health care workers to have.
King County Chief Executive Dow Constantine confirmed during an 11 am (local time) press conference that his county is in final negotiations to buy a motel and convert it quickly into modular housing.
That presser is ongoing for whoever wants to watch:
Live now: https://t.co/yLzA6GH8td

— King County Council (@KCCouncil) March 2, 2020
In other recent news, Oman has become the latest Middle Eastern state to ban travelers from coronavirus-impacted countries, joining Qatar, Saudi Arabia and the UAE.
Senegal has become the second country in sub-Saharan Africa to confirm a coronavirus case, joining a growing list of countries and cities that have reported their first cases on Monday. In Northern Africa, Algeria reported two new cases, bringing its total to 5.
* * *
Update (1400ET): French officials just confirmed their country's 191st case as of Monday, with confirmations doubling in two days. They also reported that earlier figures were incorrect, and that France's death toll had been reduced to 3, down from 4. The most recent death was an 89-year-old woman who was confirmed post-mortem.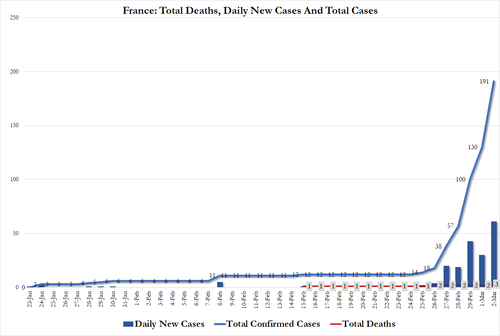 In other news, the UAE is evacuating its citizens in Iran as the coronavirus spreads.
The CDC just announced that it has confirmed Florida's first two coronavirus cases confirmed late Sunday night.
One Washington County is also reportedly devising a plan to buy a motel to start housing coronavirus patients.
* * *
Update (1345ET): Public health officials in Santa Clara County have confirmed two new cases of COVID-19 on Monday.
This brings the total number of cases in the county to 9. The state added that the increase in cases is "not unexpected."
Read the full media statement below:
Media Statement: County of Santa Clara Public Health Department Reports Two New Cases of COVID-19
The County of Santa Clara Public Health Department confirms two new cases of COVID-19 in Santa Clara County. This brings the total number of cases to nine.
The eighth case is an adult male household contact of a confirmed case in another county. He is under home isolation.
The ninth case is an adult male household contact of a previously confirmed case in Santa Clara County.  He is also under home isolation.
Due to medical privacy requirements and to protect their identity, further information about these cases will not be released.
An increase in cases is not unexpected. The Public Health Department will continue to identify anyone who has come into contact with these cases. The department will also be conducting community surveillance to determine the extent of possible disease spread in our community.
Individuals and organizations need to take action to help slow down the spread of the disease. For individuals, the recommendations are simple, but very important:
Keep your hands clean by washing them frequently, especially after you touch common surfaces, such as doorknobs, elevator buttons, handrails, light switches, countertops, and tables. It is one of the most important steps you can take to avoid getting sick and spreading germs to others. Always cover your cough and stay home when you are sick.
Stay away from people who are sick, and stay home if you are sick.
Work on not touching your face because one way viruses spread is when you touch your own mouth, nose or eyes. If you do need to touch your own mouth, nose or eyes, wash your hands before you do so.
Start thinking about family preparedness, how to take care of sick family members while not getting infected. Think about a room to isolate a sick person.
There are practical measures that can help limit spread by reducing exposure in community settings:
Schools: should plan for absenteeism and explore options for learning at home and enhance cleaning of surfaces.
Businesses: whenever possible, can replace in-person meetings with video or telephone conferences and increase teleworking options, as well as modify absenteeism policies and enhance cleaning of surfaces.
Shortly after, Fox News reported that officials in Tampa Bay confirmed two more cases, marking the 3rd and 4th cases in the state of Florida.
Of course, thanks to Florida's reputation as a haven for retirees, a reputation that's bolstered by the fact that Florida has the largest population of senior citizens in the US, the state is particularly vulnerable, as many members of vulnerable communities also live in close proximity to one another. 
* * *
Update (1305ET): Boris Johnson said Monday that "a very significant expansion" of the virus is "clearly in the cards."
* * *
Update (1300ET): Public health officials in Illinois have announced another "presumptive positive" case of coronavirus. Like the prior cases, Illinois case No. 4 is also in Cook County.
.@IDPH and @CookCoHealth report 4th coronavirus case in Illinois. Woman in her 70s who is the spouse of the third case pic.twitter.com/mssAgf8dHG

— Ben Orner (@Ben_Orner) March 2, 2020
The total number of coronavirus cases confirmed in Italy has climbed to more than 2,000 on Sunday, according to a statement from Italian public health officials. The country's death toll climbed by 18 to 52.
The march of first-cases continues, with Saudi Arabia becoming the latest to announce its first case on Monday.
In Washington, 34 firefighters and police are being quarantined after visiting the nursing home in Kirkland where two cases were confirmed over the weekend.
* * *
Update (1130ET): Toward the end of the Q&A with reporters following Monday's press briefing, Dr. Tedros told a reporter that humanity now has a "common enemy" and should focus on fighting it instead of apportioning blame. The WHO Director-General made the remark in response to a question about the culpability of certain governments for the global spread of the coronavirus.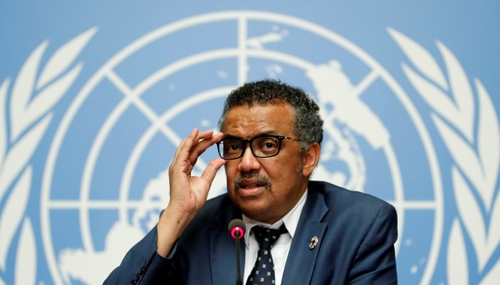 The outbreak only kills roughly 2% of those it infects, Dr. Tedros said. Because of this, he said, Dr. Tedros believes that "the stigma to be honest is more dangerous than the virus itself," he said. "Let's really underline that. The stigma is the most dangerous enemy, for me it's more than the virus itself."
Translation: The WHO is prioritizing defending Beijing's actions - i.e. 'battling racism' - over its responsibility to combat the virus.
"Concerns and worries are understandable. It's fine to be concerned and worried, but let's calm down and do the right thing," he added later before ending the briefing.
WHO'S TEDROS SAYS HUMANITY NOW HAS A COMMON ENEMY
WHO'S TEDROS SAYS STIGMA IS MORE DANGEROUS THAN VIRUS ITSELF
Dr. Tedros then launched into a defense of the WHO's decision to delay the decision to declare the virus a public health emergency of international concern (PHEIC), before pointing out the fact that in 55 countries have confirmed less than 100 cases.
"Even if it's more, it can be contained."
So, Dr. Tedros started the press conference explaining why it's not appropriate to describe the outbreak as a pandemic, before declaring it a "common enemy" of the human race.
We seem to have lost the thread.
* * *
Update (1100ET): The WHO's daily presser is still ongoing. Meanwhile, Florida Gov. Ron DeSantis said Monday after two people were diagnosed with the virus that 23 Floridians have now been tested, and 184 are under monitoring by publi health officials.
California has warned about how the virus could impact its finances.
* * *
Update (10:55ET): Mary Lou McDonald, the leader of Ireland's Sinn Fein, has revealed that her children attend the Dublin school that has been temporarily shuttered after a student who recently returned from Italy was diagnosed with the virus, according to the Guardian.
The roughly 400 students and staff at the school have been advised to 'stay home' and 'restrict their movements'.
* * *
Update (1045ET): WHO Director-General Dr. Tedros Adhanom Ghebreyesus said Monday that he wouldn't call the outbreak a pandemic until "evidence warrants" - adding that right now, 90% of cases are in China (even as the virus as been confirmed in nearly 70 countries).
WHO'S TEDROS SAYS WILL CALL IT A PANDEMIC IF EVIDENCE WARRANTS
WHO'S RYAN SAYS STILL HOPEFUL CONTAINMENT IS RIGHT STRATEGY
TRUMP SAYS HE ASKED TO ACCELERATE WORK ON VIRUS VACCINES
WHO'S TEDROS STILL URGES CONTAINMENT FOR KOREA, CHINA, ITALY
CHINA HAS SENT TECHNICAL TEAM TO AID RESPONSE IN IRAN
In other news, Qatar's public health officials have announced 4 new cases of the virus.
* * *
Update (1030ET): Tunisia has reported its first case of coronavirus, joining a growing list of major cities and countries that have reported their first cases of the virus on Monday, drawing even more scrutiny to the WHO and its unwillingness to call the outbreak a 'pandemic'.
Meanwhile, the WHO will hold its daily press breifing at 10:30 am ET.
Watch live below:
* * *
Update (0900ET): Here's a funny headline about the G7 emergency coronavirus meeting.
FRANCE'S FINANCE MIN. LE MAIRE: G7 CORONAVIRUS MEETING IS TO BE HELD BY TELEPHONE TO LIMIT TRAVEL.
The ECB, meanwhile, called off a joint event with the European Commission that was supposed to happen on Tuesday because several participants cancelled because of the outbreak.
In the UK, the total number of cases has climbed to 40.
In other news: As fear spreads in Washington State, six schools and one university have closed Monday for a 'deep clean'.
* * *
Update (0845ET): Echoing the news out of San Antonio, Rajasthan Health Minister Raghu Sharma warned Monday morning in the US that one of India's first cases was a passenger who landed in Jaipur from Italy on Feb 29. He was admitted to the isolation ward at a hospital after he showed symptoms of COVID-19 in the screening and at first he tested negative, and he was sent home.
However, a later confirmatory test later showed he was positive.
It just underlines the notion that the most dangerous thing about the novel coronavirus is it's ability to remain undetected for lengths of time.
* * *
Update (0820ET): The French death toll doubled Monday morning when health officials reported 2 new deaths, bringing the total to four.
* * *
Update (0800ET): Former FDA Director Scott Gottlieb, who has been far more vocal than the current FDA director thanks to his regular appearances on CNBC and other cable news channels, warned during an interview on CNBC Monday morning that the public shouldn't trust the administration's rhetoric.
The fact is, things are far from 'okay', Gottlieb said. Now that the government is expanding testing, the US case count will 'grow rapidly'. The public should start stocking up on supplies and preparing for widespread disruptions. Gottlieb warned that the number of cases in the US has probably already reached the 'low thousands'. Hundreds could be confirmed by the end of the week.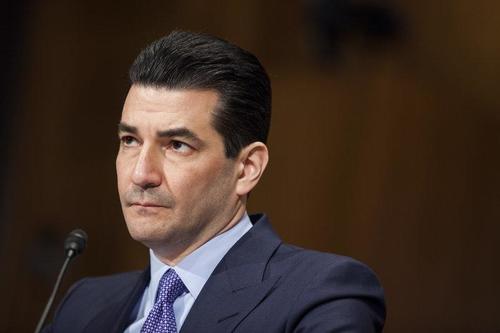 Scott Gottlieb
As the GT pointed out earlier, the CDC is telling Americans that wearing facemasks in public right now isn't necessary. We suspect Gottlieb would beg to differ.
Meanwhile, Jordan has reported its first 2 cases as the coronavirus outbreak in the Middle East spreads.
BMW has reportedly told 150 R&D employees to quarantine at home for two weeks ater coming into contact with an employee in Munich contracted the virus. The Munich case was sent home to self-quarantine. Large companies that have now confirmed employees have been infected include Amazon, Nike, Google and BMW. 
Before we go, we'd just like to point out: In the past 24 hours, Moscow, New Delhi, NYC, Berlin, Rome and Brussels have all confirmed their first cases, as have Indonesia, Portugal and now Jordan on Monday morning.
And yet...
And the World Health Organization still won't call this a pandemic. https://t.co/y4Y3cbAw30

— Ben Hunt (@EpsilonTheory) March 2, 2020
Earlier, European Commission President Von der Leyen followed the OECD's breakthrough warning by saying the risk in the EU had risen from "moderate" to "high."
* * *
Update (0730ET): As we reported last night, a group of drug company CEOs are on their way to meet with President Trump at the White House."Progress is being made" toward a vaccine, Trump said.
I am meeting with the major pharmaceutical companies today at the White House about progress on a vaccine and cure. Progress being made!

— Donald J. Trump (@realDonaldTrump) March 2, 2020
Meanwhile, NY Governor and Trump nemesis Andrew Cuomo told CNN Monday that he expects more cases to be confirmed in New York. NYC's first patient is a woman in her late 30s who contracted the virus while traveling abroad in Iran.
Amazingly, despite all of Cuomo's boasts about his state's state of the art labs and medical resources, the woman is apparently "isolated in her home."
* * *
Update (0715ET): A Reuters headline from late Sunday just caught our eye, and we felt obligated to share: China's State Forestry and Grasslands Administration has warned that the world's second-largest economy could face a devastating "Locust Invasion".
CHINA FACES RISK OF LOCUST INVASION - FORESTRY AND GRASSLAND ADMINISTRATION
Last month, we reported that China was deploying an "army of ducks" to help Pakistan fight an invasion of locusts, a plague that is also hurting farmers across Africa.
Looks like Beijing is going to need its ducks back.
The Global Times, meanwhile, is now mocking the CDC for refusing to recommend that Americans should wear facemasks.
Suggesting people not wear face mask is seriously misleading. All of the Chinese experts have advised people to wear face mask when in contact with others during time of epidemic and consider it one of the most effective measures. Please heed suggestion of Chinese experts. pic.twitter.com/xUxq11m7Bg

— Hu Xijin 胡锡进 (@HuXijin_GT) March 2, 2020
* * *
Update (0640ET): Japan reports 15 new coronavirus cases, Reuters reports, bringing the country total to 271, excluding the 705 from the Diamond Princess.
* * *
Update (0615ET): Stella Kyriakides, the European Commissioner for Health and Food Safety, confirmed on Monday that the EU Has 2,100 confirmed cases and 38 confirmed deaths across 18 member states. The bloc has also raised its risk alert level from "moderate" to "high".
Yet all the borders remain open...
Shortly after South Korea reported 599 new cases of coronavirus raising its total to 4,335 and death toll to 22, South Korea's transport ministry said flights from South Korea to the US would begin screening all passengers with mandatory temperature checks - techniques that have already been shown to be not entirely effective.
Trump has seemed hesitant to slap South Korea and Italy with the same travel restrictions he used on China. If he cares about being reelected, he might want to reconsider.
China reported 202 additional coronavirus cases and 42 additional deaths last night, as we reported. This morning in the US, Chinese Premier Li said the coronavirus outbreak was at a crucial stage and that positive trends outside Hubei mean strict control measures must be maintained.
* * *
Update (0600ET): After six weeks of speculation about how Indonesia had managed to avoid an outbreak, especially considering the thousands of travelers from Hubei that visited the country, the government of the world's fourth-largest country had confirmed that two patients had tested positive on Monday, Reuters reports.
In other news, Goldman Sachs has postponed all non-essential travel for its staff "effective immediately" according to a memo seen by Reuters.
* * *
Meanwhile, here's the State Department's 'Travel Advisory' map. Areas marked 'red' indicate 'Do Not Travel', areas in yellow or yellow-black stripes are 'exercise increased caution' (it's not clearly visible, but Italy has yellow-black stripes).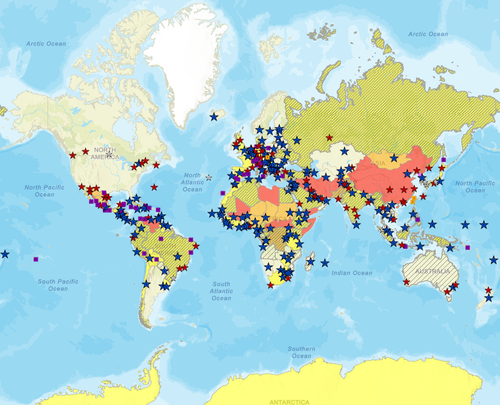 The CDC has its own travel advisory map (courtesy of NPR):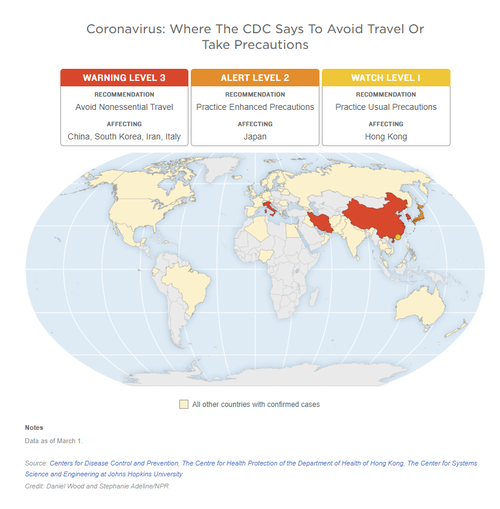 * * *
As the wild swings in US equity futures over the last few hours would suggest, we're headed for another insane week of coronavirus news as America comes to grips with the outbreak as it claims a second life and spreads to the country's largest city.
The American coronavirus outbreak accelerated rapidly over the weekend, as health officials confirmed the first virus-linked death on Saturday, before confirming a second death of a US citizen - this time a 70-year-old man - in the same area of Washington State.
As we explained last night, state and federal public-health officials are focusing on what appears to be a cluster of confirmed cases in Washington, where both deaths have occurred, as well as outbreaks in Oregon and California where patients had no clear path of transmission for the virus, leading officials to suspect that a more widespread outbreak has already begun. Late Sunday night, Gov. Cuomo confirmed the first case in Manhattan, involving a woman who had recently traveled to Iran. The news followed a seemingly unceasing stream of scares and negative tests in America's largest city, according to the New York Times.
As we pointed out, the global death toll climbed above 3,000 last night as China reported another 42 deaths.
"Coronavirus Czar" and Vice President Mike Pence reiterated promises to make more testing kits available to state officials, reiterating promises made over the weekend. President Trump and other administration officials are also scheduled to meet with drug company execs on Monday.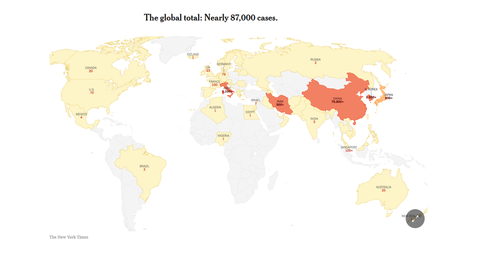 The cases confirmed over the weekend were found in seven states: Washington, California, Illinois, Rhode Island, New York, Florida and Oregon, and included a mix of people who had traveled to high-risk countries, and others believed to have contracted the virus in the US.
Republican-controlled Florida defied Pence's urges to 'remain calm' and declared a state of emergency on Sunday after the governor's office confirmed 2 "presumptively positive" cases late Sunday, according to a Florida TV station. 
Russia reported the first case of the virus in Moscow in a man who returned from Italy on Feb. 23, local newswires reported.
The cases were discovered in Florida's Manatee County and Hillsborough County.
A patient in San Antonio, one of the evacuees, appeared to recover from the coronavirus illness and had been released from a health care facility after having tested negative twice in more than 24 hours was placed back into isolation, even after the CDC's Dr. Anthony Fauci insisted that there was no evidence that people could be 'reinfected' after recovering from the virus.
Mayor of San Antonio. #covid19 https://t.co/pIm1vxROFD

— Carl Quintanilla (@carlquintanilla) March 2, 2020
India's health minister confirmed 2 new cases as the virus spreads in India and neighboring Pakistan. Health authorities in Portugal confirmed the first 2 cases in the country early Monday as the virus continues its spread across Europe. And Iran reported 523 new cases of coronavirus Monday morning and 11 new deaths, bringing the total to 1,501 cases confirmed and 66 dead.
After advising employees to stop non-essential travel over the weekend, Amazon said late Sunday that two of its employees in Milan have contracted the virus and are now under quarantine, the NYT reports.
"We're supporting the affected employees who were in Milan and are now in quarantine," company spokesman Dan Perlet said.

The world's biggest online retailer said it was unaware of any U.S. employees who had contracted the virus. On Friday, Amazon told employees to stop non-essential travel, within the United States and beyond. The company also confirmed on Sunday it is moving some recruiting interviews to video rather than in person.
Over in China, on-the-ground reports claim that most Chinese have returned to work at this point. However, in the rush back to work, the CCP appears to have overlooked a few things...like worker-safety standards.
Chinese workers are working under these kinds of conditions to boost #CCP's GDP, which they are very proud of.
中共的 #GDP 有多少是底层民众的血与汗与命换来的。 pic.twitter.com/Hx0q7YulBW

— 曾錚 Jennifer Zeng (@jenniferatntd) March 1, 2020
As Chinese officials continue their campaign to convince the world, and the Chinese population, that the outbreak is subsiding and that everything will soon return to normal, State TV reports the first of 16 hospitals specially built in Wuhan to tackle the coronavirus epidemic.