---
Watch: China Answers Houston Closure With Raid On US Consulate In Chengdu
China has slammed what it says is a violation of international law after on Friday a group of US federal agents were seen forcing open doors at the Chinese consulate in Houston using power tools and crowbars on Friday as consular staff inside prepared to leave after its ordered closure. 
The Trump administration had given China until 4pm Friday to vacate the Houston consulate. Mike Pompeo had charged that the consulate was "a hub of spying and intellectual property theft".
China has shuttered the US consulate in Chengdu in response on Saturday:
Security was tight outside the U.S. consulate in the Chinese city of Chengdu as staff prepared to leave, while U.S. officials took over the closed Chinese consulate in Houston https://t.co/cnrA8r3FQJ pic.twitter.com/3T5QyAELBB

— Reuters (@Reuters) July 25, 2020
The Chinese consulate in Houston had been there for over three decades and had an estimated 200 employees, about 150 of which were locally hired. 
Days prior, after on Tuesday the order came down to shutter the consulate, fire trucks responded to smoke billowing from the back of the compound.
Consular workers had been observed conducting a mass burning of documents ahead of the consulate's closure. 
Small fires appear in Houston's Chinese consulate courtyard after China says US had ordered to close it pic.twitter.com/H5L2jqMz1G

— The Sun (@TheSun) July 23, 2020
Subsequently, CNN described of Friday's final raid and shutdown:
US federal agents and local law enforcement entered the Chinese consulate compound in Houston earlier Friday in a series of black SUVs, trucks, two white vans and a locksmith's van as a crowd of observers and news cameras observed from the edge of the diplomatic compound.
Initial access was reportedly gained when US officials forced open the back door of the facility using power tools.
BREAKING: US Dept. of State officials smash doors at Chinese Consulate in Houston, enter building pic.twitter.com/5LT6TiMLgt

— Breaking News Global (@BreakingNAlerts) July 24, 2020
Meanwhile, the promised "response" from Beijing has come as on Saturday the US consulate in Chengdu, capital of southwestern China's Sichuan province, was ordered close by Chinese authorities in a tit-for-tat reaction.
Dozens of Chinese agents and police surrounded the American compound on Saturday as moving vans pulled up to its doors.
Reuters reports of the scene Saturday:
In Chengdu, a U.S. consulate emblem inside the compound was taken down and staff could be seen moving about. Three removal vans later entered the compound.

Police gathered outside and closed off the street to traffic in the southwestern Chinese city.

...A steady stream of people walked along the street opposite the entrance throughout the day, many stopping to take photos or videos before police moved them on.

Plain clothes officers detained a man who tried to hold up a sign. It was not clear what the sign said.
Neither side has yet to give official comment on the US consulate closure in Chengdu, but we wonder which path things will take at this point now that the score is somewhat "even" on the mutual diplomatic compound closures: either more will follow or there could be talks and tensions could momentarily cool.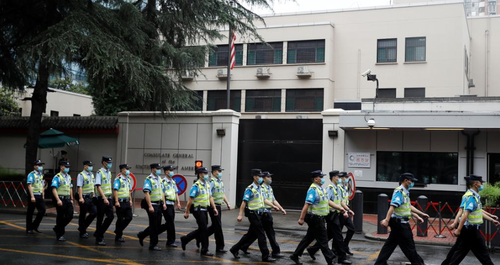 But at the rate things are going, and perhaps given the White House needs a "distraction" away from the ongoing coronavirus crisis ahead of the November election, it's likely US-China downward spiraling reactionary actions will continue.