As anti-corruption protests in Lebanon and Iraq have raged and quickly turned into massive anti-government protests, with the latter much fiercer and more violent, now with over 250 Iraqis killed and nearly 10,000 wounded, there's growing fears that in both countries a Syria-style broader proxy war could emerge. 
Iran has accused the US and Israel for stoking unrest, while Washington and Tel Aviv officials see 'Iranian expansion' and meddling as the true culprit. It appears that some Iraqis agree, given the Iranian consulate in the city of Karbala came under attack Sunday, in the latest sign of public backlash over perceived Iranian control of Baghdad political leaders. 
"Protesters scaled the consulate's walls late Sunday while hauling an Iraqi flag. Security forces fired rubber bullets to disperse protesters who were throwing Molotov cocktails over the wall," The Wall Street Journal reported based on local video of the attack.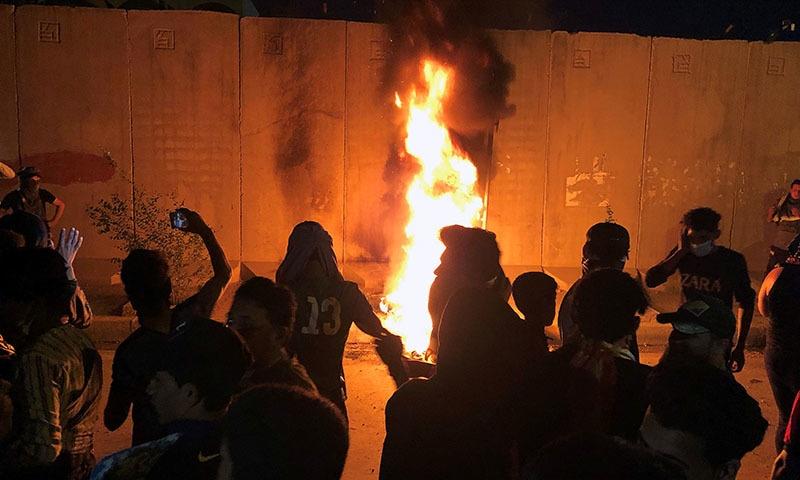 It came after last week Ayatollah Ali Khamenei blamed foreign powers for unrest gripping Iraq and Lebanon. "I recommend those who care in Iraq and Lebanon remedy the insecurity and turmoil created in their countries by the US, the Zionist regime, some western countries, and the money of some reactionary countries," Khamenei stated using his official social media accounts.  
This also as Iran has been blamed for intervening to prevent the ouster, via forced resignation, of Iraq's Prime Minister Adil Abdul-Mahdi amid the popular protests and mayhem. 
We reported last week that during a surprise visit by Qassem Soleimani, the head of the IRGC international offshot Quds Force, the powerful military chief intervened by asking al-Amiri and his Iranian-backed militias to continue supporting Abdul Mahdi. Several senior Iraqi officials have told reporters that Soleimani showed up at a secret meeting in Baghdad on Wednesday that was supposed to be run by Abdul Mahdi, according to Israeli newspaper Haaretz.
Soleimani and many of the militia leaders who are loyal to Amiri raised concerns at the meeting that ousting Abdul Mahdi could weaken the Popular Mobilization Forces, an umbrella group of mostly Iran-backed Shiite militias who have allies in the Iraq's parliament and government.
Watch as the Iranian consulate in the central Iraqi city of Karbala, south of Baghdad is torched:
And now, with his position firmly in place for now, PM Abdul Mahdi on Sunday issued a public message calling on demonstrators to "return the country to normal" — but made no mention of plans to step down. 
"Threatening the oil interests and blocking roads leading to Iraq's ports is causing big losses exceeding billions of dollars," he said, according to the WSJ. 
Anti-Iran anger has been particularly fierce in the restive southern provinces, given the important Shia pilgrimage centers in places like Karbala, where it's believed Iran's influence is felt most strongly and directly.  
Indeed the 'proxy war' nature of what's unfolding in Iraq is increasingly tanking center stage, as President Trump himself tweeted about Monday morning:
Donald Trump is retweeting Saudi regime propaganda cheering over an attack on the Iranian consulate in Iraq.

Trump obviously doesn't read Arabic, so it's clear someone sent him this tweet from a Saudi monarchy-funded anti-Iran propaganda outlet so he could amplify it pic.twitter.com/hmpTFWF2sD

— Ben Norton (@BenjaminNorton) November 4, 2019
For example the Iranian consulate in Basra was torched by a mob last year, in events very similar to Sunday's incident. During Sunday night's unrest which saw the consulate in Karbala set ablaze, at least three protesters were killed by security forces.
Iran-backed Iraqi Shia militias have reportedly been increasingly involved in assisting security forces in putting down the popular unrest which has swept the country - by some accounts even deploying snipers.