---
Watch: Lindsey Graham Says US Should "Start Shooting Russian Planes Down"
Authored by Steve Watson via Summit News,
In an appearance on Hannity Tuesday night, Senator Lindsey Graham floated the idea of starting world war three, before accusing the Biden Administration of doing exactly that.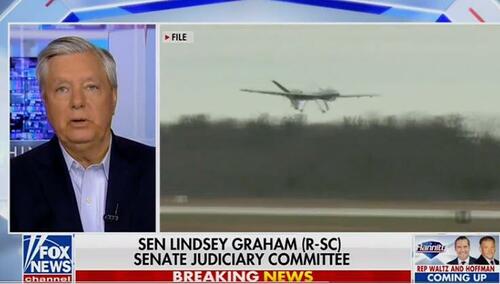 Reacting to the apparent downing of an unmanned U.S. drone over the Black Sea by two Russian Su-27 aircraft, Graham suggested firing down any Russian aircraft that approaches an American asset over international waters.
"Well, we should hold them accountable and say that, 'If you ever get near another U.S. asset flying in international waters, your airplane will be shot down,'" Graham proclaimed.

"What would Ronald Reagan do right now? He would start shooting Russian planes down if they were threatening our assets," he added.
Watch:
Lindsey Graham is a fucking idiot. https://t.co/1prnF6CvbD

— Ian Miles Cheong (@stillgray) March 15, 2023
Not sure Reagan would be doing that right now, actually Lindsey.
"All I can tell you is that on multiple fronts, we're in a dangerous situation," he continued, adding "Weakness creates provocation. They know they can get away with it."
Graham then accused Joe Biden of acting like "a deer in the headlights," before stating to Biden "if you don't change your game and up your game, we're going to have World War III."
I was an NMCC watch officer under Reagan, and he would do nothing of the sort. We had two+ of these a week. The only difference is both sides were practicing attack runs and were carrying live nukes then. This one is of little consequence, even if Russia wants to pursue it. The… https://t.co/L1fmruyezH

— Bob Smalser (@spraguepond) March 15, 2023
Said exactly what a warmonger says...

— Ghost of Bezmenov (@GhostOfBezmenov) March 15, 2023
Should be the first to be drafted alongside Nuland if WWIII breaks out.

— Zaha (@HinodeArashi) March 15, 2023
*  *  *
Brand new merch now available! Get it at https://www.pjwshop.com/
In the age of mass Silicon Valley censorship It is crucial that we stay in touch. We need you to sign up for our free newsletter here. Support our sponsor – Turbo Force – a supercharged boost of clean energy without the comedown. Also, we urgently need your financial support here.
Loading...