---
Biden Pledges To Double Climate Funding In UN Address
Update (1040ET): During his address to the UN General Assembly, President Biden vowed to work with Congress to double the amount of US funding to help developing nations 'fight the climate crisis.'
Biden says this will make the US a leader of public climate finance, and that when combined with private capital, the world will be able to meet a $100 billion climate action goal, according to Bloomberg, which notes that Biden announced in April that the US would double its commitment to around $5.6 billion annually by 2024.
BREAKING: US President Joe Biden says he will work with Congress to "double" international financing to help "meet the goal of mobilising $100bn to support climate action in developing nations".

Follow live updates from New York 👉 https://t.co/sBW8Z2jWac pic.twitter.com/7PnKIAufmA

— Sky News (@SkyNews) September 21, 2021
Biden at #UNGA: "We stand, in my view, at an inflection point in history."

He pledged the U.S. will work with global partners to:
• Defeat Covid-19
• Tackle climate change
• Bolster human rightshttps://t.co/xCTGwmfK7k pic.twitter.com/CxdF6ZHgYu

— Bloomberg Quicktake (@Quicktake) September 21, 2021
We have to wonder, of course, whether holding China accountable for their gross pollution would perhaps be a better approach than spending US taxpayer funds on a nebulous stated goal, considering that China pollutes more than the US and all developed nations combined.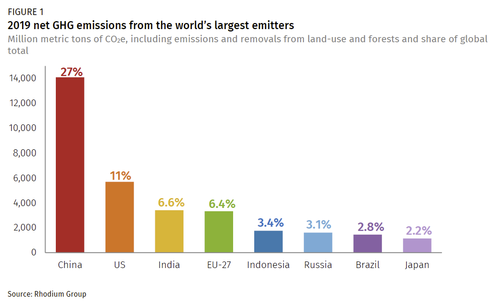 In February, Goldman noted that "there is little doubt that "Carbon Neutral 2060" will be an enormous undertaking given China's natural endowment of coal, China's economic structure of being an industrial powerhouse and its current stage of economic development."
And while nobody can predict what happens in 40 years, one thing is clear: there can be "no global solution without China."
*  *  *
President Biden will deliver his first address at the United Nations General Assembly since taking office, facing his international peers following the United States' chaotic withdrawal from Afghanistan, amid tensions with France after a new trilateral agreement with the United Kingdom and Australia, all while the world continues to grapple with COVID-19.
The president is set to address the United Nations General Assembly in New York City, with administration officials describing the event as a "huge opportunity" for Biden.
"But this is a huge opportunity today for the president. He has obviously been on the world stage for a long time, but he's going to say to the world, to all of the leaders in the room, we're not looking inward," White House press secretary Jen Psaki said.

"After we end a 20-year war, we're going to look outward and we're going to prioritize what's most important to address – whether that's the climate crisis, whether that's cyber threats, continuing to work with partners on counterterrorism."
Perhaps rather awkwardly, United Nations Secretary-General Antonio Guterres has suggested that the United States may be fomenting a Cold War with China, describing the relationship between the U.S. and China as dysfunctional.
The big question is - can he get through it?
Watch live here: