---
Watch Live: Biden's Turn As US & Russian Presidents Hold Separate "He Said, He Said" Press Conferences
update(1:20pm): Now Biden's turn in what's expected to be a much more scripted presser, complete with teleprompter. Biden says he "made it clear" to Putin that we'll continue to raise fundamental issues of human rights, referencing jailed dissident Alexei Navalny.
He raised the issue of imprisoned Americans in Russia, including ability of US-funded Radio Free Europe to report freely. Biden also cited positive talks of "mutual interests" where we can cooperate, especially on strategic stability. There were detailed discussions steps to reduce unintended conflict, particularly nuclear arms control and reduction. Biden also says he brought up Ukraine and Belarus, and stressed the importance of the territorial integrity of Ukraine to Putin. Biden says he's hoping for a future "strategic dialogue" with Russia "that matters".
BIDEN: RAISED CASE OF TWO WRONGFULLY JAILED U.S. CITIZENS
BIDEN: WILL START BILATERAL STRATEGIC STABILITY DIALOGUE
BIDEN: GAVE PUTIN A LIST OF 16 CRITICAL INFRASTRUCTURE ENTITIES
BIDEN SAYS ASKED PUTIN HOW HE WOULD FEEL IF RUSSIA'S OIL FIELDS WERE HIT BY RANSOMWARE
"The last thing I think Putin wants is a Cold War" Biden later said in response to a journalist's question. "I don't think he's looking for a Cold War with the United States," he repeated.
"It's clearly not in anybody's interest... I think he [Putin] understands that." 
"He [Putin] still has those concerns of being encircled..." Biden said, in a seeming rare admission that Moscow's fears of NATO encroachment are legitimate.
We wonder what angry and breathless CNN commentary would follow if Biden's predecessor had said this...
"I don't have any problem doing business with Russia" as long as it's according to international norms, says @POTUS.

— Steve Herman (@W7VOA) June 16, 2021
Journalists in the press pool posed the expected questions on Russian nefarious actions from alleged cyberattacks to election interference...
It is absolutely unthinkable, as Biden so eloquently says, to imagine a world in which the United States of America is viewed by the rest of the world as interfering in other countries' elections. What would such a world even look like? https://t.co/pFGuKj99SB

— Glenn Greenwald (@ggreenwald) June 16, 2021
In response to a separate question Biden called Putin's references to Black Lives Matter riots as well as the Capitol unrest "ridiculous". Putin had previously said of these things: "We don't want them to happen here" [in Russia].
A perhaps "dangerous" way to make a joke - hopefully nothing is lost in translation...
Biden knows what a joke is? All this and more as Joe talks to the press following his first meeting with President Putin earlier today
MORE: https://t.co/7r43O9cJ76 pic.twitter.com/TXh07AZHvU

— RT (@RT_com) June 16, 2021
And one reporter actually asked this question, which Biden appeared to quickly dismiss: "Is a military response an option for a ransomware attack?" 
"No, there's been no talk of 'military response'," Biden said and quickly moved on.
* * *
Having already seen The White House scramble to "clarify" some of President Biden's actions (a head nod, not words), we look forward to the notably separate press conferences. Just ahead of Putin coming out to give his press conference first, Reuters is reporting that the Russian side is reporting Putin's talks with Biden as "quite successful". During Putin's press conference, he generally characterized the US-Russia relationship as a pragmatic one.
PUTIN: DISCUSSED STRATEGIC STABILITY, CYBERSECURITY WITH BIDEN
PUTIN: AGREED WITH BIDEN TO RETURN AMBASSADOR TO CAPITALS
PUTIN SAYS U.S., RUSSIA TO RETURN AMBASSADORS TO CAPITALS
PUTIN: BOTH SIDES SHOWED DESIRE TO SEEK UNDERSTANDING IN TALKS
PUTIN: BIDEN RAISED NAVALNY CASE IN TALKS WEDNESDAY
PUTIN SAYS WE KNOW ABOUT CYBER ATTACKS ON A PIPELINE IN THE U.S., SAYS RUSSIAN AUTHORITIES HAVE NOTHING TO DO WITH THAT
PUTIN: U.S TO BLAME FOR ALL OF THE WORSENING IN RELATIONS
After his meeting with Joe Biden ended ahead of schedule, Russian President Vladimir Putin held a press conference.

Putin said his country was not a major source of cyberattacks, despite U.S. assertions that they are https://t.co/J6TlbppYf0 pic.twitter.com/KVUSPqiqWn

— Bloomberg (@business) June 16, 2021
From Putin's press conference:
Putin says that the topic of Ukraine's entry into NATO was broached with the US President, but has given no details... Putin also said there was "no hostility" during the meeting, calling the talks "quite constructive".
"As for cybersecurity, we reached an agreement for negotiations on that... as for who needs to take on any commitment, I need to inform you of something... as for American sources have said that most cyberattacks in the world are carried out from the cyber realm United States," Putin said in response to a question from CNN. "Was Russia on this list?... Russia is not on the list...[of top offenders globally] ". 
Later, Putin said in reference to Ukraine, "We are conducting exercises on our own territory, just like the United States. We did not bring any of our forces or troops to near the United States, but the United States in doing that right now."
The CNN reporter pressed Putin on Navalny, and without ever using the opposition activist's name, Putin responded:
On Navalny, Putin said "this person knew he was violating laws… I'd like to underscore that he deliberately ignored the requirements of the law."
Another American reporter told Putin that the "list of your political dissidents in prison or dead is long…" - presumably a further reference to Navalny's activist group.
Putin responded by invoking both unrest due to Black Lives Matter riots, as well as referencing the Capitol riot, stressing "we don't want the same things to happen in our country"...
Putin said: The United States has adopted a law in according with which they've said they'll support various political organizations in Russia. At the same time they've declared Russia an "enemy" and have openly stated they will thwart development in Russia.

These are foreign agents, but the organization you mention have called for "mass disorder" They were talking about using Molotov cocktails against police. American has recently itself seen unrest after the killing of an African American.
ABC's Reporter Rachel Scott @rachelvscott to #Russia's Putin: "The list of your political opponents who are dead, imprisoned, or jailed is long…what are you so afraid of?"

Putin doesn't answer directly, mentions BLM: pic.twitter.com/NNvjpOKcxf

— Joyce Karam (@Joyce_Karam) June 16, 2021
He went on to additionally mention the at least 400 Capitol Hill rioters who are now facing federal charges. "We don't want it happening here," he stressed again.
In response to another question, Putin said he has not been invited by Biden to the White House.
Putin took the US to task for its withdrawal from Cold War era treaties, including the INF and Open Skies, however he praised Biden for agreeing to extend New START. But he used these as examples that it's not the Russian said that's "unpredictable" in its foreign relations and actions. He also cited the coup d'etat in Ukraine.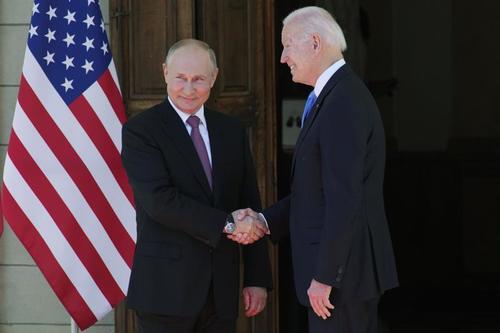 So what actually happened "in the room where it happened"?
Both U.S. and Russian officials have downplayed the expectations of deliverables from the meeting which lasted just under four hours (PBS had reported that Biden officials were prepared for the Russian delegation to try to drag out the talks, making the day longer for Biden, 78, who is at the end of a grueling, eight-day trip..."You always have to be concerned if he's tired or not articulate," said the Biden ally).
Biden faced criticism for not holding a joint press conference with Putin, but defended the decision to address the media alone.
He told reporters on Sunday that it isn't a "contest about who can do better in front of a press conference" or an opportunity to "embarrass each other."
"It's about making myself very clear what the conditions are to get a better relationship with Russia," Biden said of the press conference.
Let's see if Biden can get Through it without embarrassing himself.
Watch Live (Putin due to go first, then Biden):