---
Forget Top-Gun, Watch This Russian Pilot Fly A Stealth Fighter With Its Top-Down
Russia's Ministry of Defense recently published a new video on YouTube showing a pilot operating a Sukhoi Su-57 stealth fighter jet without a cockpit canopy.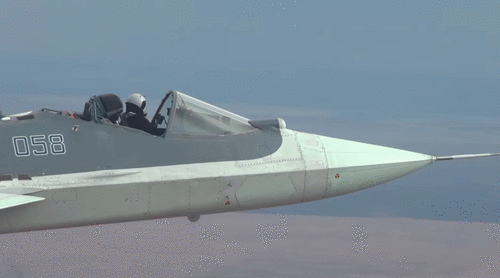 The removal of the plexiglass canopy was part of a testing mission to ensure the pilot could withstand the outside elements if the canopy were to dismount from the aircraft for whatever reason. Around the 1:10 mark of the video, a short couple of seconds shows the missing canopy shot. 
"It is believed to have been removed as part of a test of emergency procedures should the aircraft get into trouble ahead of the ejection," The Sun said. 
It's assumed the pilot wore a special suit while the plane was flying at high speeds and high altitudes; otherwise, the operator of the aircraft would freeze to death. The defense ministry provided scant details about the flight over the Chkalov Test Centre at Akhtubinsk, Astrakhan region. 
This is the latest glimpse of how Russia is preparing its stealth fighter jets for combat. The warplane is designed to carry hypersonic missiles and other advanced weapons. 
As the US attempts to stay ahead of Russia's stealth warplanes, the US Air Force recently announced it has "built and flown" a sixth-generation fighter jet.