---
Watch: Blaze Erupted On Temple Mount As Jerusalem Unrest Intensifies
An area sacred to both Jews and Muslims, the Temple Mount in Jerusalem, earlier caught fire as a Palestinian uprising across various parts of Israel appears to be in progress overnight.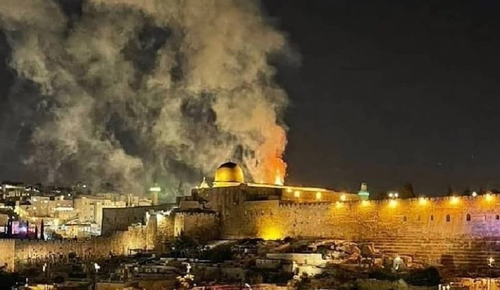 Al-Aqsa Mosque, which is considered the third holiest site in Islam, sits atop Temple Mount - which in ancient times was site of the Second Jewish Temple. At least one large tree atop the sacred site is ablaze, multiple social media videos show, after fireworks were shot amid rioting during clashes with police. The area has been deeply contested since the founding of the nation-state of Israel during the first half of the 20th century.
A correspondent with Middle East Eye later in the night reported there's been "no damage to the Al Aqsa mosque itself."
#BREAKING: Fire Now Raging at Jerusalem's Temple Mount - https://t.co/CuJU9bKUt9 pic.twitter.com/Eh0pcTQEDw

— Breaking911 (@Breaking911) May 10, 2021
Each side is now blaming the other for starting the fire, with Israeli youth participating in controversial 'Jerusalem Day' marches appearing to positively celebrate that a location so near Al-Aqsa Mosque caught fire.
It's as yet unclear if the fire is spreading, as it could actually threaten the nearly 1000-year old mosque building and complex. Some reports suggested it's now been contained or had burned out.
Huge fire at al-Aqsa compound as nationalist Israelis cheer near Western wall pic.twitter.com/g6bhN6ODgz

— Ragıp Soylu (@ragipsoylu) May 10, 2021
The Temple Mount is now literally ablaze as a tree catches fire at the holy site.

Police say it appears to have been started after people launched fireworks at it. pic.twitter.com/gZnD2sojgK

— Judah Ari Gross (@JudahAriGross) May 10, 2021
As a fire breaks out on the Temple Mount/Haram Al Sharif, hundreds of settlers are cheering and applauding in Jerusalem. #Apartheid https://t.co/yfibZoXKGO

— Ahmed Eldin | أحمد شهاب الدين (@ASE) May 10, 2021
Palestinians are clashing both with police and the thousands of right-wing Jewish settler groups that swarmed the walled 'old city' on Jerusalem Day.
It's being widely reported that the fires started amid the clashes between Muslim and Jewish protesters and rioters.
Correction: Additional footage of the incident appears to show that the fireworks were fired from the Temple Mount toward the Western Wall below (where thousands of Jews were gathered for Jerusalem Day celebrations).

The trees were just in the way. pic.twitter.com/NOw9Y1sdda

— Judah Ari Gross (@JudahAriGross) May 10, 2021
Inside Al-Aqsa Mosque earlier in the day as Israeli police moved in...
#شاهد: قوات #الاحتلال تطلق وابلًا من قنابل الصوت والغاز والرصاص المطاطي بالمصلى القبلي في #المسجد_الأقصى.#فلسطين #رمضان pic.twitter.com/d7qePPRXlZ

— المقدسي للإعلام (@AlmakdesyMedia) May 10, 2021
Chaos is breaking lose with many commentators noting tensions are on knife's edge, to the point we are likely about to witness a new Palestinian Intifada.