---
Watch: Ukrainian Soldiers Seen With Depleted Uranium Ammo In UK
Ukrainian soldiers have been filmed alongside depleted uranium ammunition that Britain is supplying to their country for the fight against Russia.
The footage is contained in a documentary the UK Ministry of Defence (MoD) released Sunday as Ukrainian tank crews completed their training.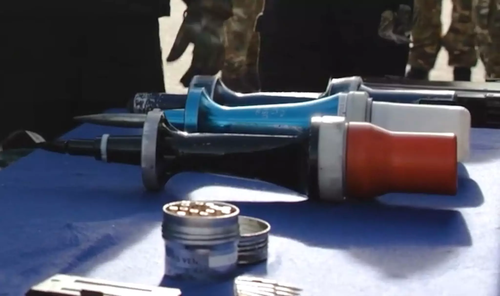 Britain is gifting 14 Challenger 2 tanks to Ukraine together with depleted uranium shells, which Declassified revealed last week.
An MoD spokesperson told the media that the "impact to personal health and the environment from the use of depleted uranium munitions is likely to be low".
But the decision to supply the ammunition sparked a furious reaction from the Kremlin, with Vladimir Putin pledging on Saturday to retaliate by moving 'tactical' nuclear weapons into Belarus.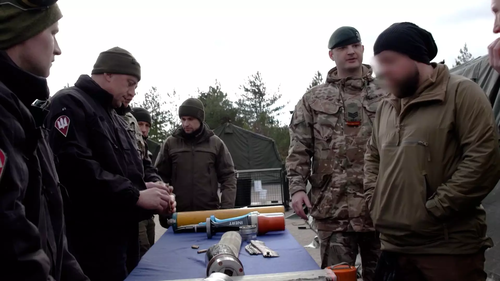 The depleted uranium (DU) ammunition seen in the MoD documentary is marked "inert", suggesting it could be a replica. A blue and silver training shell is visible next to it, an expert told Declassified. 
Doug Weir from the Conflict and Environment Observatory said: "The orange and black munition in the video appears to be an inert display version of the UK's 120mm CHARM3 DU ammunition."
CHARM3 is a technical term for Britain's stockpile of depleted uranium shells. 
The US denies supplying depleted uranium ammo to Ukraine, but it's not as simple as that.

Here's a US soldier in Britain teaching Ukrainian troops about tanks shells, pointing at a depleted uranium round that the UK is supplying https://t.co/5DO6Ll79Kr

— Phil Miller (@pmillerinfo) March 27, 2023
Snippet of the UK MoD footage can be viewed here:
📹 We went behind the scenes to show you how the British Army spent several weeks training Ukrainian tank crews to operate and fight with the mighty Challenger 2.

👉 Watch the full video on YouTube here: https://t.co/GPwP2JTWZD

🇺🇦 #StandWithUkraine 🇺🇦 pic.twitter.com/mrYiVM0RnI

— Ministry of Defence 🇬🇧 (@DefenceHQ) March 27, 2023
Read the rest of the report at Declassified UK...
Loading...