---
Austrian Chancellor Says Battling Illegal Immigration Is Just As Important As Climate Change
Despite losing a confidence vote in May that led to the collapse of Austria's ruling coalition, Chancellor Sebastian Kurz, the youngest Chancellor in Austria's history, won a decisive re-election in September.
But instead of reviving his conservative People's Party's alliance with the ultra-conservative Freedom Party, Kurz has bounced back from a bribery scandal perpetrated by his former coalition partner and decided to try forming a new coalition with the center-left Green Party.
The marriage of conservative and liberal has led to some interesting policy priorities.
For example, in his first interview with the international press since officially taking office last week, Kurz told the FT that his new government's top priorities will be fighting climate change and curbing immigration.
As Kurz explained, while protecting the environment is an important priority, fighting immigration is just as important. Because Austria's Judeo-Christian identity will continue to be eroded if Europe doesn't get its arms around illegal migration.
"It is important to protect our environment but it is also important to decide who will live in our country...if we do not fight against illegal migration, Europe will not be the same in five, 10 or 20 years," he told the Financial Times. "If we do not control who is allowed to come we will not be able to live in security...and we will not be able to keep our identity."
Kurz promised to continue pushing in Europe for tougher policing of illegal immigration in the Mediterranean. He criticized the current system as a "ticket to the European Union" that incentivized crossings and smugglers.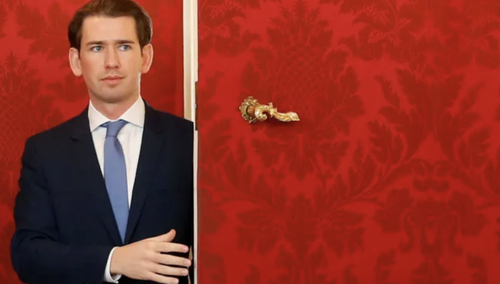 Sebastian Kurz
His government's program also calls to make Austria carbon-neutral by 2040, along with a ban on women under the age of 14 wearing headscarves in schools.
Finally, Kurz is also calling for preventive detention of migrants suspected of extremism.
It was the government's duty to "protect young girls," he said, decrying "influence...from immigrants from different parts of the world which I think dangerous in many areas." He said he was proud that Austria was a "Christian-dominated country" marked by its shared Judeo-Christian heritage.
Many in Europe are praising Kurz for his pact with the Greens, arguing that it could provide a modern template for conservatives hoping to govern in Europe. Kurz called it the "right coalition for the moment."
Perhaps Angela Merkel's flailing Christian Democratic Union can learn something from Kurz? Particularly as the party struggles to bolster its popularity after her long reign?