---
Global COVID-19 Pandemic Surpasses 20 Million Confirmed Cases: Live Updates
Summary:
Global COVID count tops 20 Million
Cali sees "encouraging signs", Gov Newsom says
"Big Ten" cancels season
California reports 7,751 new cases, says it has fixed reporting issues
NJ transmission rate shows virus no longer spreading in state
Arizona COVID outbreak continues to slow; ICU rates decline again
NY reports just 2 COVID deaths as positivity rate lingers near record low
Florida cases continue to decline
World on the cusp of 20 million confirmed COVID cases
WHO praises Paris mask order
Paris mandatory outdoor mask rules take effect
WHO warns "majority of world still susceptible" to COVID
Germany warns of "alarming" rise in new cases
Former Indian president tests positive
Situation in Pakistan improves as lockdowns ease
Lebanon suffers worst jump in infections yet
* * *
Update (2000ET): As expected, Johns Hopkins has just confirmed that the number of confirmed COVID-19 cases worldwide has surpassed 20 million since the start of the pandemic. Of those, more than 700,000 have died.
It comes just days after the US, the world's biggest outbreak, topped 5 million, and Brazil, the No. 2, topped 3 million.
Meanwhile, Cali Governor Gavin Newsom said trends point to "encouraging signs" in California's virus outbreak. Hospitalizations have dropped 19% in the last 14 days, while the number of people in intensive care fell 13% over the same period.
Millions more cases are likely unconfirmed...
* * *
Update (1600ET): "Big Ten" just became the first major college football conference to cancel the upcoming season, despite insistence that the conference would do whatever it could to continue with play.
The Big Ten became the first "Power Five" conference to cancel football for the upcoming season, forgoing a major revenue source as the pandemic upends college sports, the Detroit Free Press reported.

School presidents voted Sunday to cancel fall sports and an official announcement is expected Tuesday, the newspaper said. The tally was 12-2, with only the University of Nebraska and the University of Iowa voting to play, Dan Patrick said Monday on his radio show. Over the weekend, the Mid-American Conference became the first in the FBS, or Football Bowl Subdivision, to scrap its 2020 season.
It follows UConn's decision to cancel college football last week.
A preliminary reading on new US cases found they slowed again on Monday.
U.S. VIRUS CASES RISE 0.9% VS 7-DAY AVERAGE GAIN OF 1.1%
* * *
Update (1420ET): California reported 7,751 new cases on Monday, slightly above yesterday's total, though officials said that some of the cases might belong to prior days, as the state has only just finally fixed its lab reporting issues supposedly caused the state to undercount cases for weeks.
CALIFORNIA DATA MAY INCLUDE CASES FROM PRIOR DAYS
CALIFORNIA SAYS LAB REPORTING ISSUES HAVE BEEN CORRECTED
CALIFORNIA SEES 7,751 NEW VIRUS CASES VS 7,240-DAY AVE
CALIFORNIA 14-DAY POSITIVITY RATE DROPS TO 6.0% FROM 6.1%
* * *
Update (1325ET): NJ has just celebrated a promising milestone: Its statewide transmission rate has hit a promising new low, suggesting that the virus is no longer circulating in the state...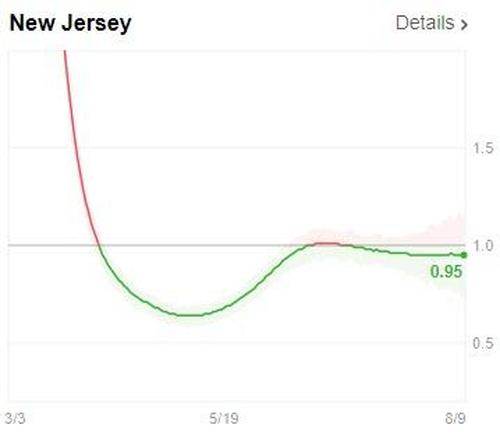 ...for the first time since July 25.
Implementation of @ManattHealth's report:
☑️Distributed 30 million pieces of PPE
☑️Tested 310K residents & 495K staff
☑️Completed 450 infection control surveys
☑️Cleared 3,600 complaints
☑️Hired Dr. Adinaro as Deputy Commissioner of Public Health
☑️Created LTC Emergency Op Cntr

— Governor Phil Murphy (@GovMurphy) August 10, 2020
This directive will also establish:
☑️Strong baseline infection-control measures
☑️Requirements for PPE stockpiling
☑️Requirements for resident and staff testing – including weekly coronavirus tests for all staff

— Governor Phil Murphy (@GovMurphy) August 10, 2020
60% of this funding must flow directly to our nursing home workforce.

The remainder will only go to facilities when they attest that they have met critical benchmark requirements outlined in this directive.

— Governor Phil Murphy (@GovMurphy) August 10, 2020
.@NJDHS Commissioner Johnson is working with our legislative partners on a $130 million plan to stabilize & support our long-term care facility workforce – enabling us to increase wages while ensuring that our LTC facilities can continue to fully support their current staffs.

— Governor Phil Murphy (@GovMurphy) August 10, 2020
We're preparing to commit $155 million to the reopening of our long-term care facilities to ensure we get this right.

We will direct $25 million in CDC Epidemiology and Laboratory Capacity Funding through the @NJDeptofHealth to support our new staff testing program.

— Governor Phil Murphy (@GovMurphy) August 10, 2020
NEW: We've received 258 new positive #COVID19 test results, pushing our cumulative total since March 4th to 185,031. pic.twitter.com/y58OMQJtXw

— Governor Phil Murphy (@GovMurphy) August 10, 2020
☑️Positivity rate for tests from 8/6 was 1.62%
☑️Rate of transmission is 0.98

Because all of YOU have redoubled your efforts to social distance and wear masks, our Rt is back down below 1.

This is a positive sign, but this does not mean #COVID19 is no longer with us. pic.twitter.com/C6fBKMk3Ne

— Governor Phil Murphy (@GovMurphy) August 10, 2020
☑️545 patients in our hospitals – 284 COVID-19-confirmed patients and 261 patients listed as Persons Under Investigation pending the return of test results
☑️83 patients in ICUs
☑️29 ventilators in use

We're at lows for ICU beds and ventilators we haven't seen since early March. pic.twitter.com/uIqCsN1gZt

— Governor Phil Murphy (@GovMurphy) August 10, 2020
That's good news, after a handful of distressingly high readings on the transmission rate sparked fears of a northeastern 2nd wave.
* * *
Update (1150ET): Arizona reported just 600 new cases on Monday, along with just 4 new deaths, as the outbreak in the state continues to slow, spurred by Gov. Doug Ducey's quick reaction time on reimposing restrictions on bars and restaurants, along with other measures, when the numbers started to climb.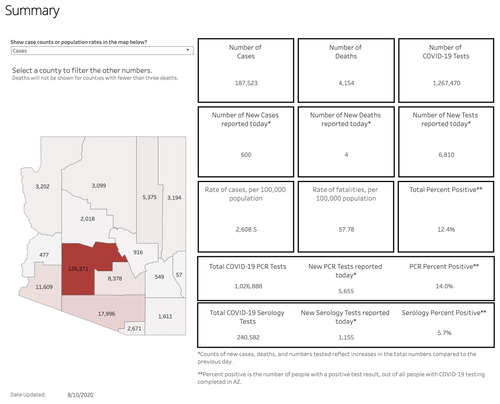 Meanwhile, ICU bed availability continues to increase as the number of occupied beds falls.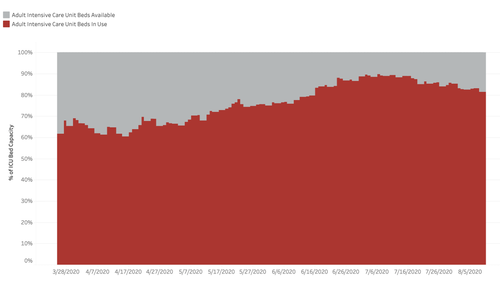 Here's a summary of Arizona hospital assets from Monday.
#Arizona Hospital Assets - 8/10
date = lowest since
Usage census:
Acute care beds:80%⬇️
ICU:81%⬇️
Emergency: 39%⬆️
Ventilators: 36%⬇️#COVID19 usage:
Acute care beds:1,575⬇️ 6/15
Ventilators:366⬇️6/20
ICU: 506⬇️6/15
Discharge: 321⬇️
Emergency:987⬇️
Intubations:61⬆️

— The AZ - abc15 - Data Guru (@Garrett_Archer) August 10, 2020
* * *
Update (1135ET): NY Gov Andrew Cuomo on Monday revealed that the state's positivity rate remains just above its record lows set last week, while deaths have declined to just 2 New Yorkers.
Today's update on the numbers:

Of the 54,002 tests reported yesterday, 476 were positive (0.88% of total).

Total hospitalizations fell to 535.

Sadly, there were 2 COVID fatalities yesterday. pic.twitter.com/8OfwmNxHDF

— Andrew Cuomo (@NYGovCuomo) August 10, 2020
Those are some good numbers, and will undoubtedly help strengthen the governor's case for most of the state to return to "hybrid" learning when schools reopen later this month.
* * *
Update (1110ET): South Dakota Gov. Kirsti Noem, who recently was accused by the NYT of angling for VP Pence's job, just tweeted her critics a dose of perspective.
There is a risk associated with everything that we do in life; more South Dakotans have died from accidental injuries than from #COVID19 in the past 5 months. We mitigate risks by taking proper precautions. (1/2)

— Governor Kristi Noem (@govkristinoem) August 10, 2020
We take precautions when we get in our cars, when we operate farm equipment, and when we make choices about what we eat and how much we exercise. The same should be true about life as we continue getting back to normal. (2/2)

— Governor Kristi Noem (@govkristinoem) August 10, 2020
Are you saying the government has an obligation to defend personal liberty even during periods of excessive fear? But...but...but
* * *
Update (1040ET): Florida reports 91 new COVID-19 deaths for Monday, which was slightly higher than the total from the prior day, while Florida cases increased by 4,155 to 536,961 as a slowdown in newly confirmed cases continued.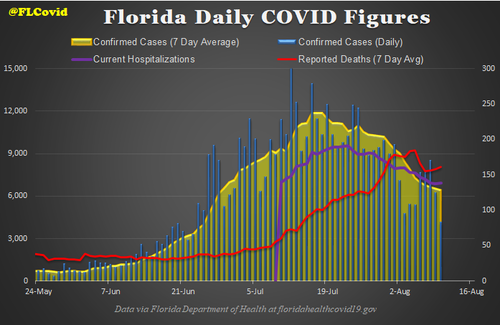 Almost as notable: the statewide positivity rate declined to 8.6%, the rate for all tests declined to 12.3%.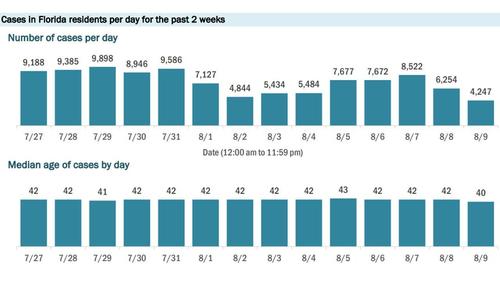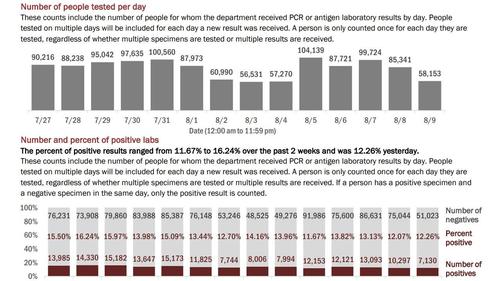 Meanwhile, the Orlando Sun-Sentinel, a local paper that has, in our view, done a fantastic job covering local COVID-19-related issues, reported that boaters and partiers at Lake Boca are starting to get on the nerves of state public-health officials.
The party continues on Lake Boca despite the COVID-19 crisis, and a lack of enforcement by police and state authorities means boaters could be spreading the coronavirus as they soak in the sun.

Dozens of boaters anchor at the popular site on weekends, some tying their boats together in a practice known as "rafting."

Government orders on social distancing prohibit rafting, but no one agency — the city police, the county sheriff or the state wildlife commission - is responsible for policing the boaters' behavior. And all three say they rely on warnings rather than citations to encourage correct behavior.

Some local officials say it's time for things to change.

Boca Raton City Council Member Andy Thomson said he has heard complaints about rafting on many waterways, including Lake Boca, as people get increasingly eager to return to normalcy.

"As time has gone on in the midst of the pandemic, more and more people are wanting to go out on the boats," Thomson said. "They can still go out on their boats; they can go wherever they want. They just can't be rafting."

Others feel the same. Some took to social media expressing concern with the crowds they've seen over the past few weeks.

On July 19, a user posted Facebook photos of dozens of boats gathered with the caption "This is NOT social distancing on lake boca!!!"
Maybe everybody who has a problem with the way they social distance in 'Boca can go 'social distance' somewhere else.
Either that, or stop complaining.
* * *
As global confirmed COVID-19 cases near 20 million (with potentially millions more that were never catalogued), an uptick in new cases has inspired Paris officials to impose dramatic new restrictions involving mandatory mask wearing. Masks must now be worn in public, even outdoors.
The order was announced over the weekend. it applies to people aged 11 and over, and covers busy outdoor areas in the French capital and more than 100 streets, although tourist sites such as the Eiffel Tower, the Arc de Triomphe and Champs-Elysees boulevard are not included, as French politicians continue to extend concessions to the badly battered tourism industry.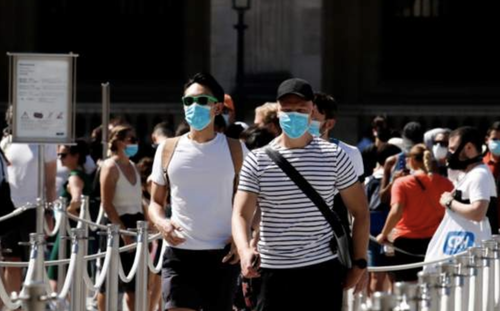 As the BBC points out, the Paris mask rule is part of a trend of localized restrictions sweeping Europe.
The new mask rule in Paris is part of a pattern that is spreading across the country - indeed across Europe - as governments try to stamp down the new virus embers.

It has been obvious for weeks that in some much-frequented parts of the capital, keeping the one-metre (3.2ft) rule is a challenge.

On the Seine quays for example, walkers, joggers and cyclists brush past revellers at the many riverside bars.

Masks are already obligatory in France in all enclosed public spaces - including inside tourist attractions like the Louvre and the Eiffel Tower.

And across the country, well over 1,000 towns and cities have prescribed face coverings in certain streets and neighbourhoods.

The main target of the rules are young people who gather to enjoy the holiday and the sunshine.

All the evidence shows that they are the group among whom infection is growing fastest.

They may be at a lower risk of becoming seriously ill from the virus than older people. It is their role as vectors that is a cause for concern.
A top US health official has praised Taiwan's response to the coronavirus pandemic, hailing it as "among the most successful in the world", during a rare diplomatic visit to the island.
Elsewhere in Europe, Germany's economy minister warned of an "alarming" rise in infections. "We need to flatten the curve and turn this around," Peter Altmaier told German press as schoolchildren in Berlin return to classrooms for the first time in months. Germany has also seen its single-day case count top 1,000 for the first time in weeks.
With the world on the cusp of reporting 20 million confirmed cases of the coronavirus, the WHO delivered a stark warning during a Monday morning press briefing from Geneva: the majority of the world's population remains susceptible to infection.
Dr Maria Van Kerkhove, famously the agency's technical lead on COVID-19 research who once caused an uproar by declaring asymptomatic transmission a "rare" event, and seemingly undercutting the case for compulsory mask-wearing, told reporters on Monday that there was "no indication that there is seasonality with this virus" and urged people to do everything they could, including physical distancing, wearing a mask where appropriate and avoiding crowded settings, to prevent the spread of infection.
Media briefing on #COVID19 with @DrTedros https://t.co/gidl4jYpVR

— World Health Organization (WHO) (@WHO) August 10, 2020
Earlier, the WHO's Director General Dr Tedros Adhanom Ghebreyesus praised the UK's decision to take "targeted action" by imposing 'partial lockdowns' in parts of Leicester and parts of northern England.
Dr. Tedros told the briefing: "Strong and precise measures like these, in combination with utilizing every tool at our disposal, are key to preventing any resurgence in COVID-19 and allowing societies to be reopened safely."
After crossing the 2 million mark last week, infections in India have slowed slightly as antibody surveillance testing suggests that some of the worst-hit slums in Mumbai and New Delhi have achieved roughly 50% infection rates, not far from levels where 'herd immunity' might come into play.
What's more, on Monday, Pranab Mukherjee, India's president from 2012-2017, has just announced that he has tested positive for the virus.
But the world's second-most-populous country hasn't had nearly as much success as its neighbor, Pakistan, where the outbreak has continued to wane as the country's 'partial lockdowns' have been slowly unwound.
Here's more on that from the BBC:
With restaurants, cinemas and tourist spots reopening (albeit with some restrictions in place) life in Pakistan is returning to "normal".

Partial lockdowns have been in place since March, but have been progressively eased.

With just over 6,000 coronavirus deaths in a population of about 230 million, despite the country's weak healthcare system, Pakistan appears to have fared far better than many in the West.
Finally, as anti-government protesters return to the streets, clashing with security forces, Lebanon reported its highest daily increase in coronavirus infections yet on Monday, compounding the country's problems after a devastating explosion tore through Beirut last week.
Another 294 cases were recorded on Sunday, bringing the country's total number of infections to 6,517, per health ministry data.