---
West Alarmed As Putin Has Begun To Mediate Niger Coup Crisis
Western nations are alarmed at the prospect of Russia deepening its presence and influence in West and Central Africa, particularly following the tumult in Niger late last month, which culminated in the July 26 coup against democratically elected President Mohamed Bazoum.
The West-friendly group of surrounding nations, the Economic Community of West African States (ECOWAS), has since threatened military intervention towards restoring Bazoum, and there have been persistent rumors that France is encouraging concrete action. Mali has played a key role in all of this given it stands on the other side, and is dead set against any interference in Niger, with fresh reports that Mali's military leader Assimi Goita has spoken to Russian President Vladimir Putin by phone.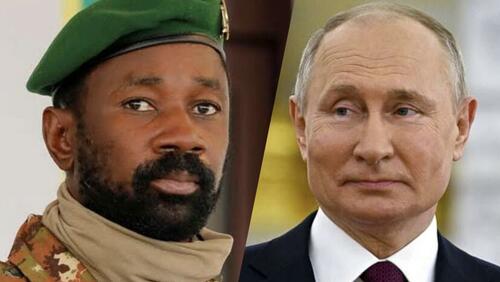 Goita announced that in the Tuesday call Putin "stressed the importance of a peaceful resolution of the situation for a more stable Sahel" - and the sides confirmed it was initiated by Mali.
According to a Kremlin statement, "The parties specifically focused on the current situation in the Sahara-Sahel region and emphasised, in particular, the importance of settling the situation in the Republic of Niger solely through peaceful political and diplomatic means."
Putin separately told Tuesday's Moscow Conference on International Security (MCIS) that "The countries of the Sahara-Sahel region, such as the Central African Republic and Mali, were under direct attack from numerous terrorist groups after the US and its allies unleashed aggression against Libya, which led to the collapse of the Libyan state."
The handful of regional supporters of the Niger junta have emphasized the same point of late...
"NATO's unilateral intervention in Libya led to the spread of terrorism in the Sahel and West Africa."

It's one of the key complaints of the military coup plotters who've overthrown governments in Burkina Faso, Mali, and Niger that had cooperated closely with the US and France. pic.twitter.com/X8kNURWeyC

— Seth Harp (@sethharpesq) August 9, 2023
Niger is known for having uranium, but it is the significant gold and oil resources which likely of greater interest to the large powers of Russia, China, the US, and Europe.
The West's concern is likely to grow given Putin's mediation with Mali's leadership. Russia's Wagner Group also has an extensive presence across the African continent, having long had security and counterterrorism contracts with multiple governments. 
So far, there's still not been openness to negotiations on the part of the Niger coup leaders and Bazoum remains under hose arrest. Per the latest update in Reuters, "West African army chiefs will meet on Thursday and Friday in Ghana to prepare for a possible military intervention, which the main regional bloc, the Economic Community of West African States (ECOWAS) has threatened to launch if diplomacy fails."
Any external military intervention could spark a broader war across the Sahel, and would also be seized upon by regional terrorist groups. In this scenario Wagner fighters would likely enter the fray.
Loading...