---
West Ready To Give Security Guarantees To Ukraine After Conflict: Germany's Scholz
German Chancellor Olaf Scholz has told CNN's Fareed Zakaria in a Sunday interview that the West stands ready and willing to provide security guarantees for Ukraine following Russia's war. 
He also stressed during the interview Vladimir Putin must understand "that he will not succeed with his invasion and his imperialist aggression" - statements which came just after the German leader met with his US counterpart, President Joe Biden.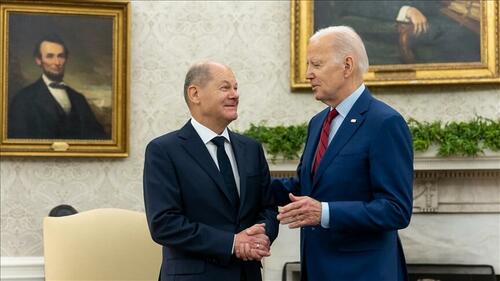 "To my view, it is necessary that Putin understands that he will not succeed with his invasion and his imperialistic aggression and that he has to withdraw troops. This is the basis for talks," he said.
While touting future security guarantees for Ukraine, Scholz suggested that realistic peace talks are out of the question so long as Russian forces remain occupying Ukrainian territory. He said the Kremlin's full withdrawal must serve as the basis for peace talks.
"We will continue to support Ukraine with financial and humanitarian aid but also with weapons," he said.
His signaling a future defense pact with Ukraine, but which would fall short of bestowing formal NATO membership, follows a February report in The Wall Street Journal which said United Kingdom, Germany, and France were mulling such a defense agreement as the basis for a future and lasting peace.
Watch the full Sunday CNN interview with Scholz below:
Among the more incredible and dubious statements advanced by Scholz during the segment was the following description of President Biden...
"He is very informed about international relations," Scholz said. "I think he's one of the most skilled presidents knowing how things are running in the world, which is important in times that are becoming more dangerous."
Loading...