---
Sudan & Israel Agree To Normalize Ties In Another Historic US-Brokered Deal
Trump's Arab-Israel peace rollout looks to be making rapid progress across the region, as on Friday Sudan agreed to be the latest Arab League country to formally recognize Israel, opening up diplomatic relations and political 'normalization'. 
It becomes the third to do so after the United Arab Emirates and Bahrain signed accords at the White House for the first time in their histories. Though it's not quite official just yet in terms of a signed deal, it looks to be firm following a year of talks, and overcoming the last major hurdle of the US removing Sudan from the state sponsors of terror list. According to the AFP on Friday:
Reporters were escorted into the Oval Office where Trump was on speakerphone with Sudan's leadership and Israeli Prime Minister Benjamin Netanyahu, a close ally of the embattled Republican president.

"We are expanding their circle of peace so rapidly with your leadership," Netanyahu was heard saying.

Trump said: "There are many, many more coming."

A senior Trump aide, Judd Deere, said that Sudan and Israel "have agreed to the normalization of relations."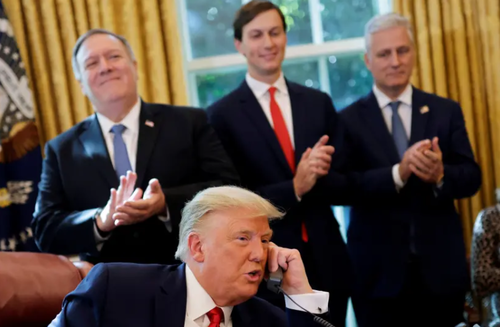 Indeed it constitutes a major foreign policy success for President Trump with just two weeks away from the election. Netanyahu also hailed it as a "rare turnabout" considering Israel and Sudan have been fierce enemies over decades, and with Sudan's harboring of al-Qaeda terrorists, including Osama bin Laden, on its soil in the 1990s.
Meanwhile Trump asserted to reporters that "At least five more Arab states want peace with Israel," according to AFP. He said he particularly has high hopes that Saudi Arabia will be among them.
It was previously widely reported that the White House pushed normalization with Israel as a condition for Sudan getting taken off the state sponsors of terror list, which it has been on since 1993. 
#BREAKING Trump says expects Saudis to normalize ties with Israel pic.twitter.com/yBJJtCx4uV

— AFP news agency (@AFP) October 23, 2020
That appears to have been finalized, with on Friday a White House statement hailing that "President Donald J. Trump has informed Congress of his intent to formally rescind Sudan's designation as a State Sponsor of Terrorism." 
"This follows on Sudan's recent agreement to resolve certain claims of United States victims of terror and their families," the statement continues. "Yesterday, in fulfillment of that agreement, the transitional government of Sudan transferred $335 million into an escrow account for these victims and their families."
With the election right around the corner, it remains that these significant Trump administration Mideast peace achievements have been glaringly absent from the debates, also going almost completely unacknowledged among mainstream pundits' election commentary.