---
US Describes Full-Blown Russia-Iran Defense Partnership As More Drones Sought
The White House continues raising the alarm over what it is describing as a full-blown military partnership between Russia and Iran, after the US has for the past half-year documented a significant rise in Iranian drone usage in Ukraine. 
National security spokesperson John Kirby said in a Monday briefing that the two countries are expanding their "unprecedented defense partnership" including Tehran sending Moscow over 400 drones in the prior several months. This makes the Islamic Republic a "top military backer" of Russia's war efforts, Kirby said. He stressed Russia is now seeking to purchase additional drones after depleting its stockpile in Ukraine.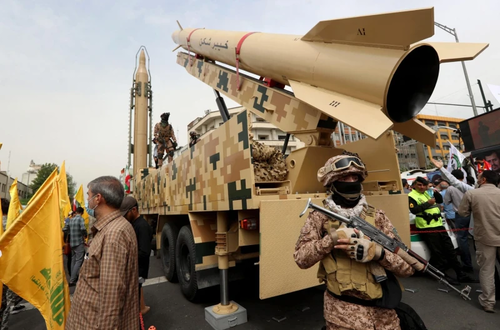 "Russia has expended most of these UAVs using them to target Ukrainian critical infrastructure," Kirby said while reiterating it "has been directly enabling Russia's war of aggression in Ukraine."
"Iran also continues to provide Russia with one-way attack UAVs (unmanned aerial vehicles). Since August, Iran has provided Russia with more than 400 UAVs primarily of the Shahed variety."
Concerning the potential sale of more Iranian advanced weapons to the Russian military Kirby stressed "there is every reason to believe that Russia will use them to continue their attacks against Ukrainian targets."
In addition to drones artillery and tank rounds have been supplied, with the US mulling additional sanctions in an effort to halt the transfers. He called on global partners to work with Washington to prevent the transfers.
Kirby additionally described that the military support is going the other way too, with Russia offering Tehran the ability to purchase missiles, air defense systems as well as military electronics. 
Both countries have for months sought to downplay that the growing partnership is aimed at bolstering operations in Ukraine. In March while on a visit to Moscow, Iranian Foreign Minister Hossein Amir-Abdollahian sought to emphasize that "Cooperation in the sphere of defense is one of the issues on the bilateral cooperation agenda while it is not directed against any third country" - he said in a response to continuing US allegations.
Back in February the White House said that the Iran-Russia partnership could even turn to the Iranians eventually receiving Russian fighter jets, which would certainly set off alarm both in Israel and at the Pentagon. 
Loading...