---
White House Notified Moscow Before Biden's Kyiv Trip For "Deconfliction Purposes"
During President Biden's surprise Monday trip to the Ukrainian capital of Kyiv, where he was seen in a warm embrace with Zelensky, it's been revealed that at least there are minimal levels of communications happening between Washington and Moscow a year into the Russian invasion. It demonstrates that everyone still is of rationale enough mind to want to do everything possible to avoid triggering WW3 (perhaps just barely).
The White House hours into the trip confirmed that US and Russian officials had communicated just ahead of Biden's trip in the form of an advanced warning that Biden would enter Ukraine. This was in order to avoid a possible huge escalation of tensions, given the danger and high security environment. At one point air raid sirens sounded in Kyiv while Biden was meeting with Zelensky - though it's also possible this was staged for dramatic effect...
⚡️Biden and Zelensky walking around Kyiv during the alarm pic.twitter.com/8ucgshisbq

— War Monitor (@WarMonitors) February 20, 2023
"We did notify the Russians that President Biden would be traveling to Kyiv. We did so some hours before his departure for deconfliction purposes," White House national security adviser Jake Sullivan told a press briefing.
Sullivan didn't disclose what the immediate Moscow response was to the notification, but Sullivan stressed it was for security reasons. Of course, if during the time Biden was on the ground missiles had pummeled the capital, which though rare has happened on multiple occasions over the course of the one-year long war, this would have marked an act of war against the US from Washington's perspective.
"This was a historic visit, unprecedented in modern times, to have the president United States visit the capital of the country of war, where the United States military does not control the critical infrastructure," Sullivan said.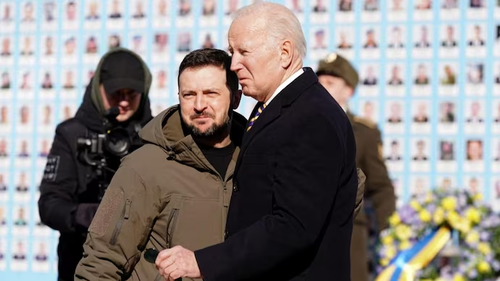 But so far, and despite the sporadic air raid alert sirens, there doesn't appear to have been any military action by the Russians directed against Kyiv on Monday.
Biden during the visit delivered remarks alongside President Volodymyr Zelenskyy at Mariinsky Palace in Kyiv and announced new military aid worth $500 million, according to AP News. The new military aid includes anti-tank missiles, air surveillance radars, howitzers, shells, ammunition, and other support but no new advanced weaponry. 
Loading...