---
White House Says No Large-Scale Military Evacuation Of Remaining US Citizens In Sudan
Following the weekend announcement by the State Department that all US personnel and their dependents had been safely evacuated from the US Embassy In Khartoum, which included about 70 US staff members, the White House has followed up by saying the spiraling security situation is "not conductive" for a large-scale military evacuation of all US citizens from the country.
White House national security spokesman John Kirby on Monday said that the worsening civil conflict means remaining Americans are on their own in terms of an evacuation, but that the State Dept. will continuing assisting them "in planning for their own safety."
"Well, we have military forces still prepositioned nearby in the region … if they're needed, but quite frankly, the situation is not conducive and not safe to try to conduct some kind of a larger military evacuation of American citizens. He continued, "Actually, the violence is increasing is more dangerous today than it was just yesterday, the day before," Kirby said in an interview on "CNN This Morning."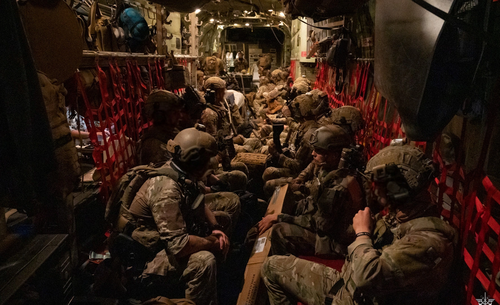 "And so the best advice we can give to those Americans who did not abide by our warnings to leave Sudan and not to travel to Sudan is to stay sheltered in place, stay safe and secure and off the streets of Khartoum," Kirby said.
He stressed the US Embassy there had warned repeatedly that US citizens should make plans to safely exit the country ahead of the week of fighting which the world just witnessed. Over 400 people have been killed and more than 3,500 have been wounded thus far as rival generals - Gen. Abdel-Fattah Burhan of Sudan's armed forces and Gen. Mohammed Hamdan Dagalo of the Rapid Support Forces (RSF) - fight for control of the country. 
Kirby still said that US officials will do their best to help guide remaining Americans out of the country, but also stressed that many are dual nationals who live and work in Sudan, and who may not desire to leave. 
"I want to push back on this idea that there's 16,000 Americans who want to get out. We don't have firm estimates of the exact number of American citizens who are in Sudan," Kirby said. "We think the vast majority of these American citizens in Sudan … are dual nationals. These are people who grew up in Sudan, who have families there, work there, businesses there, who don't want to leave."
But he also defended the rationale of not wanting to have a large-scale military-led evacuation effort as fighting in Khartoum is "not in a situation where we would want people moving about too freely or too aggressively right now."
"The White House made it clear that they don't intend to do a military evacuation."

Former Deputy Assistant Secretary of Defense @MickMulroy joins us after U.S Embassy staff in Sudan have been evacuated amid fighting in the country. pic.twitter.com/sjNMCUhrBk

— ABC News Live (@ABCNewsLive) April 24, 2023
At this moment, multiple other countries are rushing to send military transport planes to evacuate their citizens. For example, France and Germany announced the evacuation of about 700 people after a German air force plane landed in Berlin early Monday.
Loading...