---
White House Says "We Support" Ukraine's Ambitions To Join NATO
While traveling aboard Air Force One for President Joe Biden's visit to Louisiana on Thursday, White House deputy press secretary Karine Jean-Pierre bluntly stated that "we support" Ukraine's ambition to join NATO.
When she was asked by a press pool reporter if the White House "supports Ukraine joining NATO" - the deputy press secretary responded with "We supported it... yeah" - but then quickly sought to clarify that certain "commitments" have to be met. She explained, "The Biden administration remains committed to ensuring that NATO's door remains open to aspirants when they are ready and able to meet the commitments."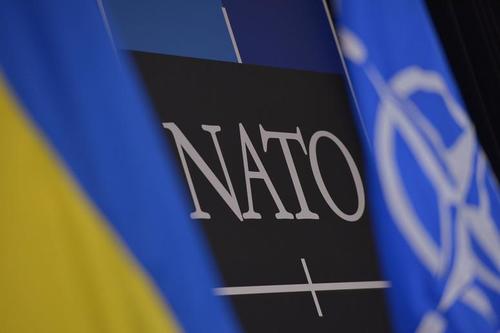 "Secretary [of State Antony] Blinken is in Kiev right now to affirm our support for Ukraine's sovereignty, territorial integrity, and independence. His trip also emphasizes the importance of Ukraine passing key legislation to advance rule of law, anticorruption and economic reforms that will strengthen Ukraine's democracy and economy, and further Euro-Atlantic integration," Jean-Pierre said.
"The Biden administration is committed to ensuring that NATO's door remains open to aspirants when they are ready and able to meet the commitments and obligations of membership and contribute to security in the Euro-Atlantic area," she later clarified.
Rarely has the White House answered the controversial question so directly, especially given NATO's clear requirements for entry stipulating that a country engaged in territorial disputes with neighbors, including internal civil conflict, is not eligible for membership. This is because of the obvious reality that the inevitable quick invocation of NATO's Article 5 would immediately result in war.
Last month's renewed crisis and Russian troop build-up which thrust the Russia-Ukraine-Crimea dispute back in international headlines saw Kiev officials renew their vocal push for entry into NATO. Kiev had after the Maidan coup in 2014 cooled its NATO pursuit rhetoric given the obvious hurdles for entry and the conflict with Russian-backed separatists in the country's east.
Crucially in the Thursday comments, which are sure to raise the alarm in Moscow, the White House spokeswoman additionally emphasized that the US "supports" Ukraine's reforms (the very reforms which are meant to secure its future NATO membership) as well as "its border fight against Russia aggression."
The NATO question will likely be raised by Vladimir Putin assuming the much anticipated Biden-Putin summit actually materializes in June. Russia has long considered Ukraine and Georgia's NATO pursuits to be a "red line" which the Kremlin says would make war all but certain.