---
Merkel Enters Isolation, New Zealand Goes "Full Quarantine" As COVID-19 Case Total Tops 335K: Live Updates
Summary:
UK death toll jumps ~60 to 281
Rand Paul tests positive
US case total nears 30,000
Ohio, Louisiana, Delaware join lockdown
Harvey Weinstein reportedly tests positive for COVID-19
Global cases top 335k
NYC total cases passes 9k, while New York state nears 20k
Merkel quarantines herself
5 GOP senators are in self-isolation
New Zealand goes full isolation
US death toll hits 374
Italy reports slowdown in deaths, cases
IOC sets 4 week deadline for Tokyo Games decision
WHO says lockdowns "not sufficient" to stop virus
NY secures supplies of meds that purportedly work to combat virus
Mnuchin proposes $4 trillion rescue package
Afghanistan, Kosovo and Romania all reported their first confirmed deaths
Italy set to revise death totals lower
Cuomo says nobody can say how long outbreaks will last
*  *  *
Update (2000ET): Stock futures hit limit down again overnight after Senate Democrats shot down the administration's latest economic stimulus package, New Zealand said it would issue an order calling for nationwide self-isolation, while NYC announced the closure of all non-essential businesses.
As one twitter user pointed out...
5 Republican Senators now in self-quarantine and will most likely not be able to vote.

- Rick Scott FL
- Cory Gardner CO
- Mike Lee UT
- Mitt Romney UT
- Rand Paul KY

Dems have the majority in the Senate.

Mitch McConnell's biggest nightmare.

Let's see what happens now.

— Red Is Social Distancing (@Redpainter1) March 22, 2020
Back to the antipodes, Australia's Parliament will convene on Monday for a special sitting to pass stimulus measures to support the economy.
Amid the growing chorus of concern about the Olympics, and calls for the Japanese government to cancel or postpone the games, Japanese Prime Minister Shinzo Abe told the Japanese Parliament on Sunday that Tokyo must consider postponing the Olympics if safety can't be guaranteed.
The news for airlines keeps getting worse: Singapore Airlines just announced that it's cutting 96% of its capacity through the end of April, joining carriers around the globe slashing flights as the fast-spreading coronavirus curbs travel demand.
Starting Monday, the company will ground 138 out of the 147 aircraft at Singapore Airlines and its SilkAir unit, according to a statement. 47 of 49 planes operating in the low-cost division will be grounded.
Mayor Bill de Blasio announced that all non-essential businesses in NYC will be closed beginning Sunday at 8 pm.
Grocery stores, pharmacies, internet providers, food delivery, financial institutions and mass transit may remain open. But they "must implement rules that help facilitate social distancing," the mayor's office said, adding that police will be in neighborhoods to "ensure compliance with these policies," according to Bloomberg.
In keeping with its stretch of reporting zero or almost no domestic cases, China reported 39 additional coronavirus cases for Sunday, and once again claimed that all of them were infected abroad, according to a statement from China's NHC.
For opera fans, Plácido Domingo, the reknowned Spanish singer and conductor, announced Sunday that he has tested positive for the coronavirus. This comes after he made a sizable payment to a charity committed to fighting sexual harrassment after resolving issues of his own related to that subject.
As the situation in the US grows increasing precarious, Joe Biden has rejected suggestions that the November US election might be postponed amid the pandemic, saying it's important that voting continues as it has during other crises in American history.
Trump tweeted out a message to Rand Paul, who will be quarantined for a few weeks as he fends off the virus.
My friend (always there when I've needed him!), Senator @RandPaul, was just tested "positive" from the Chinese Virus. That is not good! He is strong and will get better. Just spoke to him and he was in good spirits.

— Donald J. Trump (@realDonaldTrump) March 23, 2020
Meanwhile, the global case total has topped 335k as New York City reports another batch of cases. And that Navy Hospital Ship - the USS Comfort - that we've mentioned before has arrived in New York, per the NYP:
A mammoth floating Navy hospital that was sent to New York after 9/11 will lend a hand to the region once again — this time to help in the battle against the coronavirus.

President Trump on Sunday again touted the USNS Comfort and its sister ship, the USNS Mercy, which will be activated on the West Coast: "These two ships are incredible . . . They have a tremendous capacity.''
With an interesting twist: The Comfort will treat non-coronavirus patients, relieving the immense pressure on the city's hospitals during the mounting crisis.
*  *  *
Update (1930ET): We've had a few updates over the course of the day that probably are worth mentioning.
First, a local paper in New Jersey is reporting that Harvey Weinstein has tested positive for COVID-19, which is apparently the reason he was hurriedly transferred out of Rikers Island, where the virus is apparently spreading like wildfire.
Across the US, more states are issuing mandatory quarantine orders. Ohio, Louisiana, and Delaware are ll ordering residents remain at home beginning on Monday to help stop the spread of the virus. The director of Ohio's Department of Public Health signed the state's order Sunday, and the shelter-in-place order goes into effect Monday night, and will continue until April 6, or possibly even longer.
The order will of course include 'common sense exceptions' the governor tweeted.
#StayHomeOhio: It does permit exceptions to staying home. Common sense exceptions: leaving for health and safety, for necessary supplies and services, for outdoor activity (walking your dog, going to a park -- although playgrounds are closed).

— Governor Mike DeWine (@GovMikeDeWine) March 22, 2020
Ohio has 250 confirmed cases of the virus, according to a Johns Hopkins University tracker, and it has had three deaths.
Louisiana issued a similar order on Sunday, which is set to take effect Monday evening and allows residents to leave their homes only for "essential needs."
A one-pager from @LouisianaGov on the statewide stay-at-home order. It takes effect at 5 p.m Monday.https://t.co/R7EnbdQeTl pic.twitter.com/nc484C2ooC

— Louisiana Department of Health (@LADeptHealth) March 22, 2020
And Delaware Gov. John Carney issued an order Sunday evening mandating that all non-essential businesses, and all non-essential workers, close and stay at home for a few weeks.
*  *  *
Update (1430ET): The IOC has set a deadline of 4 weeks to make a decision on whether or not to postpone the Tokyo Games.
In other news, the UK death toll jump by roughly 60 cases to 281 overnight, according to the Department of Health and Social Care.
UPDATE on coronavirus (#COVID19) testing in the UK:

As of 9am on 22 March, a total of 78,340 have been tested:

72,657 negative.
5,683 positive.

281 patients who tested positive for coronavirus (COVID-19) have sadly died.

The digital dashboard will be updated later today. pic.twitter.com/XfwLQdMQTF

— Department of Health and Social Care (@DHSCgovuk) March 22, 2020
*  *  *
Update (1345ET): Senator Rand Paul of Kentucky has tested positive for COVID-19, according to media reports.
The Republican senator and perennial gadfly for both his Republican colleagues and Democratic opponents, the Kentucky senator is perhaps best known for being the son of legendary Libertarian, former presidential candidate and Texas Congressman Ron Paul, as well as for an incident where one of his neighbors back in Kentucky - a doctor, no less - lost his temper and straight up dropkicked the Senator over a lawncare-inspired property beef.
At least two members of the House have also tested positive, but Paul is the first member of the Senate.
Paul has a tendency for delaying critical legislation over issues of principle, since he's one of the Senate's last die-hard 'deficit hawks', a position that he still cares about from time to time, based, from what we can tell, on some arbitrary factor like which way the wind is blowing or possibly the tides, we're not really sure.
Whatever it is that makes Paul tick, he's probably going to be sidelined as the administration tries to push through pt. 2 of its economic aid package to stave off a brutal depression.
He expects to be back in the Senate after his quarantine period ends and will continue to work for the people of Kentucky at this difficult time. Ten days ago, our D.C. office began operating remotely, hence virtually no staff has had contact with Senator Rand Paul.

— Senator Rand Paul (@RandPaul) March 22, 2020
Some on twitter seized the opportunity to slam Paul.
Rand Paul delayed Congress' response to coronavirus.

Now he has it. pic.twitter.com/jMWGZ3tglt

— jordan (@JordanUhl) March 22, 2020
Rand Paul has Coronavirus. I'll say it again: Rand Paul has Coronavirus. Again, in case there is any confusion: Rand Paul has Coronavirus. Rand Paul can't currently fuck up this stimulus bill because once again, Rand Paul has Coronavirus.

— 🔥Aiden Wolfe (@AidenWolfe) March 22, 2020
Can't say we blame them: Paul was the sole "no" vote on the $8.3 billion coronavirus spending bill the Senate passed earlier this month, the first part of what's expected to be a three-party rescue package, two of which have been passed into law, and one still on the way as senators argue over how much money should be given away, and to whom.
*  *  *
Update (1330ET): After nearly two weeks of reporting one grim record after another, Italy has finally reported a drop in new cases on Sunday. During the day before, Italy confirmed 5,560 new cases of COVID-19 and 651 new deaths. That brings the country to a total of 59,138 cases, and 5,476 deaths. That's a slower pace of increase than yesterday's report, though Italy's rate of spread is still nothing short of extraordinary, and in a few days, confirmed cases in the country will surpass China's "official" total.
In Milan, the number of new cases recorded over the last 24 hours halved from the day before.
In other news, the IOC is holding an emergency board meeting on Sunday to discuss the future of the Tokyo Games, including an option to delay the event, according to Japanese media. It might take a month to reach a decision - but who knows when the leaks will begin. We suspect the Japanese press will be keeping a close eye on the behind-the-scenes talks.
Interestingly enough, American social-media companies including Facebook and Twitter have continued their bizarre practice of censoring virus-related news, even when it's published by "reputable" mainstream media organizations like Bloomberg and the Wall Street Journal.
It looks like a Bloomberg article quoting SCMP warning that one-third of coronavirus cases may show no symptoms - making the virus immensely more difficult to track - has been censored.
*  *  *
Update (1240ET): Here are some more details from the second half of Cuomo's Sunday press conference...
After insisting that nobody could say for certain how long the outbreak will last, Cuomo added that there was no reason to rush to grocery stores and start hoarding supplies, adding that all essential services will continue, even as some states' are seeing critical toiletpaper shortages entering their second week.
"It's going to be hard - no doubt - I'm not minimizing it and I don't think you should either but it is going to be okay. The grocery stores are going to function...there's going to be food…all essential services will be maintained."

"There's not going to be anarchy, there's not going to be chaos...order will be maintained."
Though thousands have died, Cuomo urged New Yorkers, and Americans, to try and find the strength within to make it through this crisis without putting the public welfare in jeopardy, like so many are still doing. Asked during the Q&A what he would do to stop New Yorkers from crowding into the city's parks on a nice day, he said he would require the city to put together an action plan within a day , adding that even though he's a life-long New Yorker, he doesn't know the city's operations well enough to tell them how to run the parks.
Adding to the chorus of prominent Democrats who are criticizing President Trump for not taking advantage of the Defense Production Act to coordinate a federal response to alleviate the shortage of critical medical supplies.
Instead of sitting around and complaining about how too much of the US supply chain is dependent on China, Cuomo urged Trump to use the DPA to develop a plan and tell factories how much of which critical items they should produce.
This way, Cuomo said, it will end the bidding wars between states that led to New York purchasing medical masks that typically cost well under a dollar for more than $6 a mask.
"I say forget the voluntary partnership - order the companies to produce it. Let the federal government do it so the private company doesn't end up marketing with all these states that are competing. We paid 75 cents for a mask and now we're paying  $7 dollars. Why? Because California will pay $6…"Let the federal government just take the power of supply and distribution," Cuomop said.
He added that during the testing ramp-up, it was better to give more power to the states to ramp up capacity because governors control labs and have resources to put toward this effort. But when it comes to production, supply chains are too distributed. The require coordination at the federal level.
The governor also detailed the state's stockpile of essential medical equipment and hospital + ICU beds, which he said he is doing everything in his power to alleviate.
New York's current medical situation:

- 75,000 hospital beds
- 13,000 ICU beds
- 6,000 ventilators

New York's needs:

- 110,000 hospital beds
- 37,000 ICU beds
- 30,000 ventilators

— Norbert Elekes (@NorbertElekes) March 22, 2020
For some unknown reason, Sunday's press conference contained none of the optimistic references toward the Army Corp of Engineers traveling through the state setting up staging areas, while the Navy sends a hospital ship to NYC.
*  *  *
Update (1150ET): Gov. Andrew Cuomo's daily press briefings have become high-priority events as the coronavirus outbreak spreads across the US. After winning early approval from the FDA to ramp up testing in state labs, Cuomo's star has risen alongside the state's tally of positive tests.
He and Trump appeared to have declared a truce, with the two men acknowledging their intention to cooperate, and as the White House shifts its focus to passing the critical second installment of its economic rescue package, which is expected to include rescue packages for small businesses and helicopter money for individuals.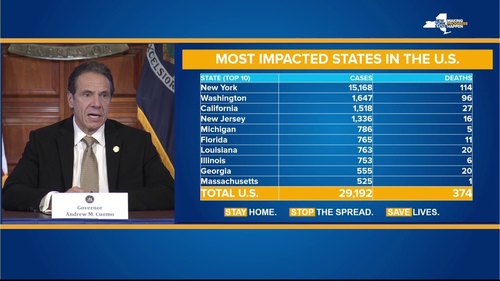 Cuomo started the press conference by chiding New Yorkers, primarily those in the city, who took advantage of nice weather over the past few days to crowd into the city's parks, inadvertently helping to spread the virus.
At one point, Cuomo declared that the city had confirmed 374 deaths, taking the assembled reporters by surprise. The statement was soon corrected, as a graphic on the screen displayed the updated national death toll, meaning that 14 more Americans had succumbed to the virus over the last few hours.
Across the state, Cuomo reported 4,812 new cases, bringing the total to 15,168, with 9,045 of those in NYC.
These new numbers have brought the US total to just shy of 30k.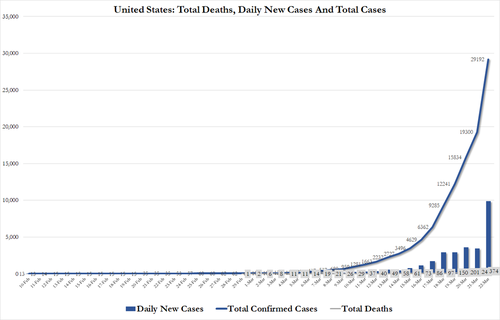 As Trump continues to battle with the FDA, Cuomo said New York will start implementing the trial drugs to treat Coronavirus and that they have acquired 70,000 Hydroxychloroquine, 10,000 Zithromax, and 750,000 Chloroquine from the Federal Government.
The governor then launched into a breakdown of the data that researchers have collected so far. Of those who have passed away from COVID-19-related complications, 70% are either 70 or older. Of those who passed that were under the age of 70, 80% had underlying health issues.
Though young people have a higher chance of survival, "young people can get it, young people can get sick, young people can transfer it," Cuomo said.
But just because an individual catches the virus, and meets the high-risk criteria, doesn't mean they're doomed, Cuomo explained.
"But even within that population the capacity of our health care system can save those lives it doesn't mean that just because you're 80 and you have an underlying health condition, you must pass away," he said. Nothing is pre-ordained, and New York State's health-care system has the capacity to save the lives of people whose lives are seriously imperiled by the infection.
The fear, as Cuomo explained, is that the virus makes it to places like nursing homes, and other places where concentrations of high-vulnerability people.
The importance, as has been said many times before, is that the government tries to smooth the 'peak' of the outbreak - which Cuomo's models projected would arrive in roughly 45 days - as much as possible, given the shortage of beds, ICU beds and critical medical equipment, which Cuomo is scrambling to buy up for New York State, taking Trump's advice to do what states can to secure equipment to heart.
"Up to 80% of the population will get this virus. We will try to slow the spread but it will spread," Cuomo said.
As far as addressing how long the outbreak will last, and how long some level of movement restrictions might be in place, Cuomo said nobody can say for certain, adding that it could be 9 months, or possibly even longer.
"It is going to be 4 months, 6 months. 9 months - once they really changed the trajectory - which we have not done yet - 8 months. Were in that range. Nobody has a crystal ball, nobody can tell you," Cuomo said.
*  *  *
Update (1100amET): NY Gov Andrew Cuomo is delivering his daily press conference. Watch live below:
Holding a briefing with updates on #Coronavirus. WATCH LIVE: https://t.co/sq3V2qRM8e

— Andrew Cuomo (@NYGovCuomo) March 22, 2020
*  *  *
The surge in newly confirmed cases in the US and Europe continued overnight, as roughly 7,000 new cases were reported in the US, according to Johns Hopkins data, vaunting the US total above 25k while most Americans were asleep.
According to the latest numbers, as of 11amET on Sunday, 26,747 Americans have tested positive for COVID-19. 340 have died (and some of these were posthumously diagnosed).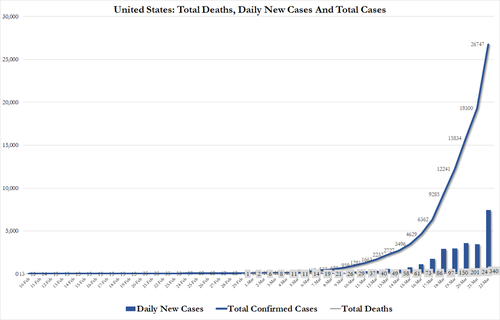 New York State, where the Army Corp of Engineers has arrived to start outfitting school gyms and other buildings into COVID-19 hospitals, the picture of the outbreak continues to expand as testing capabilities in the state rapidly accelerate. 9 million New Jerseyans are now under 'shelter in place' restrictions following the mandatory lockdown order signed by Gov. Phil Murphy last night, although it's still not exactly clear how the order will be enforced. In Connecticut, Gov. Ned Lamont has asked residents to stay at home and ordered non-essential businesses - including restaurants, gyms, theaters and the like - to close.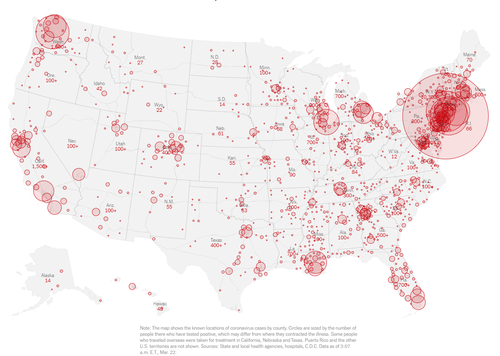 And globally, the total number of cases has passed 315,000, and is rapidly closing in on 320,000. We'll likely hit 350,000 by noon on Monday.
Across Europe and the Middle East, governments tightened travel restrictions and lockdowns, even as the WHO whined that these measures were now somehow not enough to contain the outbreak , when this very same organization for weeks denied that border closures were necessary to stop the spread in an obvious sop to the NGOs Chinese backers.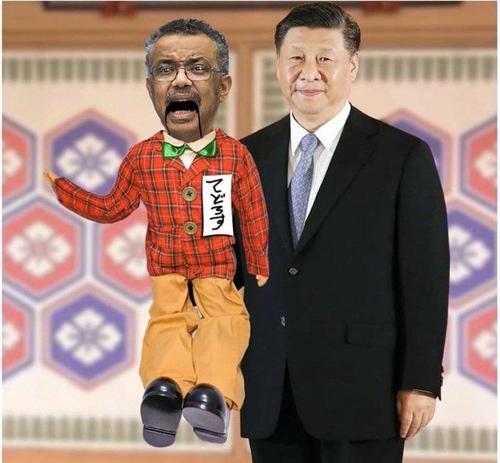 Following in Italy's footsteps, one week after Spain adopted nationwide lockdown measures and as the number of cases soars to 28,572, with 1,720 deaths, Spanish media says the  government of PM Pedro Sanchez is planning to ask Congress to approve the nationwide lockdown for an additional 15 days.
Afghanistan, Kosovo and Romania all reported their first confirmed deaths from COVID-19 on Sunday, while Albania closed flights as the virus continues to spread north through the Balkans from Greece, which has been turning away asylum seekers as it struggles to suppress its domestic outbreak.
After invoking the Defense Production Act last week, one of the most useful tools in the White House arsenal, granting Trump the power to act unilaterally and marshal the nation's factories to the "war" effort, the president has yet to use the power, even as Democratic leaders like Nancy Pelosi and Chuck Schumer hammer him on the delay.
As it turns out, Trump might have a point. Though FEMA Administrator Peter Gaynor contradicted Trump during an appearance Sunday on CNN's "State of the Union", saying the administration hadn't yet ordered factories to produce critical medical supplies, as Trump had claimed earlier in the week. But he clarified that the only reason Trump hasn't actively used the power is because companies are voluntarily taking these steps so as to deter the administration from seizing control of their operations. He described the act as "leverage".
Gaynor added that companies and countries around the world are offering help and support to the US.
With multiple officials making the Sunday show rounds, Treasury Secretary Steven Mnuchin once again upped the ante of the administration's 'helicopter money' stimulus package (now that the Fed's balance-sheet expansion is back in full swing and the administration is preparing to issue 50-year bonds to back the stimulus), raising the amount to be doled out to individuals to $3,000. As we observed yesterday, the stimulus-bill figures continue to climb faster than the number of confirmed cases.
It's unclear when - or even if - the plan will make it into law, but Mnuchin said it's intended to sustain out-of-work Americans and suffering small-businesses for the next 10-12 weeks.
And with 7k new cases confirmed since VP Pence announced to the world last night that he had tested negative, and hundreds of thousands more layoffs announced overnight, we suppose it's only fitting.
Last night, Italy shuttered much of the country's industrial production (at least whatever was still operating) in a desperate attempt to contain the outbreak as it extends its national lockdown in the face of lackluster results. In Jordan, meanwhile, authorities are responding with a heavy hand, warning residents they will risk a year in jail if caught outside without permission.
Which approach do you think would work better in the US?
Whatever happens, any NYC-based bankers growing bored with their doomsday stash and willing to splurge on some high-quality meats can get takeout from Peter Lugar's.
Get takeout from Peter Luger https://t.co/gdNlJiLZO4 pic.twitter.com/28oZWEjVOe

— Sam Ro 📉 (@SamRo) March 22, 2020