---
World Scrambles To Isolate UK Over Fears "Mutant" COVID Strain Could Spread
We noted several times over the weekend that a mutated version of the virus first unveiled by Health Secretary Matt Hancock last week has started to concern authorities across Europe, as many of the UK's former brethren in the EU closed borders (at least temporarily) upon news that a mutated version of the virus that's believed to be 70% more infectious has been spreading in London and other parts of southeast England.
Suddenly, the same scientists who have insisted that mutations related to COVID-19 didn't pose a serious threat are pleading with Londoners (who now face a daunting Level 4 lockdown where life and commerce has effectively ground to a halt) to watch their every step, while some scientists in the US have urged health authorities to cut off all air travel to the UK.
France has led the charge of EU countries cutting off travel to Britain.
French transportation officials imposed a 48-hour suspension of freight transit across the English Channel, leaving thousands of truck drivers stranded in their vehicles on Monday as the roads leading to England's ports were turned into veritable parking lots.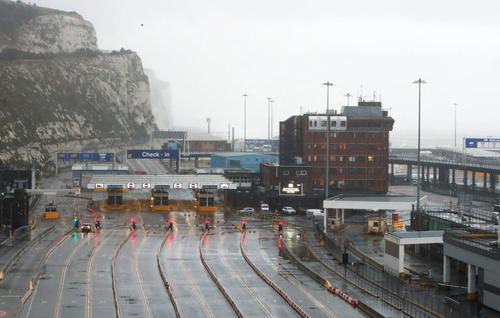 On Monday, European Union leaders are expected to meet to hammer out a "common doctrine" for dealing with the variant's threat. Meanwhile, Boris Johnson will hold an emergency meeting with key members of his government Monday to discuss a response.
One of his spokesmen said Johnson would hold a briefing later today to deliver an update on travel.
But France isn't alone in barring travel from the UK. Austria, Belgium, Bulgaria, France, Germany, Ireland Italy and the Netherlands all announced restrictions on travel within hours of Mr. Johnson's speech. Poland said it would suspend flights between the two countries starting Monday night. Beyond the EU, Canada, India, Iran, Israel and Russia issued restrictions of their own.
Even Hong Kong, now effectively under CPC control, has barred flights from Britain, making things more difficult for any dissidents trying to escape.
Sophia Chan, Hong Kong's health secretary, acknowledged that the travel ban comes as many students are returning to Hong Kong for the holidays. "We have never imposed such severe restrictions on any region in the past, but the variant in Britain is spreading so rapidly that it is necessary to block the spread of this mutation from its source," she said at a news conference.
News of the "variant" and the ensuing panic couldn't come at a worse time for the UK, as trade and traffic piles up along its ports and borders amid growing fears that the UK will crash out of the single market and customs union without a trade deal, forcing its one-time EU allies to do business with it on WTO rules.
As a result, the GBP has seen its worst daily slump against the dollar in months.
Using typically blunt language, NY Gov Andrew Cuomo warned that "right now that variant is getting on a plane and flying to JFK." But his pleas to tighten travel restrictions were ignored, as the US travel advisory for Britain remained unchanged at a 'Level 3'. /p>
To be sure, one scientist warned that there wasn't yet enough data to completely rule out the possibility that human behavior played a role in the heightened infectiousness.
Estimates of greater transmissibility for the variant is based on modeling and has not been confirmed by lab experiments, said Muge Cevik, an infectious disease expert at the University of St. Andrews in Scotland and a scientific adviser to the British government. "Over all, I think we need to have a little bit more experimental data," she said. "We can't entirely rule out the fact that some of this transmissibility data might be related to human behavior."
Back in the UK, the situation was chaotic as the new variant effectively ruined Christmas. Police started blocking people from boarding trains, as BoJo suddenly scrapped an exception that would allow people to see their relatives during the Holiday Period.
"A lot of people are trying to escape before midnight so that they can see their families."

As Christmas approaches, Londoners were busy catching trains to elsewhere Saturday evening in a race against newly announced Tier 4 travel restrictions pic.twitter.com/vqr9M0UGQg

— Bloomberg Quicktake (@Quicktake) December 19, 2020
The situation is bad news for Heathrow, which had only just recorded its busiest week of travel yet since the lockdowns began.
Cops in London, meanwhile, are increasing patrols and looking for any groups violating the new restrictions.
Eurostar, which operates passenger trains through the Channel Tunnel, will scrap services from London to Brussels Monday. Even before the new curbs, Eurostar had been operating a minimal service of one train a day in each direction on most routes to allow for emergency travel. Anyone leaving London faced quarantining on their return as well as possible restrictions at their destination.
Look ahead, what exactly could this mutation mean for our assumptions about the vaccine rollout. Well, according to several scientists in the NYT, we can't say for certain. But the risks are certainly much bigger than we understood only weeks ago.
Until now, every mention of mutations and the possible impact on the vaccines' efficacy was met with dozens of scientists waving away the situation as highly implausible. But now, things have changed: And people are scared.
"This thing's transmitting, it's acquiring, it's adapting all the time," said Dr. Ravindra Gupta, a virologist at the University of Cambridge, who last week detailed the deletion's recurrent emergence and spread. "But people don't want to hear what we say, which is: This virus will mutate."
The UK isn't the only country suffering from the mutation. On Sunday, it emerged that in South Africa, a similar version of the virus had emerged, sharing one of the mutations seen in the British variant, according to scientists who detected it. That virus has been found in up to 90% of the samples whose genetic sequences have been analyzed in South Africa since mid-November. It has also been discovered in a handful of other countries, including Denmark and Australia, as well as the British overseas territory of Gibraltar.
Scientists have been tracking mutations since the beginning of the outbreak. Most look harmless, but there's an expectation that as vaccines arrive, the virus will adopt more useful adaptations.
Still, the strength of the human immune system means all but the most immuno-compromised patients should continue to survive. There's no evidence that the virus is evolving into some kind of hyper-efficient killer. And scientists in the UK insist that vaccines developed by Pfizer, Moderna and AstraZeneca will work to stop the mutated vaccine as well.
However, one paper published on ScienceMag.org warned that certain variations that have been documented in the viral genome could eventually make it more difficult for the immune system to detect it.
If anything, the discovery of this "variant" is just a reminder that scientists don't really know all that much about this virus - despite the fact that it is unquestionably the most studied on earth right now - or how long vaccines will protect patients, or whether the virus might instead mutate too quickly to make doses economically.