---
California Reports Another Record Jump In New COVID-19 Cases: Live Updates
Summary:
Fauci to testify before Senate later this month
California Gov Newsom signs EO making mask wearing mandatory
Cali sets another record high with 4,233 new cases
13 Texas longhorns football players test positive as Fauci says 2020 football might not happen
Italy reports uptick in deaths
Cuomo mulls quarantine on Fla.
NY reports 29 deaths
Texas reports 7th straight record hospitalizations; Arizona reports record jump in cases
23 US states seeing rising case numbers
Florida "has the makings of the next epicenter"
NYC Mayor says city to enter 'phase 2' Monday
Global case total tops 8.3 million
Deaths top 447,000
Tokyo reports 41 infections
World reports record jump in new cases, deaths
Beijing top epidemiologist says outbreak in the city has been contained
New study shows many infected don't develop long term antibodies
India reports record jump in new cases (12k+) as Fitch cuts outlook
Cali reports record 4k jump in new cases
Indonesia reports record jump, surpassing Singapore's case total
* * *
Update (1555ET): Dr. Fauci, along with the heads of the FDA and CDC, will testify before the Senate
FAUCI TO TESTIFY BEFORE SENATE HEALTH PANEL ON JUNE 30: BBG
The good doctor is by now familiar with Congressional appearances, since he has made several since the virus arrived in the US. But we suspect his questioning this time might be somewhat more aggressive as lawmakers raise questions about the government's initial guidance that individuals avoid wearing masks in public, before they did a complete 180 and made it mandatory.
* * *
Update (1500ET): With the number of newly confirmed cases back at record highs as most of the state prepares to enter 'Phase 3' of the reopening process, Cali Gov. Gavin Newsom has succumbed to his leftist tendencies and signed an executive order making wearing a mask in public legally mandatory across the state. 
CALIFORNIA GOV. ISSUES EXECUTIVE ORDER ON WEARING FACE-MASK IN PUBLIC -- LOCAL-MEDIA COVID19
Meanwhile, Newsom is gearing up for an appearance on the "Late, Late Show with James Corden".
California Governor @GavinNewsom joins @JKCorden on the #LateLateShow tonight! pic.twitter.com/xziDs3bsnM

— The Late Late Show with James Corden (@latelateshow) June 18, 2020
This man is literally about to be singing carpool karaoke while thousands of Californians, probably many of them minorities or members of other vulnerable communities, are targeted by the police for minor mask violations, with each stop carrying an extremely small - but ever-present - risk of escalation.
California Governor @GavinNewsom joins @JKCorden on the #LateLateShow tonight! pic.twitter.com/xziDs3bsnM

— The Late Late Show with James Corden (@latelateshow) June 18, 2020
* * *
Update (1434ET): California just set a new record for the most coronavirus cases recorded in a single day. According to the San Francisco Chronicle, the state recorded 4,233 new cases as of Wednesday night, beating the previous record of 3,683 set last Friday.
Here's more from the SFC:
California reported a record number of new coronavirus cases Wednesday, eclipsing 4,000 new cases in a single day for the first time, according to county data compiled by The Chronicle.

County health departments reported 4,233 new cases as of Wednesday night with nearly all counties reporting. The state's previous single-day high was 3,683 cases last Friday.

The rise in new virus cases comes as many areas of the state ease social restrictions and reopen sectors of the economy. All but five counties - including four in the Bay Area - have received state approval to advance into Stage 3 of California's reopening plan, where services like indoor dining, fitness centers and hotels can begin to reopen and gatherings can involve more people.
California has eclipsed the 3,000-case-per-day threshold eight times in June already, including during six of the last seven days, which has brought the state's 7-day average to record highs. As the SFC noted, all but five counties across the massive state are preparing to enter phase three of the reopening. Though testing has expanded, the number of new cases suggests that the reopening has caused the number of infections to surge, though deaths have so far continued to trend lower.
* * *
Update (1300ET): Just hours after Dr. Fauci warned that Americans hoping for a 2020 football season shouldn't hold their breath, the University of Texas has just announced that 13 players on the Longhorns football squad have all tested positive for COVID-19.
Here's more from USA Today:
The Texas athletic department announced Thursday that 13 new football players have tested positive or are presumed positive for COVID-19, while 10 more are asymptomatic and in self-quarantine.

This is on top of the two positive cases that Texas reported last week, bring the number to 15 total Longhorns that have been diagnosed with the coronavirus.

In a statement from team physician Allen Hardin, Texas announced that the 13 who tested positive are now self-isolating. The other 10 were identified through contract tracing. Also, UT also said four more players have tested positive for the COVID-19 antibody.

Per federal privacy laws, Texas is not disclosing the names of the individual players who tested positive.
* * *
Update (1200ET): Italy reported an increase in deaths, 66 compared with 43 yesterday, and a very slight uptick in new cases, 331 vs. 328.
The total cases climbed to 238,159, along with 34,514 deaths.
* * *
Update (1130ET): US risk appetite has come back somewhat Thursday as elation (or, in Trump's case, aggravation) over today's batch of SCOTUS decisions has understandably overshadowed some pretty hairy numbers out of Texas and Arizona, which follow another wide jump in Florida cases.
Texas hospitalizations climbed for a seventh straight day, the longest streak of the pandemic, according to health department data, per BBG.
Hospital admissions rose 5% to 2,947 as of Wednesday morning, bringing the one-week increase to almost 50%.
Arizona just reported 2,519 new virus cases, according to ABC 15.
Number of deaths: 1,271
Number of cases: 43,443
Number of total tested: 517,666 (at both private and state labs)
Community transmission: Widespread
Case locations by county: Maricopa: 23,880 Pinal: 1,888 Coconino: 1,439 Pima: 4,682 Navajo: 2,874 Yavapai: 402 Apache: 2,059 Cochise: 267 Graham: 58 Santa Cruz: 1,210 Yuma: 3,635 Gila: 115 Greenlee: 13 Mohave: 676 La Paz: 245
Meanwhile, as we mentioned earlier, Florida reported 85,926 cases, up 3.9% from a day earlier, compared with an average increase of 3% in the previous seven days. Deaths among Florida residents reached 3,061, an increase of 1.4%. Seen on a rolling seven-day basis, Florida's new cases reached 16,857, a record high. Cumulative hospitalizations rose by 188, or 1.5%, to 12,577. The new rate of people testing positive for the first time fell to 8.8% for Wednesday, from 10.2% on Tuesday, according to BBG.
New York State just announced a 2% jump in the case count, right in line with the 7-day average. NY also reported 29 deaths, compared with 17 the day before (which was the lowest since the outbreak began).
Watch Cuomo below:
Giving my daily press briefing now. Watch Live: https://t.co/xCNez244dF

— Andrew Cuomo (@NYGovCuomo) June 18, 2020
As he has repeatedly advised, the governor said that all relevant NYC businesses should be prepared to reopen when phase 2 begins on Monday. Later, he admitted he was considering mandatory quarantines for travelers from Florida as the state becomes the new national "epicenter" according to some.
He also warned that tomorrow's daily press briefing would be his last.
* * *
Update (1000ET): With nearly half of US states seeing an uptrend in new US cases, and 10 seeing 7-day averages climb to their highest levels since the beginning of the crisis, the IMHE projections followed by the CDC is now projecting 200k deaths in the US by October. Here's an update on the latest data out of the US, courtesy of Johns Hopkins University's data.
Some 23 states are currently seeing the average 7-day case numbers climbing from week to week: North Carolina, Oklahoma, South Carolina, Alabama, Alaska, Arizona, Arkansas, California, Delaware, Florida, Georgia, Hawaii, Idaho, Kansas, Oregon, Louisiana, Montana, Nevada, Tennessee, Texas, Washington, West Virginia and Wyoming.
Eight states are seeing steady numbers: Maine, Indiana, Mississippi, Missouri, Ohio, Nebraska, South Dakota and Utah.
Meanwhile, 18 states, including the two states with the worst outbreaks in the country - NY & NJ - are seeing declines in the number of new cases reported daily: Colorado, Connecticut, Illinois, Iowa, Kentucky, Maryland, Massachusetts, Michigan, Minnesota, New Hampshire, New Mexico, New Jersey, New York, North Dakota, Pennsylvania, Rhode Island, Virginia and Wisconsin.
Only one state, Vermont, has seen a sustained 50% drop in cases, part of the federal criteria initially laid out by the CDC to justify moving on to the next step in the reopening plan.
Across the US, more than 2 million people have been infected and 117,717 people have died of the virus. The virus claimed 755 lives Wednesday in the US, according to data from Johns Hopkins University.
The latest numbers out of Florida confirm the trend:
FLORIDA COVID-19 CASES RISE 3.9% VS. PREVIOUS 7-DAY AVG. 3%
In other news, NYC Mayor Bill de Blasio just reaffirmed that his city will enter 'Phase 2' of its reopening on Monday
.@NYCMayor says"good news" that #NYC will move into Phase 2 of the reopening on Monday because of the positive direction of indicators. Outdoor dining, hair salons will return along with 150k to 300k workers who can return to work.

— Jeff Mays (@JeffCMays) June 18, 2020
In an expansion of outdoor dining, @nycmayor says restaurants will be able to use curb space in front of restaurants, sidewalk seating, pedestrian plaza seating and seating on streets closed to increase open space, to serve customers.

— Jeff Mays (@JeffCMays) June 18, 2020
Blaz also weighed in on Cuomo's decision to keep city playgrounds closed, saying that while team sports wouldn't yet to be
"This is the thing that will take us backwards," @NYCMayor said about opening playgrounds too early. https://t.co/zLTth2j8ZC

— Jeff Mays (@JeffCMays) June 16, 2020
One exception: playgrounds for small children - known as "tot lots" will be allowed to reopen on Monday.
Playgrounds for young kids (aka tot lots!) open Monday

— Julia Marsh (@juliakmarsh) June 18, 2020
CNN, meanwhile, has anointed Florida "has the makings of the next epicenter" after speaking to a scientist from Penn. 
Florida has "all the markings of the next large epicenter of coronavirus transmission," and risks being the "worst it has ever been," according to Wednesday's projections from a model by scientists at Children's Hospital of Philadelphia and the University of Pennsylvania.

"The potential for the virus to take off there is very, very nerve-racking and could have catastrophic consequences" because of the state's aging population and the prevalence of nursing homes and retirement communities, Dr. Jeanne Marrazzo, director of the division of infectious diseases at the University of Alabama at Birmingham, told CNN on Thursday.
Florida is one of ten states - the other nine being Alabama, Arizona, California, Nevada, North Carolina, Oklahoma, Oregon, South Carolina and Texas - that are seeing their 7-day average numbers of new cases hit record highs, per JHU.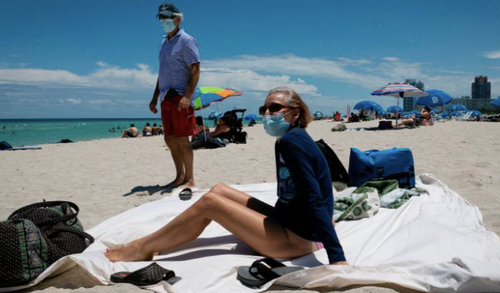 Source: CNN
* * *
Update (0925ET): Hedge fund manager Cliff Asness weighs in.
I don't have a strong opinion here on what to do, glad it's not my call. But, it seems the point is that there is a tradeoff between cases going up and the economy. Trade offs are something economists, even former ones, are supposed to understand, not ignore for partisan attacks. https://t.co/mVHlC2sHMU

— Clifford Asness (@CliffordAsness) June 18, 2020
* * *
As VP Mike Pence plays down the threat of a 'second wave' of SARS-CoV-2 sweeping across the US, the WHO revealed Thursday that an accounting of the total case numbers and deaths recorded on Tuesday (48 hours ago) amounted to 140,000 new cases, the highest number since the outbreak began. Another 6,800 deaths were also reported, the highest number since April, Nikkei Asian Review reports.
Nearly half of these new cases were recorded in Latin America, where Brazil, Mexico, Chile, Ecuador, Peru and other countries are all struggling with a surge of infections in the region as decisions by Brazil and Mexico to not take the outbreak seriously have apparently come back to haunt the entire region.
Circling back to the data released so far on Thursday, Tokyo reported 41 infections on Thursday, up from 16 a day earlier, while South Korea saw 34 new cases, down from 37 a day ago, not exactly a sign of another outbreak.
As the worldwide count of COVID-19 infections surpasses 8.25 million (JHU reported 8,320,288 as of early Thursday morning, along with 447,628 deaths), the death toll is on the cusp of passing 450k. Following a brief spat, the US and China have struck an agreement to allow four weekly flights between the two countries, easing a standoff over travel restrictions as Beijing blames travelers from abroad and imported seafood for some of the latest outbreak. Delta will resume passenger flights between Shanghai and Seattle next week, via Seoul, and once-a-week flights from Seattle and Detroit in July.
In more local news, as Beijing tightens restrictions on movement - to leave the city, one requires a clean bill of health showing no infection, and residential compounds have faced 'partial' lockdowns - party officials on Thursday announced a new initiative to improve cleanliness and hygiene at the city's markets. A major wholesale market in Beijing's Fengtai District has been blamed as the epicenter of the latest outbreak in the city, which has purportedly spread to the surrounding area.
"The epidemic is a mirror that not only reflects the dirty and messy aspects of wholesale markets but also their low level management conditions," the Central Commission for Discipline Inspection says.
After testing hundreds of thousands of people in Beijing alone over the past week, city officials discovered just 21 cases on Wednesday. The Chinese CDC's chief epidemiologist said after that Beijing's outbreak has been brought under control, although new cases could emerge over the next few days.
A China CDC chief epidemiologist said that Beijing's outbreak has already been brought under control, but warns that new cases will continue to emerge over the next two days. Wu Zunyou, the chief epidemiologist, explained Thursday during a press briefing that the appearance of new cases doesn't necessarily mean they've just been infected. For example, the cases confirmed on Wednesday were likely infected a week ago, on June 12, he said.
Despite these reassurances, Chinese officials have continued to blame food imports for the latest outbreak, which they initially attributed to 'European' salmon (because the viral strains found in Beijing resembled strains from Europe, allegedly). After customs officials ramped up testing of imported food samples this past week, the government confirmed Thursday that all 32,174 samples of imported seafood, meat, vegetables, fruit and other related products had tested negative, according to a statement from China Customs.
However, even if the number of newly diagnosed cases does start to trend lower, a new study by Chinese researchers has found that a surprising number of nurses from Wuhan who were infected with the virus haven't developed antibodies, suggesting that herd immunity in China is virtually non-existent.
To be sure, the study has yet to be peer reviewed, but the SCMP shared a summary of the study's findings. The original can be found here.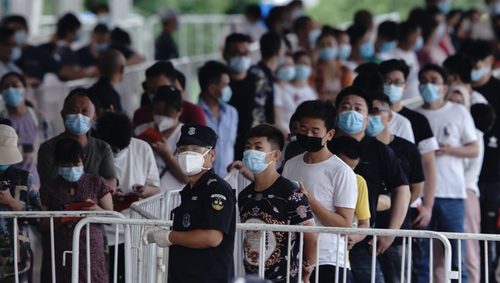 According to the research, Humans may never develop immunity against COVID-19, according to new research on antibodies by Chinese and American scientists.
Their conclusion was based on a study looking at whether hospital workers in Wuhan who were directly exposed to infected patients at the early stage of the outbreak had developed antibodies. The deadly new disease was first detected in the Chinese city late last year.

At least a quarter of the more than 23,000 samples tested could have been infected with the virus at some stage, according to the scientists. But only 4 per cent had developed antibodies as of April.
Sweden's state virologist said yesterday that herd immunity in the country has been surprisingly slow to develop.
Their conclusion was based on a study looking at whether hospital workers in Wuhan who were directly exposed to infected patients at the early stage of the outbreak had developed antibodies. The deadly new disease was first detected in the Chinese city late last year.
At least a quarter of the more than 23,000 samples tested could have been infected with the virus at some stage, according to the scientists. But only 4 per cent had developed antibodies as of April.
"People are unlikely to produce long-lasting protective antibodies against this virus," the researchers concluded. To be sure, the study has yet to be peer reviewed.
Moving on to the major hotspots, India reported 12,881 new cases on Thursday, another record jump, bringing the country's tally to 366,946. The total includes 12,237 deaths, up 334 from Wednesday morning. Ratings agency Fitch cut its outlook for India to "negative" from "stable" on Thursday based on the view that "the coronavirus pandemic has significantly weakened India's growth outlook for this year and exposed the challenges associated with a high public-debt burden" - putting the world's second-most populous country at risk of a junk rating.
Elsewhere in Asia, Indonesia reported another record jump, with 1,331 new coronavirus infections, taking its total number of cases to 42,762, surpassing Singapore. Health Ministry official Achmad Yurianto said 63 more deaths were also reported, bringing the nationwide total to 2,339, the highest coronavirus death toll in East Asia outside of China.
While the surge in new cases around the world is alarming, and justifiably so, Russia reported just 7,790 new cases on Thursday, its lowest daily rate of new infections in six weeks, bringing the nationwide total to 561,091. Another 182 people died over the last 24 hours, according to Russia's coronavirus crisis response center, bringing the official death toll to 7,660, Al Jazeera reports.
California reported 4,000 new cases last night, a record total for the state, landing it back on the NYT's list of states where cases are increasing. To be sure, the list has shrunk by just 20 states on Thursday, down from 23 earlier in the week, as Tennessee, Mississippi, Missouri and Kentucky moved to the list of states where cases are mostly the same.

Source: NYT
But as the US struggles with a rebound that  - as Dr. Scott Gottlieb pointed out earlier - is geographically limited in scope...
New Covid cases vary by region of the country, with hardest hit parts now showing biggest declines, while other regions expand. This probably reflects, in part, greater precautions being taken by people in regions with the worst, early impacts like New York. h/t @COVID19Tracking pic.twitter.com/FDUc5bLFH0

— Scott Gottlieb, MD (@ScottGottliebMD) June 18, 2020
...it's important to remember that although the US has the most cases by far, the outbreak in Europe was much worse when adjusted for population density.
Coronavirus deaths worldwide per one million population as of June 18, 2020, by country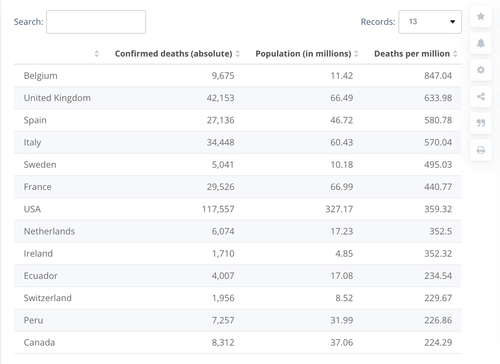 Source: Statista
Finally, as we reported last night, a senior Aussie official said yesterday that Australia may not reopen its borders to foreign travelers ever again.