---
Global Coronavirus Death Toll Tops 150k: Live Updates
Summary:
Wuhan revises citywide coronavirus death toll 50% higher
Beijing blames 'overwhelmed' health care system for the error
Foreign Ministry says new numbers "can stand the test of history"
US sees huge spike in deaths on Thursday
NYC cancels all 'nonessential' events for the month of May
Global death toll passes 150k
Report on Chicago remdesivir trial stokes hopes for new "miracle drug" to fight the virus
Illinois closes schools for rest of year
NY total cases: 229,642
NY reports slight drop in hospitalizations, ICU admissions, but deaths ' basically flat' at 630
NJ reports 300+ deaths
WHO says China's 'revision' to Wuhan numbers was latest 'attempt to ensure no case goes uncounted'
Italy reports slowdown in new cases but slight uptick in deaths
Texas cancels school until end of year
France reports 761 new deaths
Michigan Gov says she hopes to begin reopening May 1
Iran holds 'military parade' with equipment used to fight the virus
South African lions seen lounging in middle of road as lockdown continues
FT trend analysis shows deaths in Italy, Spain have slowed, while US and UK see continued acceleration
Switzerland's small-business loan program sees resounding success
*      *      *
Update (1545ET): Johns Hopkins just confirmed that the global death toll from the coronavirus outbreak has surpassed 150,000.
For those who haven't been keeping close track, that's a 50% increase (up from 100k) in a week.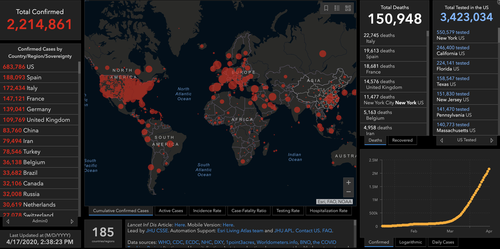 *      *      *
Update (1430ET): As the media continues its campaign against the western states trying to reopen their economies - while incidentally raising some good points about the hazards of rushing to reopen - a report highlighted the sharp (in terms of percentage points) increases in cases in states like South Dakota.
.@cnn reporting sharp increase CV cases in states w/o stay-at-home orders, citing @JohnsHopkins:

"Oklahoma saw a 53% increase in cases over the past week...Over same time, cases jumped 60% in Arkansas, 74% in Nebraska, and 82% in Iowa. South Dakota saw a whopping 205% spike."

— Jesse McKinley (@jessemckinley) April 17, 2020
To be clear, numbers generally remain low, with these states still reporting at most a few hundred cases, with a few notable exceptions (South Dakota, for example). Deaths have been notably low, and the people are increasingly pushing legislators and representatives to start the process of reopening their economies.
*      *      *
Update (1420ET): The market's Friday rally is bruised but not by a long shot broken. However, its near-term survival could depend on the numbers reported by NJ, Michigan and a handful of other states.
And New Jersey Gov. Phil Murphy just shared the state's latest update, with 323 deaths, another disturbingly high reading, but a drop from yesterday's number and solidly below a record in the high 300s set earlier in the week. Deaths, particularly in nursing homes, have been accelerating across the tristate area, and NJ is no exception.
We now have 78,467 confirmed #COVID19 cases.
• Atlantic: 370
• Bergen: 11,863
• Burlington: 1,366
• Camden: 1,807
• Cape May: 189
• Cumberland: 263
• Essex: 9,672
• Gloucester: 664
• Hudson: 9,636
• Hunterdon: 385 pic.twitter.com/gQIb9QaAnN

— Governor Phil Murphy (@GovMurphy) April 17, 2020
During his press conference, the governor raised the possibility of students wearing mask when they return to school.
But how will they ask questions with their mouths cov...ohhhh.
*      *      *
Update (1410ET): China's Hu Xijin could resist the opportunity to troll the president after his flurry of frustrated tweets earlier, where he took a few moments to bash Beijing over the Wuhan revisions, the CPC's latest insult to the west's collective intelligence (and, sadly, the intelligence of the Chinese people).
Trump sent out a flurry of tweets earlier bashing Gov Andrew Cuomo and the Chinese while cheering for states to reopen. Now, Hu, the editor of the Global Times, Beijing's favorite English-language mouthpiece, is striking back, insulting the president's eye sight and - critically - math skills.
You have poor eyesight or are poor at math? China revised COVID-19 death toll up by 1290, from 3342. It's not doubling. Aren't you embarrassed comparing US' death toll with China's? Under your leadership, daily death toll in the US is close to China's total number. Poor America. https://t.co/mR4XJiBa01

— Hu Xijin 胡锡进 (@HuXijin_GT) April 17, 2020
Damn, got 'em
*      *      *
Update (1405ET): With Cuomo and Trump now embroiled in a full-blown war of words sideshow, New York State has released its latest update on total cases, showing it still has roughly one-third of the total cases in the US.
NEW YORK REPORTS 229,642 VIRUS CASES, UP FROM 222,284
*      *      *
Update (1357ET):  Texas Gov. Greg Abbott has just declared that schools in Texas will close until the end of the academic year as part of a plan to reopen the state released during Friday's press briefing. If Illinois, which we reported earlier, was No. 27, then Texas will be the 28th state to cancel school for the rest of the year.
Abbott issued two executive orders on Friday regarding his reopening strategy, as one local TV station reported.
*      *      *
Update (1350ET): For anybody who still doubts President Trump's claims about the WHO having been co-opted by Beijing, check out these comments from the organization's press briefing on Friday. Commenting on the latest revision to Wuhan's coronavirus figures (including thousands of newly disclosed deaths) the WHO said that the revision was made "in an attempt to leave no case undocumented."
China revised #COVID19 death toll was "done in an attempt to leave no case undocumented," says WHO

— First Squawk (@FirstSquawk) April 17, 2020
Critics and even some impartial observers have suggested that it seems more probable the revision was just the latest in a series of smokescreens, half-truths and outright lies perpetuated by Beijing.
But not the WHO: Once again, China's lies aren't simply taken as truths, they're spun as noble acts.
Taking a more somber turn, WHO Dr. Mike Ryan said the org has evidence suggesting herd immunity hasn't yet been achieved anywhere and that only a low proportion of people have antibodies to the virus, echoing findings that we've noted a handful of times including here.
We shouldn't assume that just because somebody has had the virus, that they will be forever immune.
*      *      *
Update (1340ET): France reports 761 more coronavirus deaths, bringing its countrywide total to 18,681, roughly equivalent with yesterday's jump, just a few days after France reported a massive jump in newly confirmed cases to account for a rash of nursing-home outbreaks - figures that have been excluded from some official tallies of France's total caseload. 
All told, France had roughly 147,000 total cases as of yesterday, and the new figures will likely be released shortly. In recent days, officials have reported a drop in hospitalized patients and patients in the ICU. And officials in Paris, the worst-hit region, have said there's cause for optimism.
*      *      *
Update (1320ET): ABC7 Chicago reports that Illinois Gov. J.B. Pritzker is expected to announce schools across the state will close for the rest of the academic year during Friday's press briefing.
The announcement comes one day after Illinois reported its deadliest single-day count since the outbreak started. Officials reported 1,140 new cases of COVID-19 and 125 additional deaths statewide Thursday. At least 1,072 Illinois residents have died and a total of 25,733 have been infected.
Wisconsin, Indiana, Mississippi, Louisiana and many other states (27 now in total with Illinois), as well as several major urban systems, have closed school for the rest of the year, while NY & NJ have said schools will remain closed until at least May 15. It's unclear if NYC schools will remain closed until year end or if they might reopen.
*      *      *
Update (1220ET): Italy reported some good news on Friday as the number of new positive cases continued to decline even as the number of tests conducted climbed, suggesting that the rate of infection truly is slow.
However, Italy's Civil Protection Service also reported a slight uptick in the rate of deaths yesterday, with 575 deaths reported, up from 525 the day before).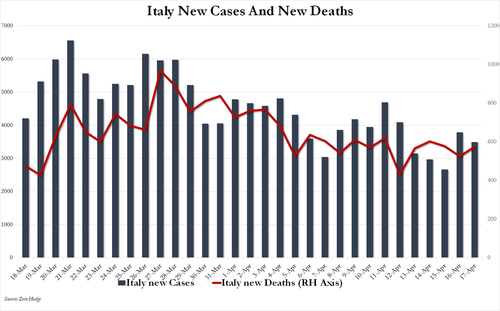 Italy reported 3,493 new cases overnight (up 2.1% from the prior day) to 172,434, compared with a 3,786 jump the day before. In terms of deaths, Italy has reported a total of 22,745. The number of patients who recovered yesterday 2,563, bringing the total recovered to 42,727.
By comparison: US deaths so far: 33,325.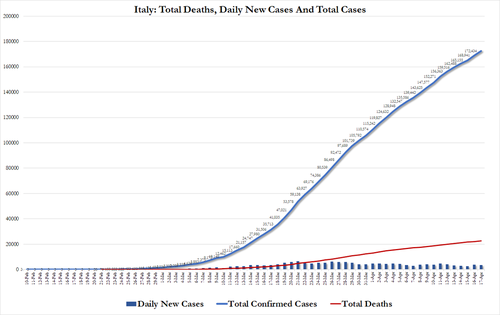 And a more detailed breakdown courtesy of Corriere Della Sera: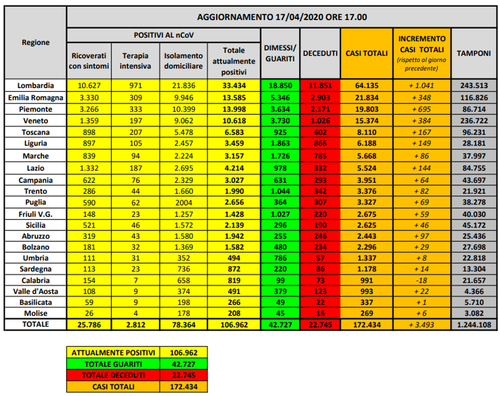 Everything considered, it's good news.
*      *      *
Update (1200ET): As Cuomo's press conference draws toward its end, the governor told reporters that he plans to use the National Guard deployed in the state to start arbitrarily testing citizens as part of the reopening process. He also signed an executive order demanding labs to 'cooperate' with state officials in prioritizing diagnostic testing, meaning all private (and public) lab capacity in the state must prioritize testing for COVID-19. At this point, Cuomo is throwing out these 'executive orders' we think just to pad the state's efforts.
NEW: I'm issuing an Executive Order directing all public and private labs in NY to coordinate with the State Department of Health to ensure prioritizing diagnostic testing for public health and restarting the economy.

— Andrew Cuomo (@NYGovCuomo) April 17, 2020
Cuomo added that the number of New Yorkers being hospitalized is still humming at a rate of 2,000 a day, which he acknowledged is still "very high."
State-wide testing is a massive undertaking, Cuomo said, and it will require more federal assistance, as he reiterated his pleas for more money from the federal government, now that the state is effectively "broke" due to its efforts fighting the coronavirus.
Asking the states to handle the process of reopening without additional funding is "passing the buck without passing the bucks," Cuomo said.
.@NYGovCuomo on the testing crisis: "I can do what I can do on the state side... but, the federal government cannot wipe their hands of this and so, oh the states are responsible for testing. We cannot do it. We cannot do it without federal help." pic.twitter.com/ItyjxW5vFo

— Justin Hendrix | wash your hands & stay at home (@justinhendrix) April 17, 2020
The allocation to NYC should be "proportionate to the need" Cuomo said, given the number of cases in the state, that translates to virtual blank check.
Also, Cuomo's now-seemingly-daily comments about his relationship with his family and children under quarantine is really resonating with the blue checks.
Really appreciate the way @NYGovCuomo shares his personal growth and overdue bonding with family he's doing through the covid crisis. "We may be more physically distant but the key is to be more connected." Everything has taken on new meaning for me too especially relationships.

— Aisha C. Mills (@AishaMoodMills) April 17, 2020
It's basically free therapy.
*      *      *
Update (1140ET): Here's our updated chart showing the new statewide numbers for cases and deaths.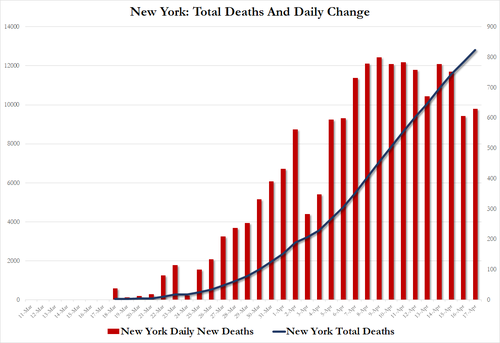 Meanwhile, NYC Mayor Bill de Blasio just cancelled all 'non-essential' events in the city for the month of May.
De Blasio, who is holding his own briefing at the same time as Cuomo's because he's a petty little bitch, added that hospitalizations in the city have eased somewhat in the last 24 hours according to "his numbers" echoing the numbers used by Cuomo (though many hospitals remain overwhelmed).
Here's more on that from ABC News.
The number of hospital admissions and ICU admissions are showing improvement, according to new numbers provided by the mayor.
De Blasio said there is "no way to get back to normal without a huge amount of testing" and he again asked the federal government for funding.

The federal government has been the elephant in the room in this entire crisis," he said. "The federal government has a chance to get it right ... I'm appealing directly to President Trump and Senate [Majority] Leader [Mitch] McConnell."

"I've asked and I've asked nicely. Mr. President, your hometown needs you. Leader McConnell, your nation needs you," he said.
Additionally, we noted earlier that Michigan Gov. Gretchen Whitmers became the first governor to say on Friday that she would begin the process of reopening her state's economy on May 1 after Trump released federal guidelines last night. President Trump apparently couldn't help himself from celebrating at the news.
*      *      *
Update (1135ET): New York Gov. Andrew Cuomo is holding his daily press briefing.
Holding a briefing with updates on #Coronavirus. Watch Live: https://t.co/dY2IwhM2T2

— Andrew Cuomo (@NYGovCuomo) April 17, 2020
While he heralded a slight drop in the number of people hospitalized, he lamented the refusal of deaths to come down dramatically. He reported 630 for the last 24 hours, "basically flat again, like the other numbers," Cuomo said. The number of deaths for the prior day was 606. The governor added that the numbers are still "breathtakingly painful."
*      *      *
Update (1050ET): The US just confirmed a surprising spike in deaths yesterday, its latest new single-day record as the deaths in the UK and US continue to accelerate in defiance of the 'official narrative' that the 'flattening' curve is a sign that everything is on the mend.
According to a WSJ analysis of JHU data updated at 8pmET last night, 4,591 people were reported to have died from COVID-19. The prior record was 2,569 on Wednesday, the day prior (remember data is reported with a 24 hour delay).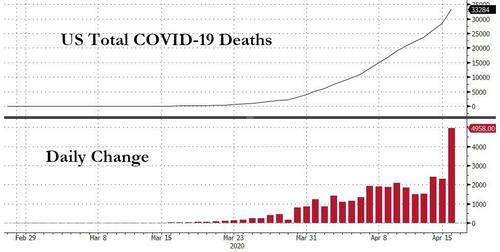 One reason deaths have spiked this week is NYC Mayor Bill de Blasio's decision to revise the city death toll higher by nearly 4,000 cases to factor in deaths that occurred outside a hospital setting (like home in an apartment) or in a medical setting, but without a positive test for COVID-19.
However, those cases weren't included in this data.
Instead, the deaths were mostly reported in NY, NJ and Michigan, three of the hardest hit states. Deaths reported in an NJ nursing home did contribute to the figures.
This means that after appearing to stabilize, the pace of COVID-19-linked deaths in the US have been climbing for three straight days.
*      *      *
Update (1025ET): One of the few silver linings of the global coronavirus outbreak has been the memes. We suspect that almost nobody would debate this.
And one of the best memes of this early virus period (as we suspect it will come to be known) has been what we're calling the "humans are the virus" meme. Here's an example:
Nature is responding. We are the virus. pic.twitter.com/4UR29rafoJ

— Wu-Tang Financial 🥑 (@Wu_Tang_Finance) April 17, 2020
The form intends to highlight examples of nature re-taking the land as humanity retreats indoors. And thanks to CNN's generous international reporting budget (just think about how much CNN spends on international reporting that almost never makes the front page of the website?), we now have these photos of lions in South Africa lounging in the middle of a road.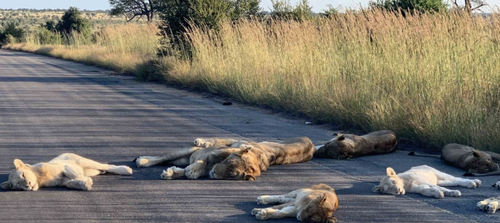 Keep in mind, South Africa is arguably the continent's most industrialized country and its most heavily impacted by the virus (at least, as far as we know). It remains under a countrywide lockdown that was extended earlier this week.
*      *      *
Update (0740ET): As we await another day of numbers out of Europe and the US, the FT's latest analysis of confirmed numbers and deaths across the world found that while Italy and Spain have seen deaths continue to slow, the US and the UK have continued to see fatalities trend upward.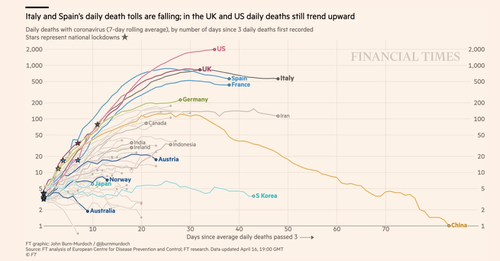 Source: FT
Yesterday, Switzerland announced plans to start reopening its economy in mid-May (though most restaurants and bars won't be open again until mid-June). The Swiss have also reported a resounding success with a government-backed small business loan program that has doled out more than $16.6 billion (16.1 Swiss francs) to small businesses around the country. That's far more than the £1.1 billion doled out by the UK's program (while the US's 'PPP' has purportedly loaned out all of the $350 billion allocated by Congress).
*      *      *
Update (0722ET): With sports and most other forms of group entertainment unavailable for the time being, the world is gasping for viral content. Fortunately, some moments of levity - like this video of nuns playing basketball taken at a convent in Spain - have emerged to take the public's mind off the horrors that lie just outside their door.
Nuns playing basketball at a monastery in Sevilla, Spain while sheltered in place for the coronavirus. Hoops makes the world go around.pic.twitter.com/53oKV5GnNU

— Michael Dolan (@mikedolanny) April 16, 2020
But that's not all: Friday was Iran's annual "army day", an annual holiday that - not unlike memorial day in the US - is typically celebrated with a parade - though in Iran it's a military parade. 
However, this year, since group large numbers of soldiers together didn't seem like a good idea considering that the coronavirus has nearly brought the Iranian regime to its knees, the military instead decided to show off equipment for tackling the coronavirus, including equipment used to sanitize public places and set up makeshift hospitals, according to the Jerusalem Post. Unfortunately, we couldn't find any photos.
*      *      *
Shortly after 11pmET Thursday night, a headline came trundling across the wire that caught our eye: Health authorities in Wuhan raised the official death toll from the city's coronavirus outbreak by 50%, equivalent to 1,290 patients, to a still-too-low-to-be-believed 3,869.
An anonymous city official told China's Xinhua that the new deaths and newly announced cases (officials confirmed another 325 non-fatal cases, raising the total number of "confirmed" cases to 50,333) were undercounted during the "early stages" of the outbreak, according to the Associated Press.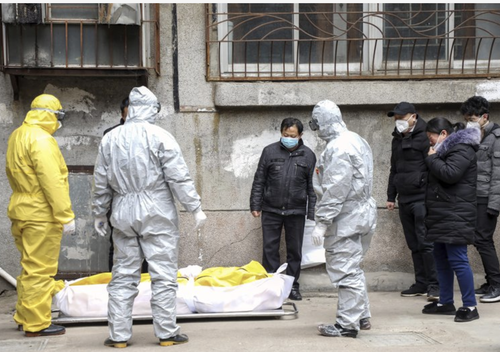 Echoing NYC Mayor Bill de Blasio's reasoning for adding thousands of new deaths to the city death toll earlier this week, Chinese officials said the new cases include people who died at home, as well as those who died in a hospital without their deaths being officially added to the toll (during the first weeks after the Wuhan shutdown, Chinese officials refused to include patients who hadn't officially tested positive in their case numbers, an issue that was supposed to have been fixed by one of the early revisions announced by the Chinese back in February).
The new figures were reportedly discovered after Chinese officials tried to reconcile numbers from their hospital database, with numbers from the city funeral service and its nucleic acid-testing.
The official Xinhua News Agency quoted an unidentified official with Wuhan's epidemic and prevention and control headquarters as saying that during the early stages of the outbreak, "due to the insufficiency in admission and treatment capability, a few medical institutions failed to connect with the disease prevention and control system in time, while hospitals were overloaded and medics were overwhelmed with patients.

"As a result, belated, missed and mistaken reporting occurred," the official was quoted as saying.

The new figures were compiled by comparing data from Wuhan's epidemic prevention and control system, the city funeral service, the municipal hospital authority, and nucleic acid testing to "remove double-counted cases and fill in missed cases," the official was quoted as saying.

Deaths occurring outside hospitals had not been registered previously and some medical institutions had confirmed cases but reported them late or not at all, the official said.
By adding these 1,290 patients to the rolls, China raised its national death toll to 4,632, from the 3,342 announced by the NHC earlier. After their release, Foreign Ministry spokesperson Zhao Lijian insisted that these new numbers "can stand the test of history."
Why would China even bother with this latest 'revision' - it's at least the 4th time they've tweaked the numbers, and the first time in roughly 2 months - of the Wuhan numbers? Well, it just so happens that the official statistics agency also published the first reading of China's Q1 GDP, which confirmed a massive contraction, as was expected.
Twitter's Melissa Chen jokingly compared China's '50%' revision to when a student purposefully marks wrong answers on their homework to cover up the fact that they've been cheating.
When you realize that the teacher would be suspicious because you did too good of a job cheating on your homework, so you threw in some errors:https://t.co/tlHASEudVV

— Melissa Chen (@MsMelChen) April 17, 2020
But Wuhan is slightly larger than NYC population-wise, and the outbreak in Wuhan was even more vicious than the outbreak in NYC, which has reported more than 10k deaths. So imagine what that must mean for Wuhan, where the hospital system was completely overwhelmed during the early weeks of the outbreak, leaving some elderly patients to drop dead on the street (something that, as far as we know, hasn't happened in the US).
The other big news overnight - and the reason why Dow futs are up nearly 800 points in the green Friday morning - has actually been percolating in investors' minds since shortly after yesterday's close of cash trading. In the early evening on Thursday, a report claiming 'miraculous' efficacy for Gilead's remdesivir during a University of Chicago study, helped revive hopes that a "miracle drug" might be around the corner. The results were first reported last night by Statnews.
Here's more from that Statnews report, which we also cited last night.
Remdesivir was one of the first medicines identified as having the potential to impact SARS-CoV-2, the novel coronavirus that causes Covid-19, in lab tests. The entire world has been waiting for results from Gilead's clinical trials, and positive results would likely lead to fast approvals by the Food and Drug Administration and other regulatory agencies. If safe and effective, it could become the first approved treatment against the disease.

The University of Chicago Medicine recruited 125 people with Covid-19 into Gilead's two Phase 3 clinical trials. Of those people, 113 had severe disease. All the patients have been treated with daily infusions of remdesivir.

"The best news is that most of our patients have already been discharged, which is great. We've only had two patients perish," said Kathleen Mullane, the University of Chicago infectious disease specialist overseeing the remdesivir studies for the hospital.
However, a statement from Gilead warned that the drug is still in the trial phase, and these results still need to be confirmed. And as we noted earlier this week, officials in China suspiciously shuttered 2 separate trials - one in Wuhan and one in Beijing - of the global remdesivir study, claiming there weren't enough severely ill patients to run the trials, which sounds like a not-very-believable ruse to us.
Even Gilead, whose shares are up nearly 20% in premarket trade, warned that the U.Chicago trial is just one of many, and these numbers are simply "anecdotal".
Finally, the number of confirmed cases surpassed 2.1 million during the early hours of Friday in the US, while the number of confirmed deaths neared 150k.