---
Xi To Arrive In Moscow Monday, Ukraine War 'Core Part' Of Talks With Putin
The Chinese Foreign Ministry has confirmed in a statement on its website that President Xi Jinping's much anticipated state visit to Russia will be held from March 20-22, marking the first such in-person visit with President Putin since the Ukraine war started in February 2022.
The Kremlin at the same time confirmed of the trip that "An exchange of views is also planned in the context of deepening Russian-Chinese cooperation in the international arena," and that, "A number of important bilateral documents will be signed."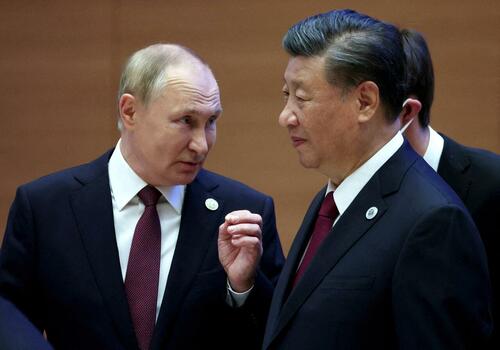 Russia has further said the two leaders will discuss "strategic cooperation" - following early last year's declaration of Beijing and Moscow's "no-limits partnership".
The new Friday Beijing statement also said the war in Ukraine will be top priority, also after acknowledging that a Xi-Zelensky phone call will happen related to the Moscow visit: 
China's Foreign Ministry said the visit will take place from Monday to Wednesday at the invitation of Putin and confirmed that the war in Ukraine would be a core part of the talks.

"China's proposition boils down to one sentence, which is to urge peace and promote talks," foreign ministry spokesman Wang Wenbin said.
And more on the few details made known thus far, to kick off Monday:
The two leaders will start Monday with a one-on-one followed by an "informal lunch," with negotiations set to take place Tuesday, according to Kremlin spokesperson Dmitry Peskov.
This will be Xi's first important trip abroad after the 69-year old earlier this month became the longest-serving head of state that Communist China has ever seen going back to 1949, and comes after he already broke precedent in gaining a third term as head of the Chinese Communist party last fall. 
Russian President Vladimir Putin had been among the first world leaders to congratulate Xi on his third term, and hailed the two countries' strategic partnership. "Dear friend, please accept sincere congratulations on the occasion of your reelection," Putin said in a statement published by the Kremlin. "Russia highly values your personal contribution toward the strengthening of ties … and strategic cooperation between our nations," he had said a week ago.
"I am certain that working together, we will ensure the development of fruitful Russian-Chinese cooperation in all sorts of different areas," Putin wrote. "We will continue to coordinate joint work on the most important regional and international issues."
Loading...