---
Xi Jinping's 'Vanished' Foreign Minister Abruptly Replaced In Shake-Up
In a surprise shake-up coming within weeks of multiple US top officials making significant trips to Beijing, China's foreign minister Qin Gang has been suddenly replaced by his predecessor Wang Yi on Tuesday.
China's rubber-stamp parliament voted on the sudden change, state media confirms, deepening a mystery already rampant with speculation, given the 57-year old Qin had not been seen in public for a full month.
"The abrupt announcement of Qin's removal came after weeks of speculation about his fate," South China Morning Post writes of the his absence, which it says has "dominated domestic political discussions, and evolved into one of the biggest crises for Chinese President Xi Jinping since his unprecedented third term began last year."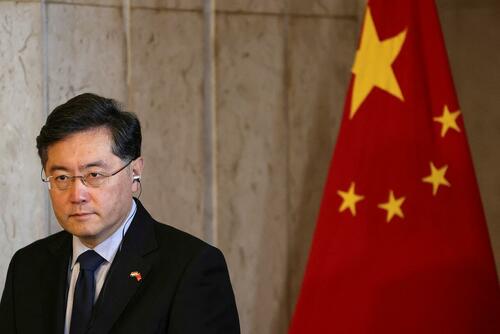 Qin was last seek on June 25, after meeting with officials from  Sri Lanka, Vietnam and Russia in Beijing - with the foreign ministry refusing to comment specifically, only saying that "China's diplomatic activities are under way as usual."
The foreign ministry only offered the following as to his absence and unexpected replacement: 
Despite rumors circulating on social media and among foreign diplomats, Beijing has remained vague about Qin's status and whereabouts, attributing his prolonged absence to unspecified "health reasons" since early July.
Wang had already reportedly been standing in as foreign minister for several weeks, given he is director of the Office of the Central Foreign Affairs Commission. Wang is the foreign affairs arm for the ruling Communist Party, and previously served as FM from 2013-2022.
The FT has dubbed Qin the former "high-flying favorite" of President Xi Jinping, and he had played point man for last month's important visit by US Secretary of State Antony Blinken, which was an attempt to rescue spiraling US-China relations. 
FT further points out that "Qin had a meteoric rise from his appointment as Chinese ambassador to the US in 2021 to foreign minister and a member of China's cabinet, the State Council, in March"—but soon after "disappeared" from public view.
Some analysts are saying this is a major blow to President Xi as he continues his third 5-year term: 
Qin's shock departure has also highlighted a risk for Xi just after he embarked on a precedent-breaking third five-year term as leader. Most of China's top leadership are close allies of the powerful leader, meaning there is less space for shifting blame in the case of failed policies or personnel decisions.

"You need to see these situations as opportunities for others to put pressure on Xi Jinping," said Alex Payette, chief executive of Cercius Group, a consultancy that specialises in elite Chinese politics. "So this is a double loss. It is someone that you selected, and you come under pressure — that is bad." 
There are many, many rumors on what's going on with Qin but no clear answers at this stage. If it was a corruption scandal, for example, we likely would have seen something by now that he's facing a CCDI investigation as opposed to merely not having the foreign minister job.

— Vincent Lee (@Rover829) July 25, 2023
As for Wang, he's been seen as the top Chinese official in recent meetings with former US secretaries of state Henry Kissinger and John Kerry in China last week, the latter who was there as Biden's climate envoy.
One question which remains: is there a greater shake-up underway? At about the same time that Qin's departure was announced, Beijing named a new China central bank governor Tuesday, Pan Gongsheng, marking a position that undergoes only a once-a-decade change of power.
Loading...