---
Xi Tells Kissinger 'Stability' With US Still Possible, But Relations At 'Crossroads'
This week former US secretary of state Henry Kissinger met with China's defense minister, Li Shangfu. Subsequently the State Department sought to emphasize the 100-year old famed statesman is in Beijing in the capacity of a private citizen, not on behalf of the US government; however, clearly important signaling and "messaging" is being conveyed. On Thursday, Kissinger met with Chinese President Xi Jinping - with the latter expressing hope that 'stable' relations with Washington can be restored.
US-China relations have recently hit a low-point, amid increasing targeted tit-for-tat export curbs especially related to tech trade, in a spiral that goes back to the February Chinese 'spy balloon' shootdown over the US east coast. Kissinger during the visit has been hailed as a "friend" of China, and he reportedly encouraged cooperation, presenting a positive message akin what Janet Yellen said in her official recent visit.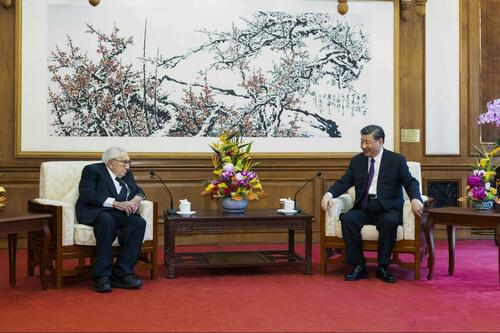 "The United States and China should eliminate misunderstandings, coexist peacefully and avoid confrontation. History and practice have continually proved that neither the United States nor China can afford to treat the other as an adversary," Kissinger said.
The foreign ministry has heaped praise on Kissinger, saying as follows in a press conference Thursday: 
Referring to Kissinger's role in initiating China-U.S. relations while serving as national security adviser during the Nixon administration, Wang said he had played an "irreplaceable role in enhancing mutual understanding between the two countries."

"The U.S. policy toward China requires the diplomatic wisdom like that of Kissinger and political courage like Nixon's," Wang said, according to the Foreign Ministry. Kissinger also served as secretary of state under Nixon.
The Thursday Kissinger-Xi meeting saw the Chinese president strike an optimistic tone:
"China and the United States are once again at the crossroads of where to go, and the two sides need to make new decisions," Xi said, according to a statement released by the Chinese Foreign Ministry.

"Looking into the future, China and the United States can achieve joint success and prosperity," Xi said.
As for Li the day prior, he blamed "some people in the U.S." for failing to meet China halfway. Defense Minister Li is himself under Washington sanctions at the moment, which is something Beijing has demanded to be dropped before relations can significantly improve.
"History and practice have repeatedly proved that neither the US nor China can afford to treat the other as an adversary," a Chinese readout cited Kissinger as saying further. According to more from Li's words in the Chinese readout: 
He urged the US to make the "correct strategic judgment" and said he hoped Beijing and Washington could still work together to promote "healthy and stable development" of the relationship between the countries and their militaries.

Wang, during his meeting with Kissinger, relayed a message that reflects Beijing's concerns over American policy toward it: "Trying to transform China is impossible, and blocking and containing China is even more impossible," he said, according to China's readout.
President Xi told Kissinger, "Chinese people value friendship. We we will never forget our old friend and your historic contribution to promoting the development of US-China relations and enhancing the friendship between Chinese and American people." pic.twitter.com/fwE9xLp9tU

— Hu Xijin 胡锡进 (@HuXijin_GT) July 20, 2023
Also this week John Kerry, Biden's special presidential envoy for climate, was in Beijing for climate talks. Like other high level meetings between top US and Chinese officials, the climate talks appear to have yielded no fruit. Kerry said in a wrap-up press conference Wednesday that the meetings failed to produce any significant climate agreement, after "frank" discussions.
"We came to Beijing in order to unstick what has been stuck for almost a year, and that's the in-person dialogue between the United States and China," Kerry said.
"We had very frank conversations, but we came here to break new ground, which we think is important at this stage, and it is clear that we are going to need a little more work to be able to complete that task, which we still believe, both of us, is doable," he continued.
Loading...